When Allyson Payer (Senior Fashion Editor at Who What Wear) and her husband recently moved into their newly-built home in Raleigh, North Carolina, one of her top priorities was creating a brand-new master closet that perfectly suited her needs. "After cramming my jeans, sweaters, coats, shoes, bags, etc., into tiny spaces for years (visions of clown cars come to mind), I was giddy at the thought of having space to actually see what I own when getting ready," she explains. In order to finally turn this dream into a reality, she worked with the Custom Closets design team at The Container Store.
"As someone who is passionate about organizational accessories (yes, passionate), I've been a longtime fan of The Container Store and was particularly excited to see that it just launched a new closet system that perfectly suited my modern aesthetic," Allyson says. She ultimately decided on an Avera system with a Cloud finish and, after providing the designer with her closet measures and a list of her wants and needs, they were able to produce a fantastic new design that solved all her closet woes. "I provided my closet measurements and basically just told them that I have a lot of bags and shoes and needed space to hang long things, and they took care of the rest," she adds.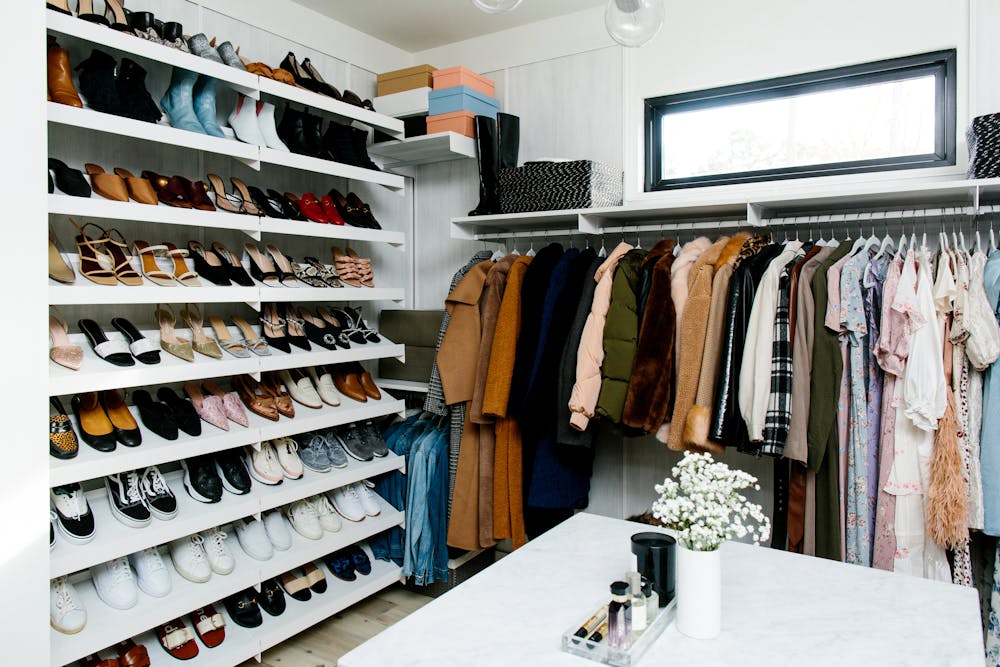 Allyson's closet has plenty of space for her shoes and long-hang dresses.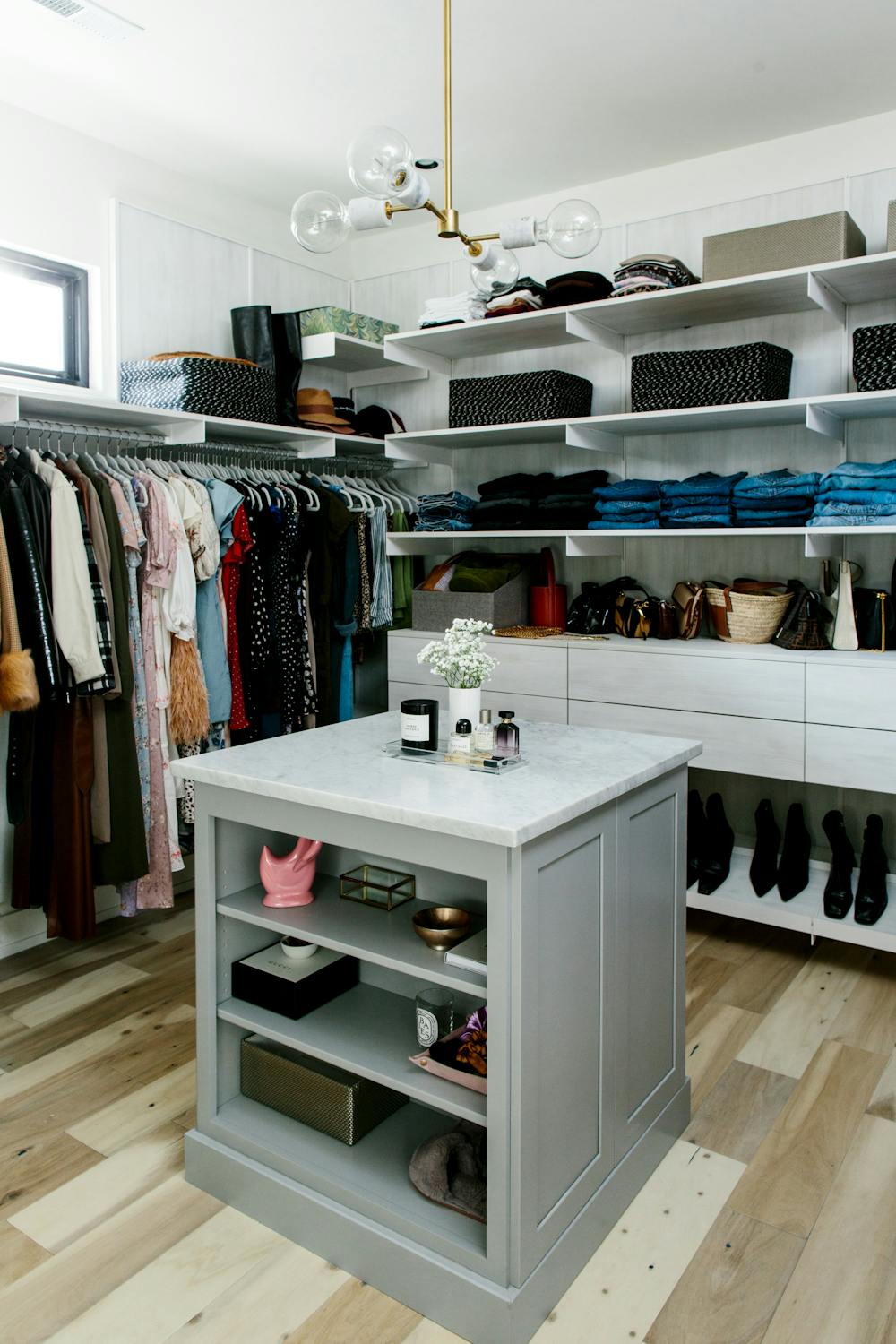 The Avera shelves and drawers provide ample room for folded clothes. (Note the handy boot space under the drawers.)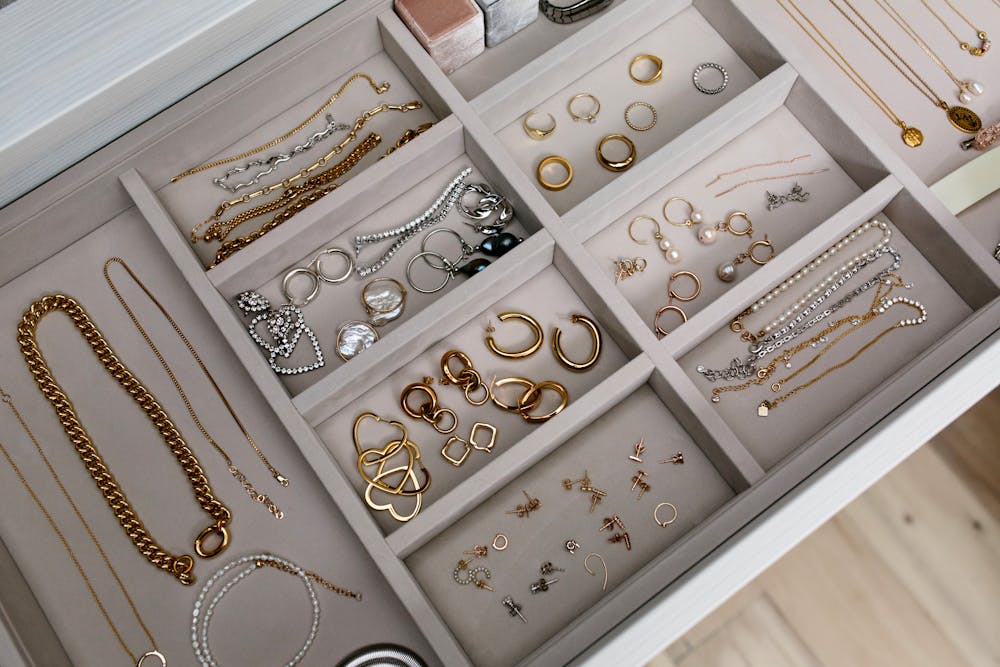 Allyson's Avera drawers feature these elegant Jewelry Organizer Trays.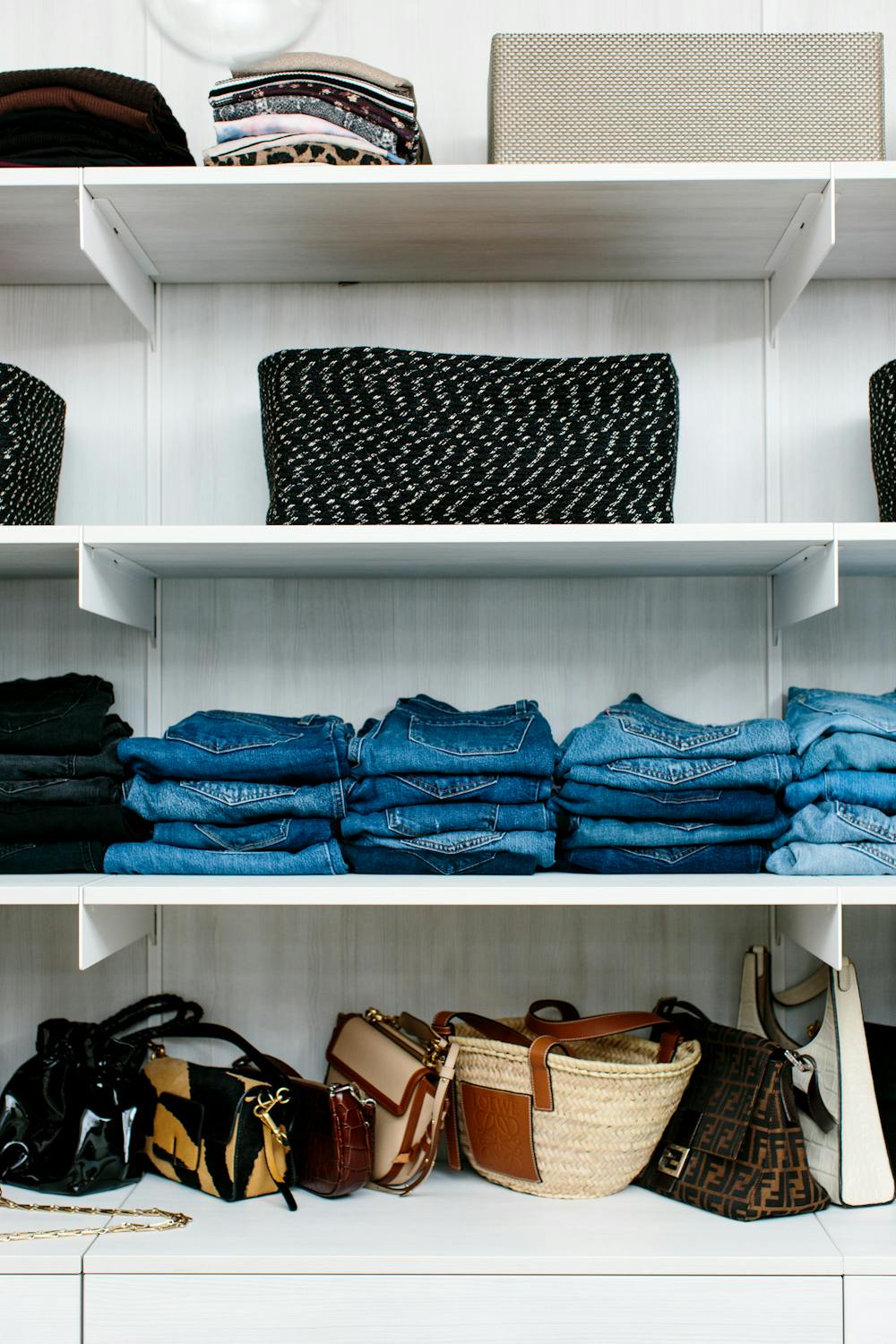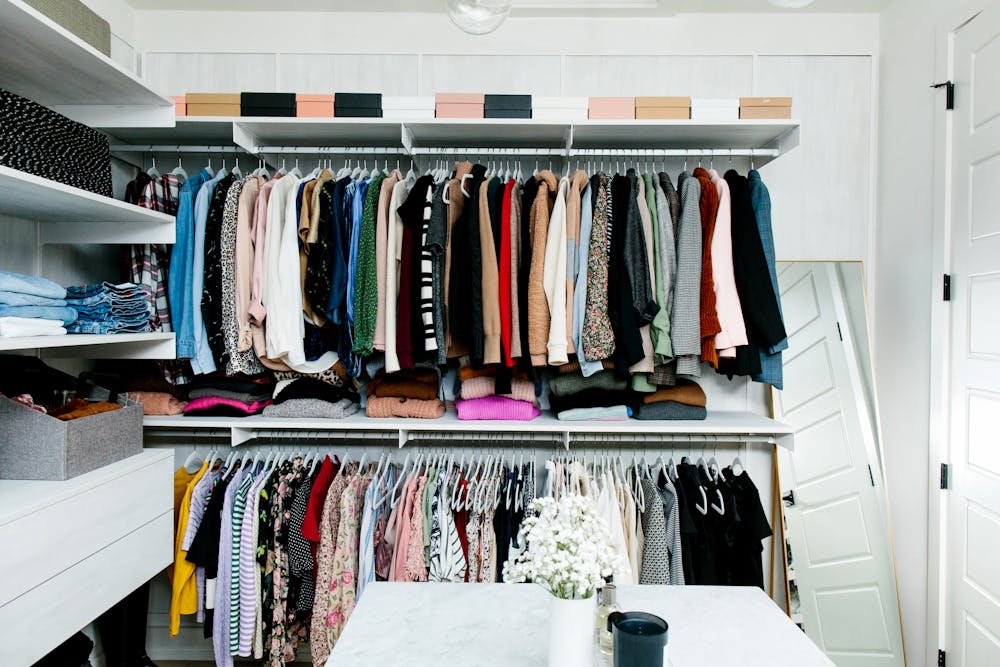 Allyson's new Avera closet features plenty of space for both long- and short-hang clothing, as well as drawers (with jewelry tray inserts), shelves (for folded clothes and accessories), and a wall of angled shoe shelves. "The process was unbelievably easy, and I couldn't have been happier with the end result," she gushes.
To help keep your closet organized long after a space makeover, Allyson offers the following tips:
1. Invest in slim hangers that match. "I've been using slim velvet hangers for a long time, but it got the point where I was purchasing them from a number of different stores over the years, so they didn't really end up matching anyway. This time around, I'm buying the exact same type and color in bulk. It really makes a world of difference, as you can see."
2. Create stacks that are neat looking and won't cause wrinkles. "It's inevitable that you're going to have to stack some of your clothes if you want to use your space efficiently. Things can get messy easily, but to avoid this, make sure to keep the stacks small, fold everything in the same direction, and put the heaviest items at the bottom of the pile, which will also help avoid wrinkles."
3. You can never have too many bins. "I've come to learn that there will never be enough drawers to house everything that we own, and bins are a smart, stylish solution. Just be sure not to pack them with too much stuff, or you'll never be able to find what you're looking for. If you want to take it a step further, stick a label on the back of the bin that lists its contents."
4. Keep all of your shoes in the same place. "This might seem like a bizarre trick, but as someone who had all of their shoes in entirely different parts of my former apartments, I ended up wearing the same shoes all the time because I'm always getting ready in a hurry and never knew where a certain pair of shoes was or didn't have time to find them. (Shoes get especially forgotten when they're kept in original shoe boxes.) Even if you don't have a lot of space for shoe storage, my best advice is to line them up on the floor along the edges of the closet or invest in shelves or racks to keep in your bedroom or by the back door."
5. Make sure you can see everything you own, especially smaller items. "When I was packing to move out of our apartment, I can't tell you how many bags, pieces of jewelry, and other small items I came across that I'd completely forgotten about. The expression 'out of sight, out of mind' couldn't be more true. To remedy this (and actually wear those tiny treasures), I've made a point to invest in accessory storage that puts them on display yet keeps them contained."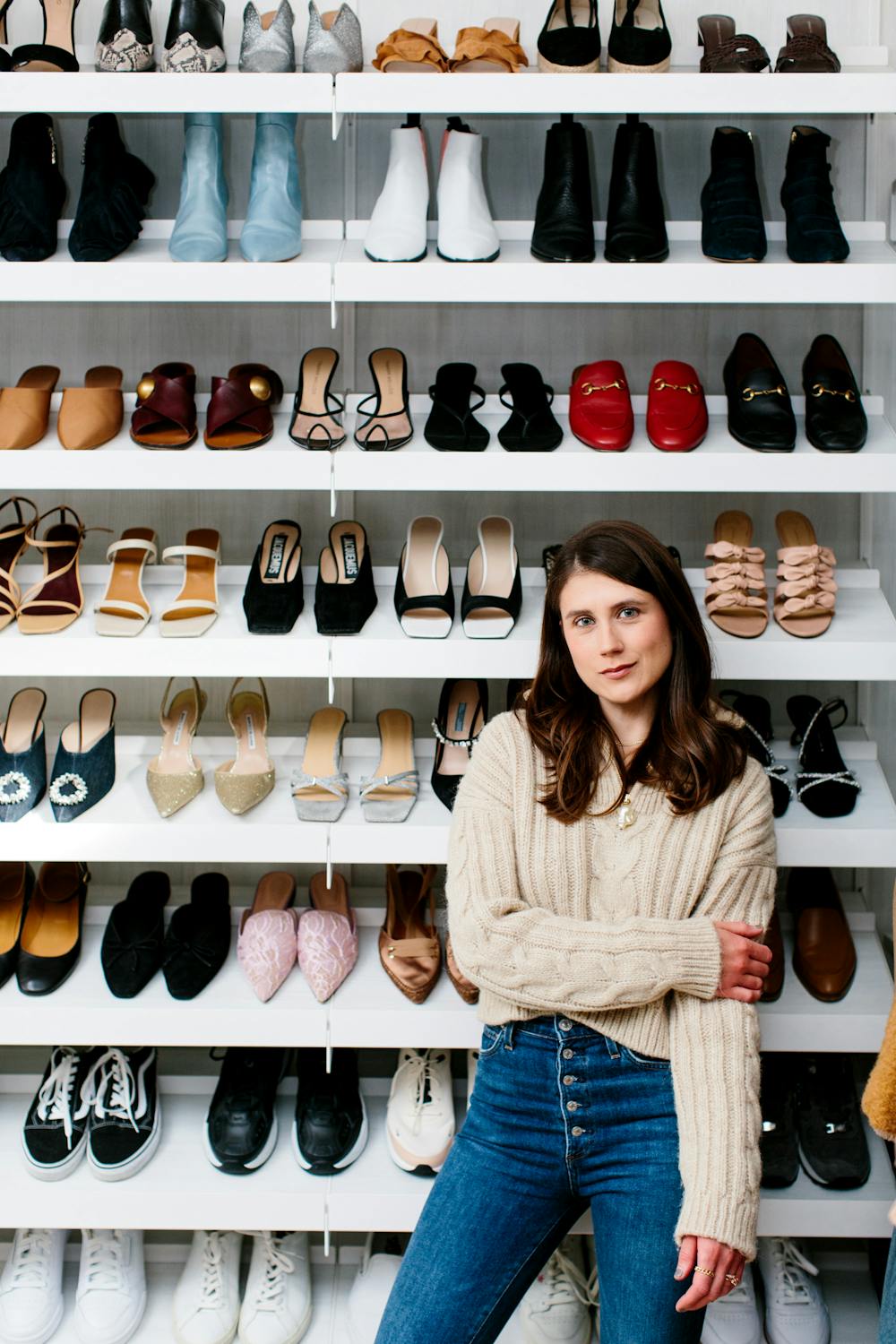 (For more great photos and details, check out Allyson's article on Who What Wear. You can also follow her on Instagram here.)