Whether on your television, Instagram feed, newspaper or all of these combined - you've probably heard the name "Marie Kondo." She's been on Ellen, she's a New York Times bestseller with "The Life-Changing Magic of Tidying Up" and her new book "Spark Joy."
Her "KonMari" method may seem a bit much for some, but we can all benefit from taking a closer look at our closets, drawers, cabinets, other spaces in our homes with her core message in mind.
Last year, when Kondo's first book began getting buzz, our Chief Merchandising Officer, Sharon Tindell thought it was important to share her thoughts on the subject with our salespeople. It was important to remind us all that we've been in the business of helping our customers live life to the fullest through the timesaving gift of living an organized life. And the role our experts play in customizing solutions for our customers is core to our business. It's all about the degree in which you want to declutter and your organization style based on the items and "things" that are important to you.
As we continue this season of spring, with all of the tidying up and organization projects that this time of year evokes, and our vow to help our customers Kiss Clutter Goodbye, we thought you'd enjoy Sharon's note too!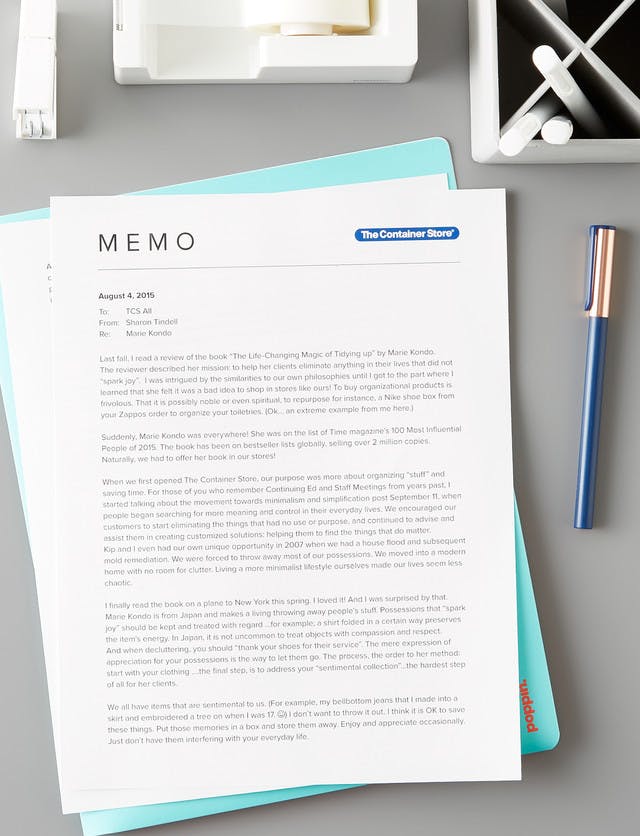 Memo from Sharon Tindell to The Container Store employees:
Last fall, I read a review of the book "The Life-Changing Magic of Tidying up" by Marie Kondo. The reviewer described her mission: to help her clients eliminate anything in their lives that did not "spark joy". I was intrigued by the similarities to our own philosophies until I got to the part where I learned that she felt it was a bad idea to shop in stores like ours! To buy organizational products is frivolous. That it is possibly noble or even spiritual, to repurpose for instance, a Nike shoe box from your Zappos order to organize your toiletries. (Ok… an extreme example from me here.)
Suddenly, Marie Kondo was everywhere! She was on the list of Time magazine's 100 Most Influential People of 2015. The book has been on bestseller lists globally, selling over 2 million copies. Naturally, we had to offer her book in our stores!
When we first opened The Container Store, our purpose was more about organizing "stuff" and saving time. For those of you who remember Continuing Ed and Staff Meetings from years past, I started talking about the movement towards minimalism and simplification post September 11, when people began searching for more meaning and control in their everyday lives. We encouraged our customers to start eliminating the things that had no use or purpose, and continued to advise and assist them in creating customized solutions: helping them to find the things that do matter.
Kip and I even had our own unique opportunity in 2007 when we had a house flood and subsequent mold remediation. We were forced to throw away most of our possessions. We moved into a modern home with no room for clutter. Living a more minimalist lifestyle ourselves made our lives seem less chaotic.
I finally read the book on a plane to New York this spring. I loved it! And I was surprised by that. Marie Kondo is from Japan and makes a living throwing away people's stuff. Possessions that "spark joy" should be kept and treated with regard …for example; a shirt folded in a certain way preserves the item's energy. In Japan, it is not uncommon to treat objects with compassion and respect. And when decluttering, you should "thank your shoes for their service". The mere expression of appreciation for your possessions is the way to let them go. The process, the order to her method: start with your clothing …the final step, is to address your "sentimental collection"…the hardest step of all for her clients.
We all have items that are sentimental to us. (For example, my bellbottom jeans that I made into a skirt and embroidered a tree on when I was 17. ¿) I don't want to throw it out. I think it is OK to save these things. Put those memories in a box and store them away. Enjoy and appreciate occasionally. Just don't have them interfering with your everyday life.
As I read the book, I found some humor in her obsessiveness. She should be one of our best customers! One realization I had as I was reading, was that Americans think differently about their possessions. We become attached and energized by variety and choices. We can and will be inspired by her book, but putting her plan into action is challenging and impossible for most.
When we opened our store in 1978, we offered multifunctional utilitarian products that were essentially "repurposed", much like the items Marie Kondo might use. Dairy Crates, Wire Leaf Burners, Barrels, Wooden Boxes, Dishwashing Pans, Restaurant Bus Tubs, Mailboxes, Industrial Parts Bins…all very simple concepts inspiring creative ideas and solutions for our customers.
Today, The Container Store's offerings are more specific in use, not as esoteric, but the fundamental values of our concept still exist in the product selection. We look for multifunctional items that are versatile enough to last and be repurposed for a lifetime of use. They are beautiful and functional. They enhance our lives and make us better. They help to fulfill our Promise of an Organized Life.
I embrace Marie Kondo's philosophy and encourage everyone to read her book, as the trend towards simplicity and minimalism continues to grow. Do we need to dispose of things that may not spark joy, but still evoke emotions? No. Can we learn and be inspired by her? Yes! And, along the way, we can be at our best by listening to our customers. We are the experts and ultimately, what we give our customers is a beautiful gift… the gift of allowing them to be present, have more time, and experience joy in their life.
Shop our Kiss Clutter Goodbye Sale.