Parting Ways
The season of cleaning out and clearing room is upon us. And after you've refreshed the closet, pantry, garage and maybe more - it's time to tackle the memories.
Sentimental items and keepsakes are, understandably, the hardest items to part with whenever we begin the cleaning out process. But after years of accumulation and moving with more and more from home to home, there comes time to separate what is truly meaningful from what's just collecting dust.
It can be hard to know where to start, so we're here to help with an easy how-to and a few smart solutions for the easy storage of every wonderful memory. Let's get started!
Before You Start - Get Your Mindset Right
Make sure you're actually ready to clear things out.
Don't begrudgingly start to get rid of sentimental items. You need to be in the right mindset to really be okay with letting some items go. If you're not fully into the process you run the risk of stopping halfway through and never picking it up again. We've all done it a time or two! 
Focus on what you want to keep - not what you want to throw away.
By focusing on those few things that really do still hold emotional and significant value, the other items that were in the "should it stay or should it go" pile become clearer to keep or to let go. When you focus on the positive, it makes the negative seem less overwhelming.
For Letters, Artwork, Jewelry, Clothing & Other Keepsakes
Kids artwork, baby shoes, christening clothes, family jewelry, letters and other memories that you have decided to keep can all still have a system of order that's not only easy, but fun for your whole family to take back out and look through. Here's a simple way to make the organization and size of collection stick.
1. Take everything, and we mean everything, out of their containers and lay it all out on a flat surface. Doing this will help you evaluate what you'd like to keep and what you're okay with parting with. Let go of the items you barely remember or don't bring you warm fuzzy memories when you look at them. Keep the rest.
2. Once you've cleaned out, start grouping like items together. Whether that's grouping based on child, event or timeframe, putting items in grouped piles will help you assess what you can get rid of and what size containers you need to store in. Events in your life like weddings, communions, Bat Mitzvahs, graduations, or certain times in your life like high school, college, first home can all be groupings. Just make sure you designate the groupings for what suits your collection of items best.
3. Take each group you've laid out and designate it to its own box.
4. Label the box in a way that makes sense to you - whether that's by date, event or a person. This makes it easy to reorganize and identify no matter where it's place or stacked within the home. Keep in mind, these can change over the years. With removable labels it's easy to reassess!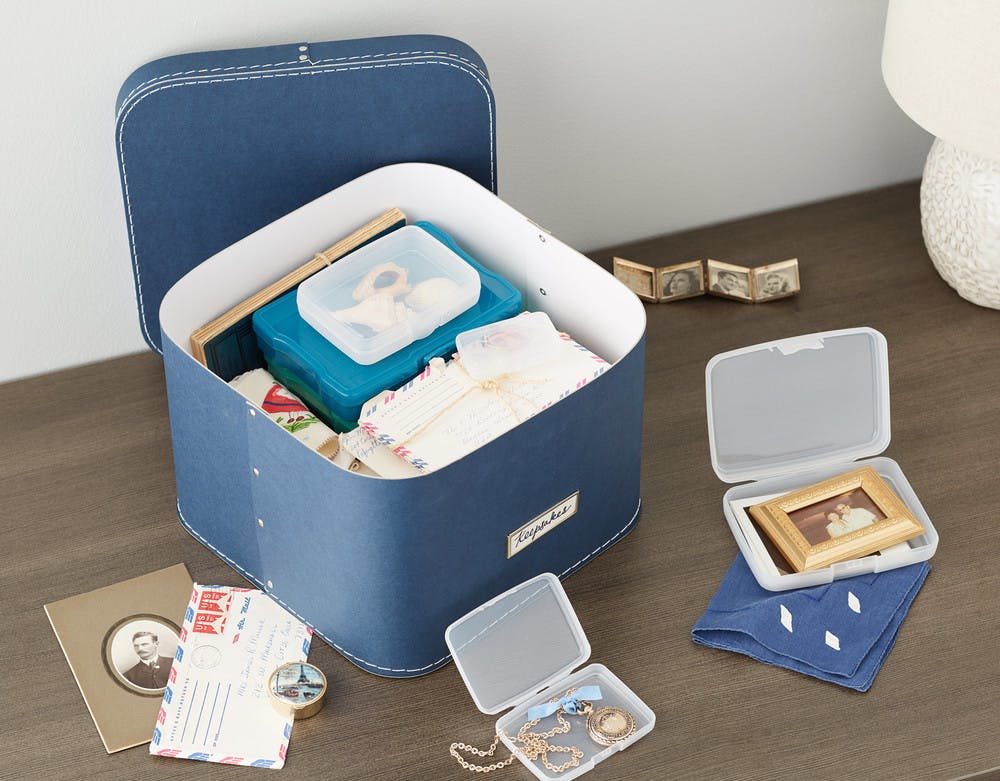 The Products
For organizing sentimental keepsakes, we like using our Oskar Boxes because they not only look beautiful, but are also completely durable and easily labeled. That way, no matter what you store inside, you'll know at a glance who it belongs to and what timeframe its from. For even more detailed organization within your boxes, we like to use our Clear Hinged Boxes to keep small pictures, jewelry and other delicate keepsakes protected and dust-free.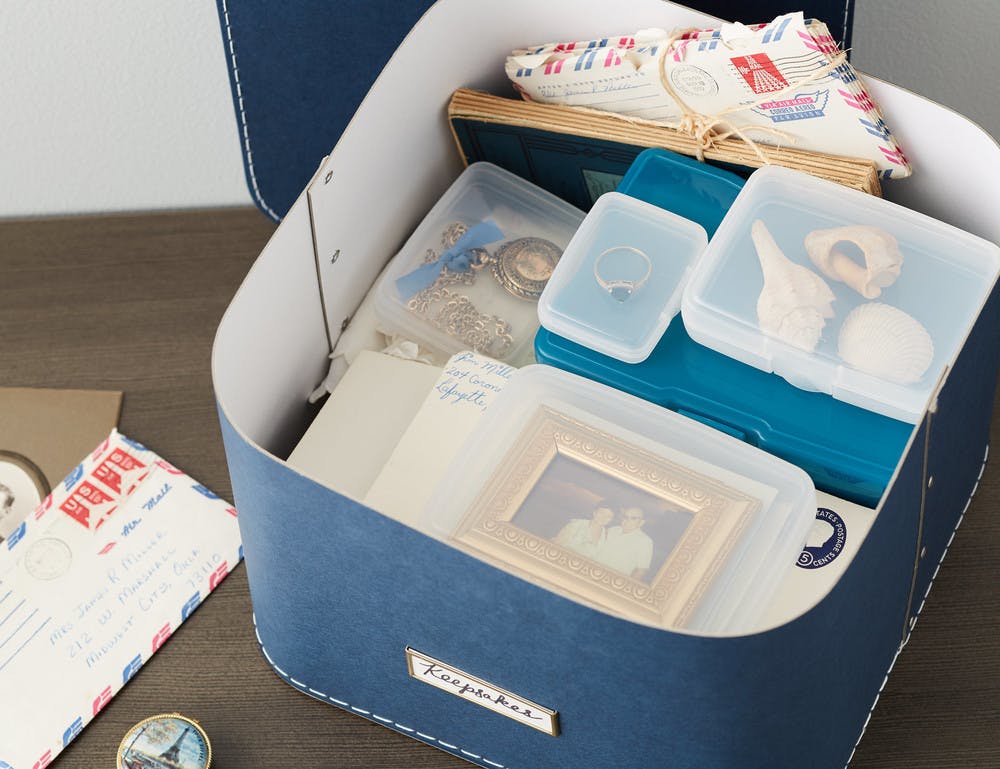 For Photographs & Collections of Every Size
Photographs can accumulate at an extremely rapid rate. Each roll may seem small when it stands alone, but over time those 50 photos can easily become 500 - an insurmountable collection that you keep unorganized in a box, never to be flipped through again. But, with just a little time dedicated to really laying out each photo, you can clearly decide what's worth keeping and what can go by the wayside. Here's how.
1. Collect all the photos you have around the house and remove them from their albums. Yes, every single photo you can find! Only when you truly lay everything out can you really survey what's a duplicate, what's a keeper and what can go.
2. Next, lay all the photos on the floor according to the year or timeframe in which they were taken. The biggest tip with consolidating your photos is to be ready to let go of any that are similar to each other, or represent events, days and times you can't remember.
3. If you have several photos from the same day, choose best one of the bunch. When you lay them out side by side it should be easy to see which one is the clear favorite. You'll most likely want to keep the memories where you, your family and friends look happy, or the scenery makes you feel happy. If a photo makes you feel that way, then it's probably a keeper!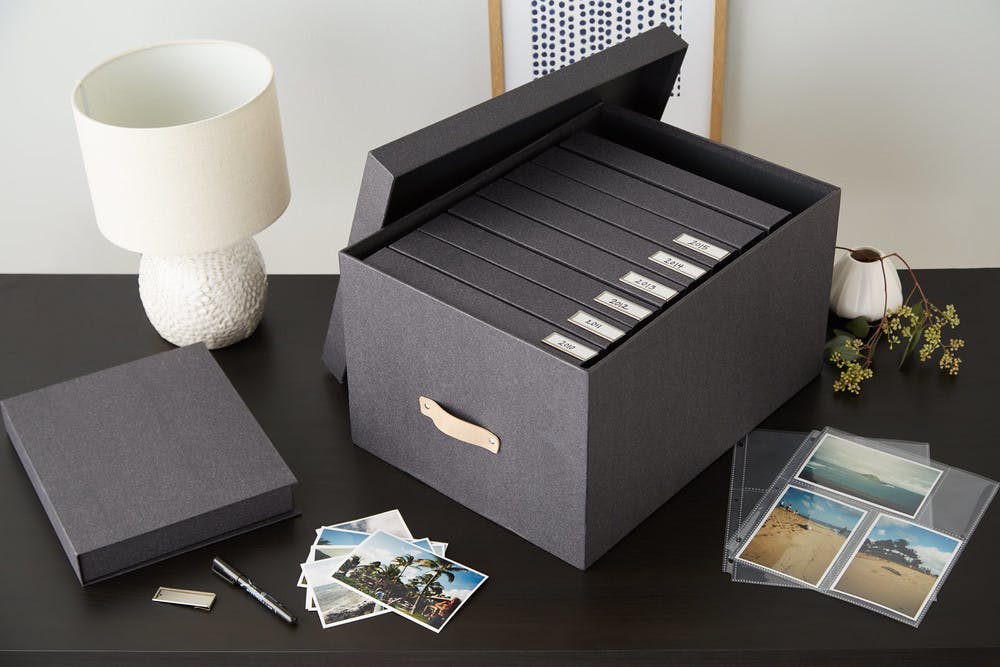 The Products
We love using a Bigso Woodgrain Storage Box to help organize and categorize groups of photos. The muted color and sleek accents make it at home no matter where you store it, and the Bigso Woodgrain Portfolios inside are perfect to protect and organize each photo. When placed inside, you can label each spine with dates, events and people.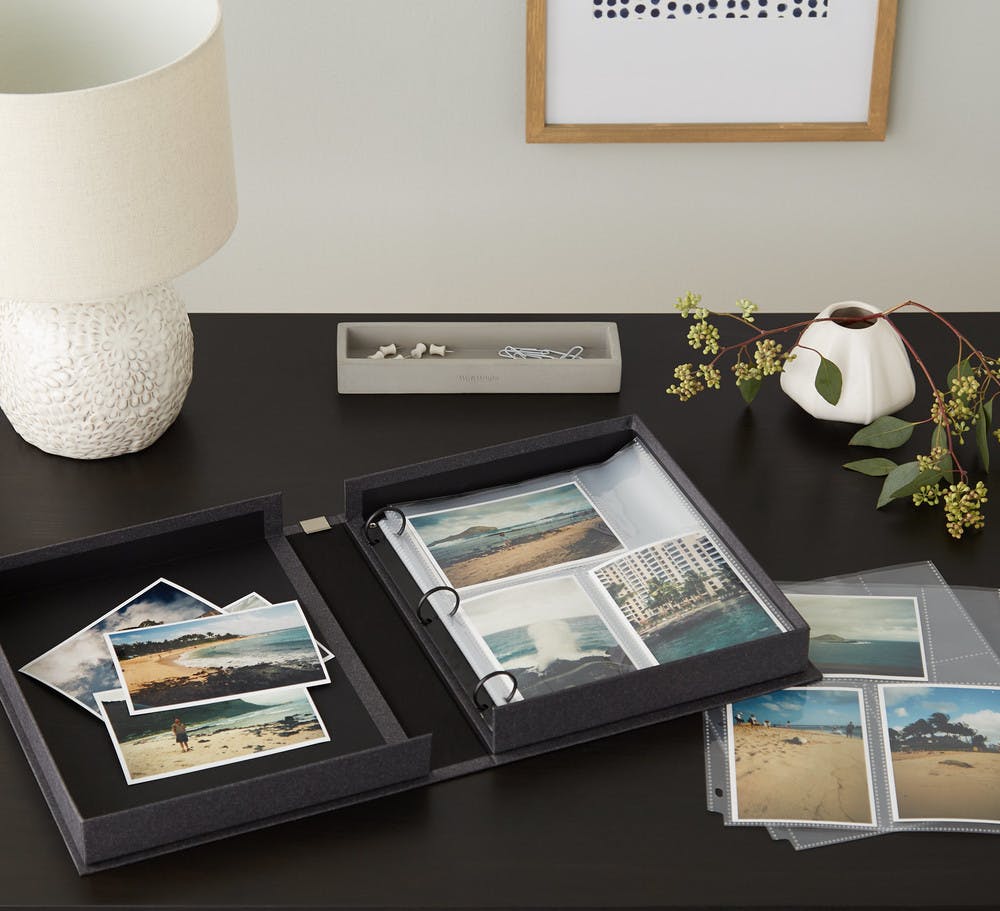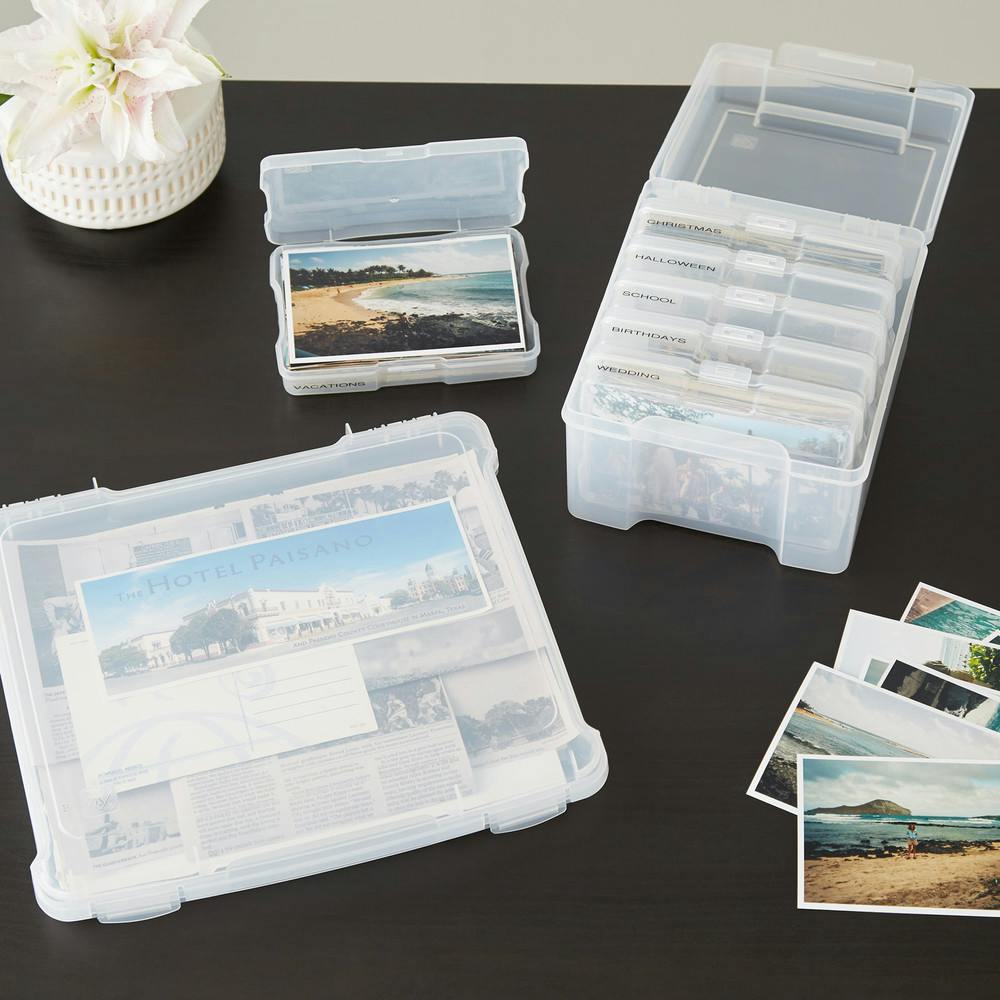 Clear organizers, like our Photo & Craft Storage Boxes & Carriers are another fantastic option. They not only allow you to easily label and see what you've taken stock of at a glance, but their design is completely compact and easy to store anywhere. They come in several different sizes depending on your collection and organizing style.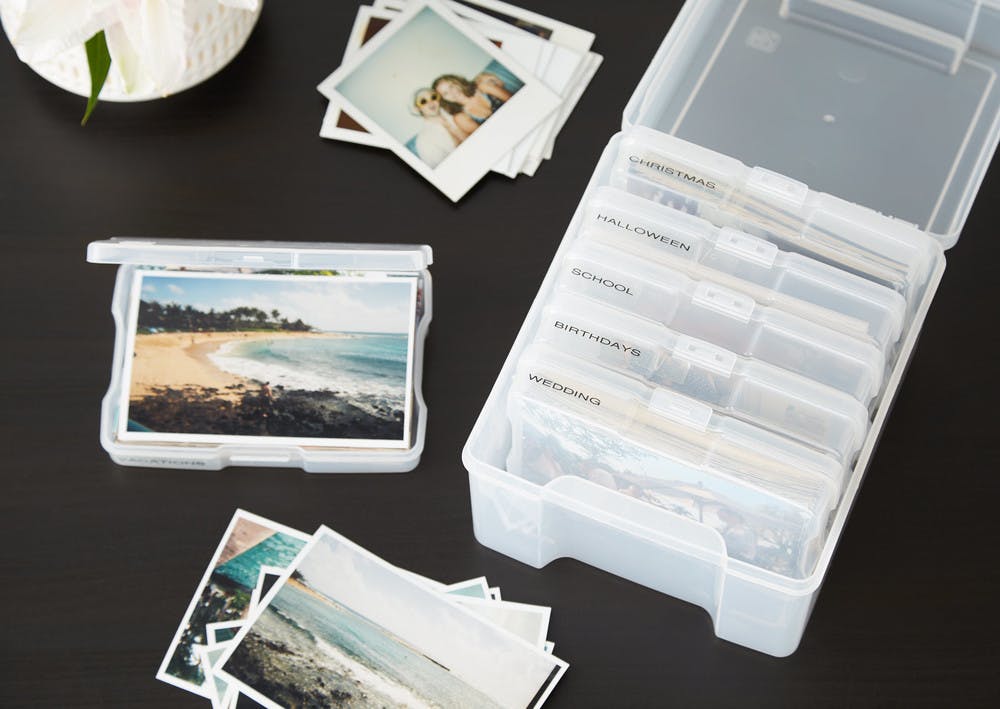 You can use each individual case to organize by event or by date - whatever is easiest for your system. They fit perfectly within the boxes and carriers and snap securely closed when you're done looking through the memories.
If you have any tips on how you've cleaned out and stored sentimental items in your home, let us know in the comments below!