Our Elfa Door & Wall Racks have long been a favorite of Container Store customers and employees alike. It's not hard to see why; with almost unlimited storing capacity, this easily-put-together, infinitely changeable storage solution can be installed straight into a wall, or hooked right over a door. It's easy, it's budget-friendly and it's designed for your space - whatever space that may be. If you're wondering just how many rooms you need this solution in, check out some of our inspiration, below!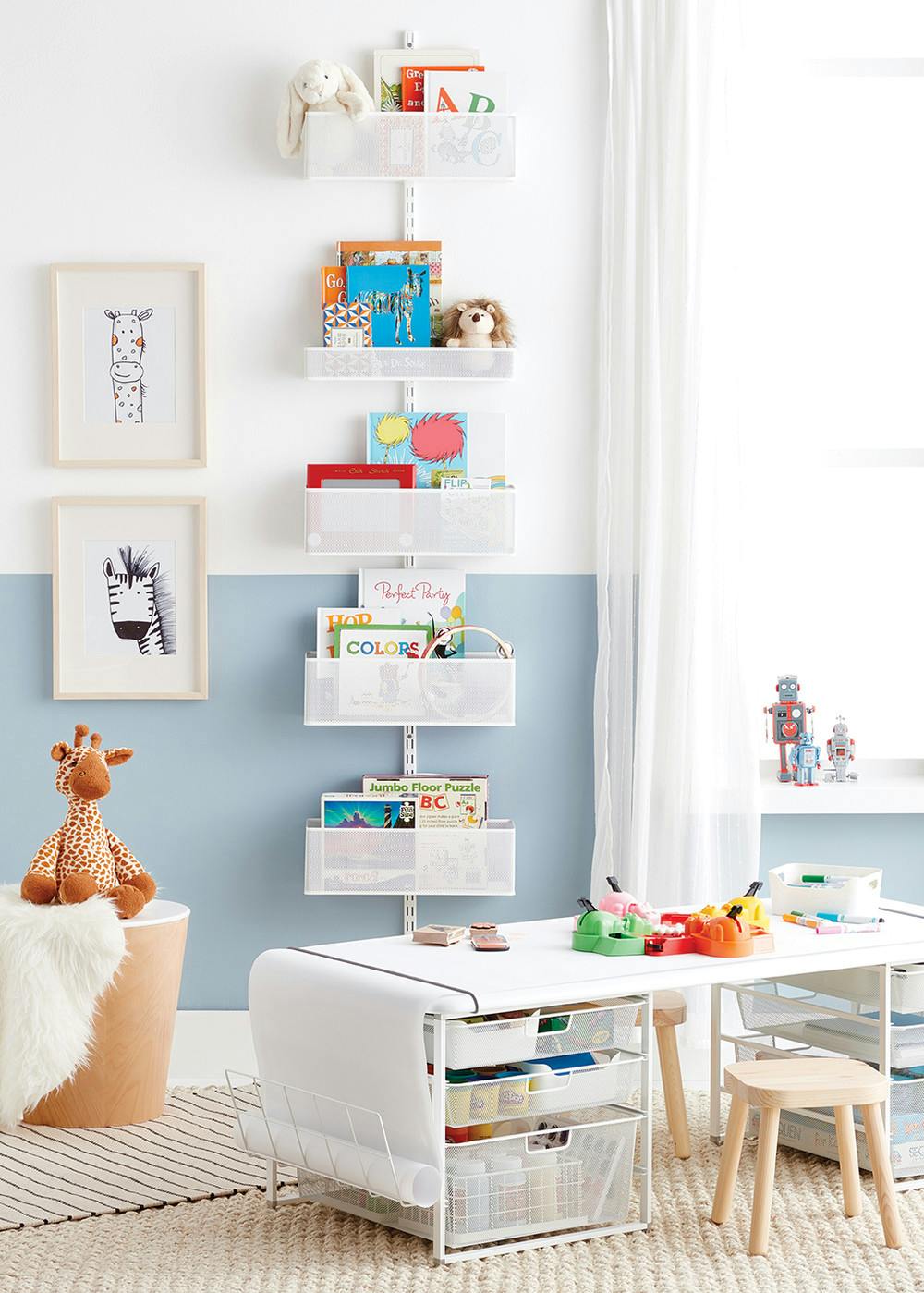 Playroom
Our Elfa Door & Wall Rack is perfectly suited to offer easy storage in any playroom. Removable baskets make it easy for kids to access whatever books and toys they want, while also making it easy for you to securely store items only you can reach. Plus, it offers up more floor space than a traditional bookcase which means even more room for them to play.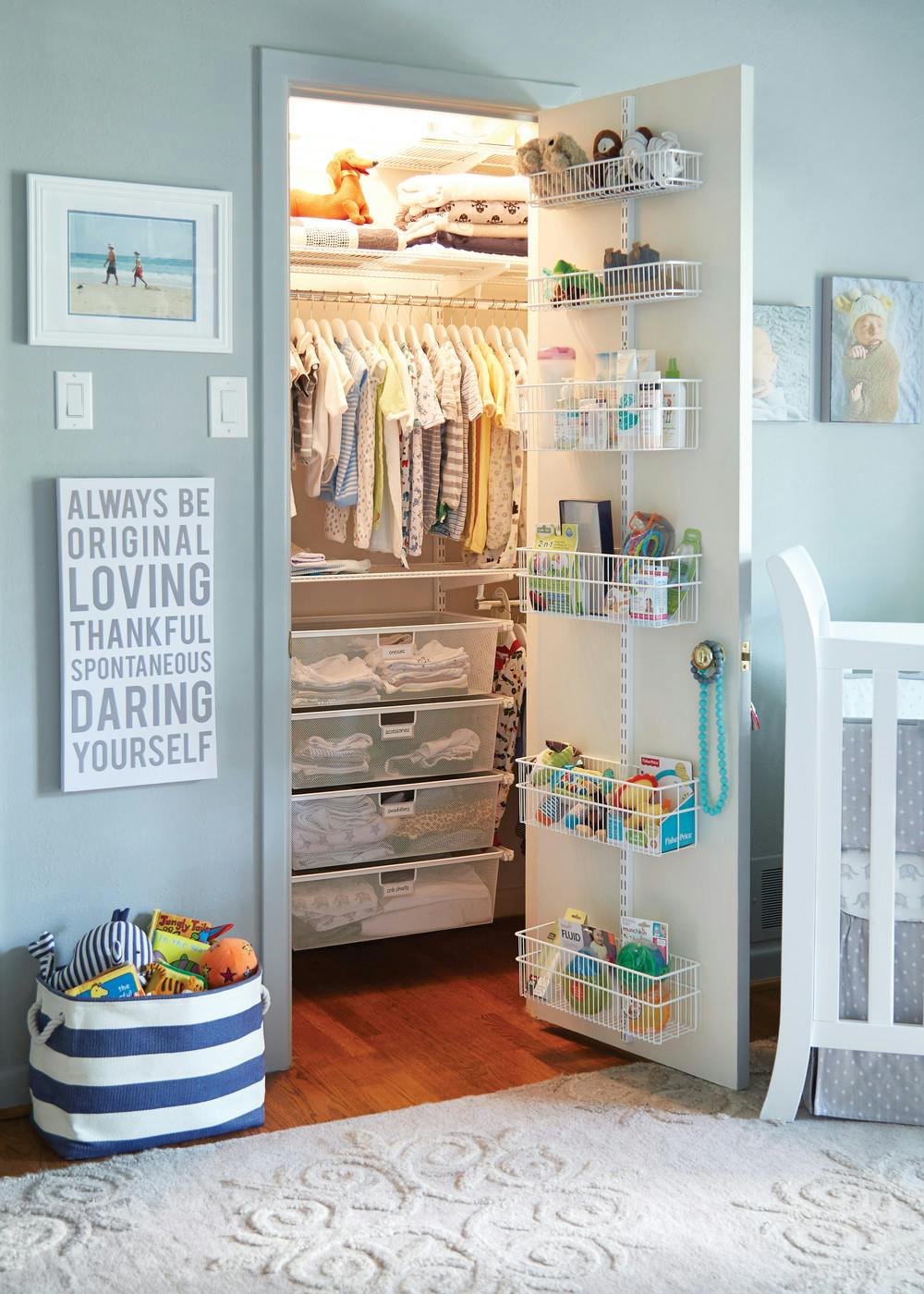 Nursery
If you're looking for a more space-efficient way to store your nursery necessities, this solution might be a great fit. Six baskets can be easily re-positioned based on what you're storing and how easily accessible the items need to be. Baskets can store toys, burping towels, blankets, diapers and more with ease.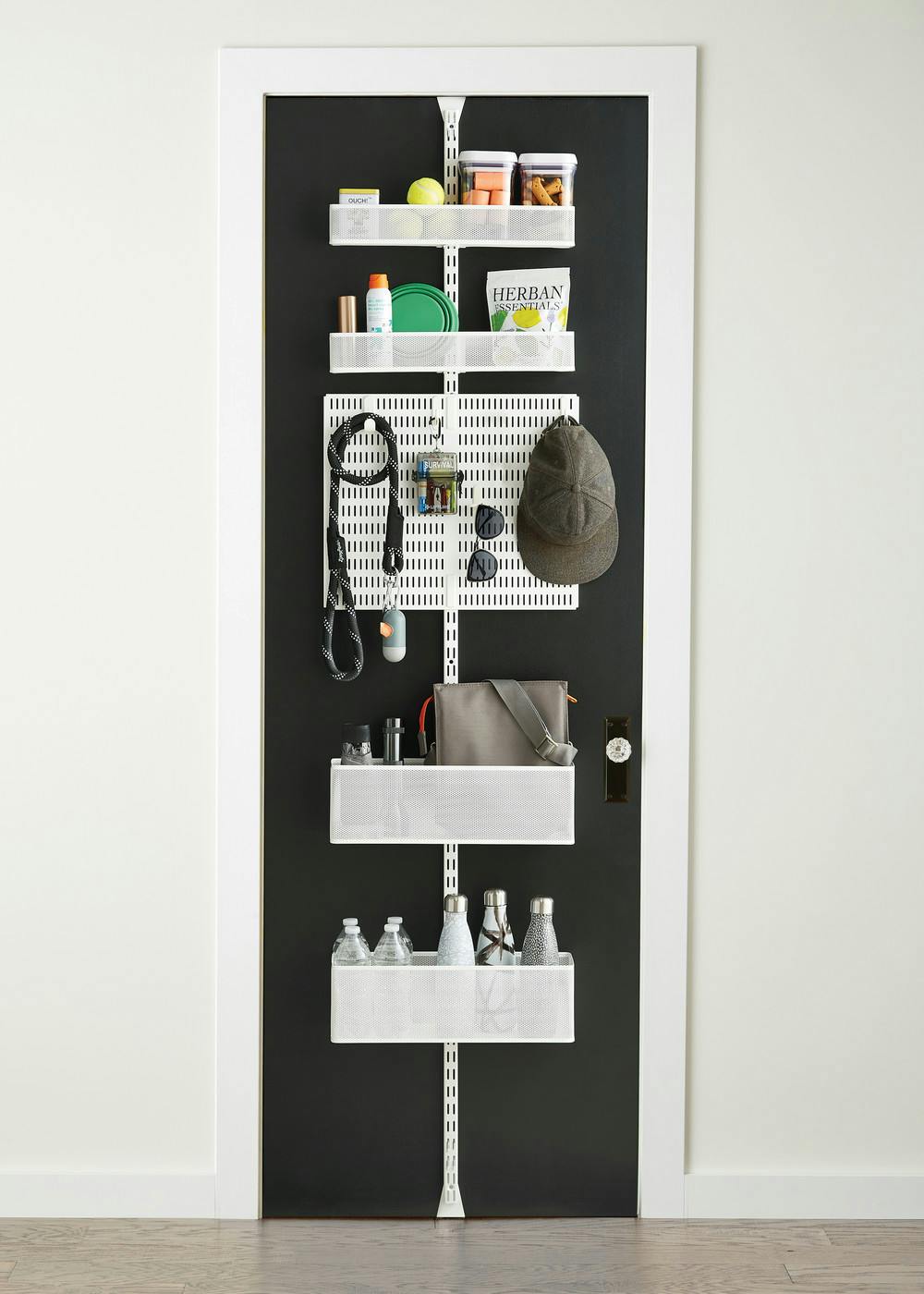 Mud Room/Entryway
For do-it-all storage, our Mudroom/Entryway Elfa Door & Wall Rack does the trick. The Utility Board can be fitted with hooks, bins and boxes to organize keys, leashes, hats, sunglasses and more, while two shallow baskets and two deep baskets organize everything from snacks and water bottles, to bags and dog treats.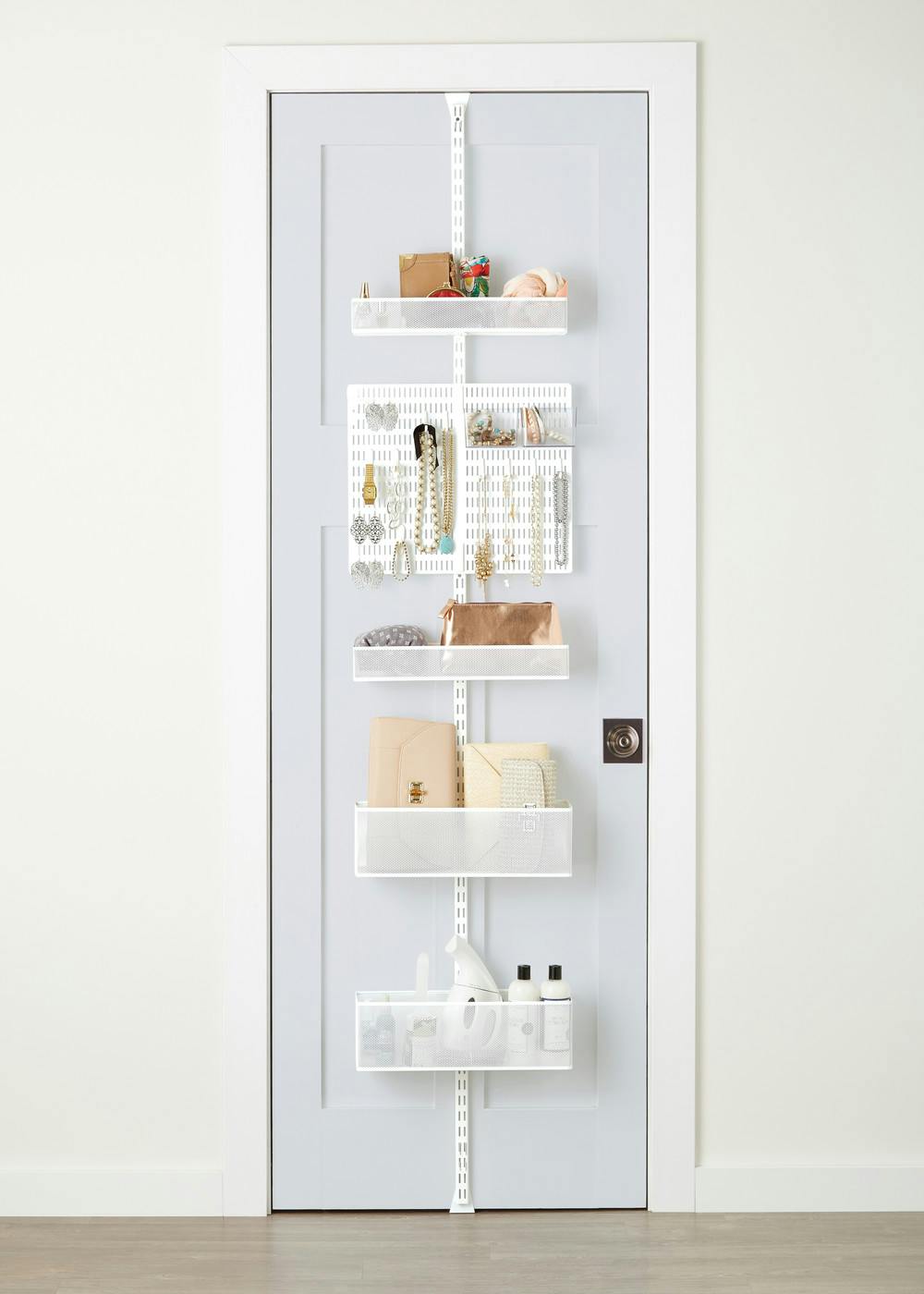 Small Multi-Use Space
If you have a smaller, or multi-use space, use this Elfa Door & Wall Rack designed just for that! This flexible solution includes a Utility Board with Hooks and Bins that gives you endless options for storing jewelry, hair accessories and sunglasses. Four mesh baskets in two sizes provide space for handbags, pouches - even lint rollers and laundry essentials if you need to use this space for more than just a place to accessorize.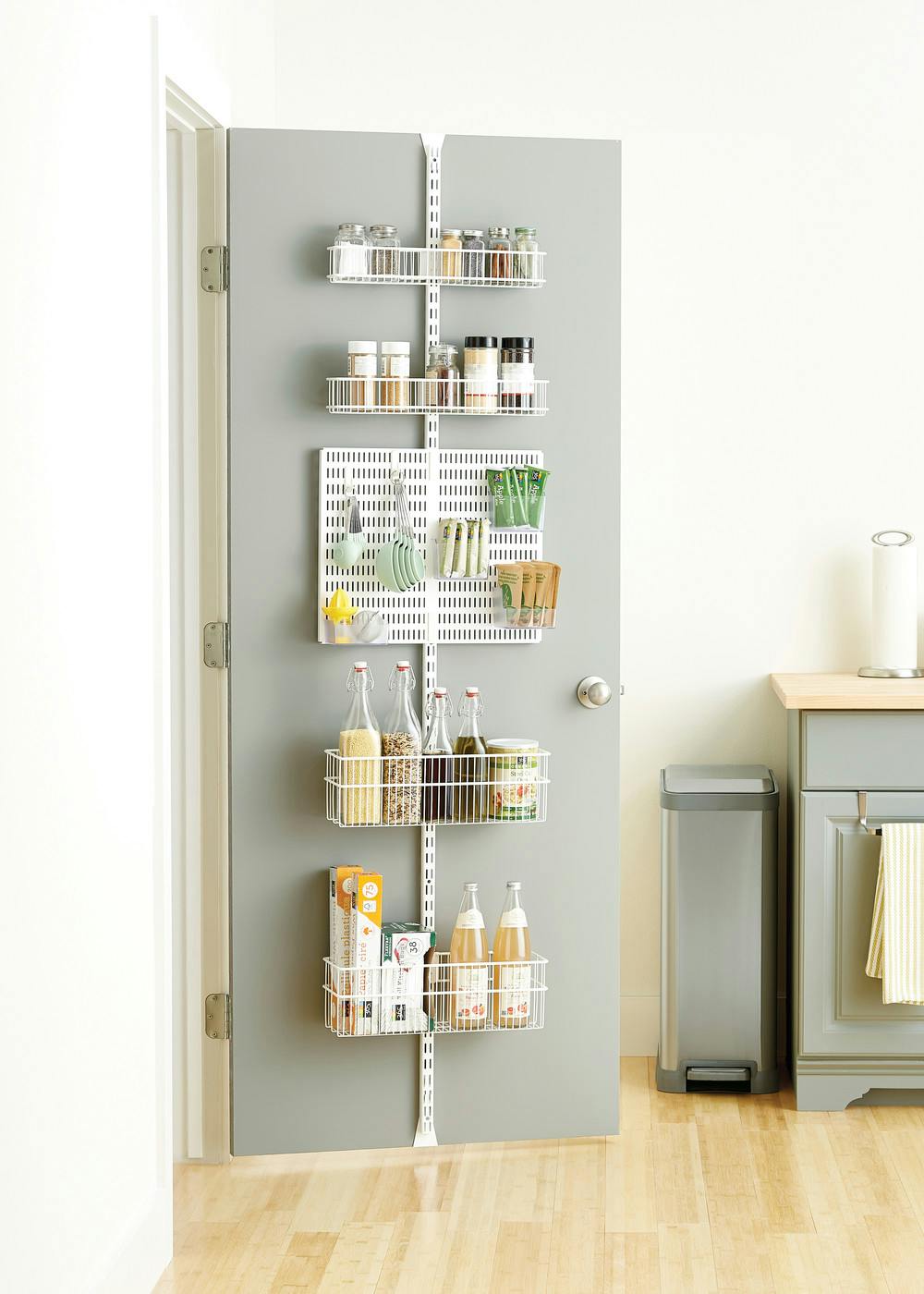 Pantry/Kitchen
One of our favorite places to use the Elfa Door & Wall Rack is the kitchen. Most kitchens just don't have enough counter space or enough pantry space to really store your necessities. Create instant room right behind your pantry door with this smart kitchen solution. The four baskets provide storage for spice jars, bottles of oil or vinegar, canned items and other pantry staples. As always, baskets can be easily repositioned to fit your storage needs, or even removed if you want to take ingredients to another area.
If you found yourself liking some aspects of these pre-made solutions, but not others, design your very own Elfa Door & Wall Rack here! And, save 30% on every single Elfa solution during our annual Elfa Sale, going on now through Tuesday, February 26th!