Brooke Levy and Katie Savage are Memphis-based professional organizers who blog at Blue Pencil Home. (All photos are courtesy of Blue Pencil Home.)
With the holiday season behind us, it's now time to find an organized way to store all that gift wrap! With that in mind--and the help of The Container Store--we've put together five simple tips to help keep all of your wrapping supplies organized all year long!
1. Get all your supplies together in one area.
Make sure you have your wrapping paper, tape, scissors, and anything else you think you might need to wrap your gifts all in one space. We like using The Container Store's Platinum Elfa Mesh Gift Wrap Cart to keep our supplies neatly organized and easy to find. (Here it is in white.) You can store the cart in your closet year-round and then pull it out whenever you need it. It conveniently holds everything you might need in one place so you don't have to run around the house searching for something--well, as long as your family members don't steal your pair of scissors or tape and never return them to the cart! The wheels make it especially easy to move from place to place, so you can roll it out in front of the TV and get a glass of wine and knock out your wrapping all at once. You can use the cart's top surface to wrap and the drawers are ideal for holding everything from gift bags and tissue paper to smaller items like bows and gift tags.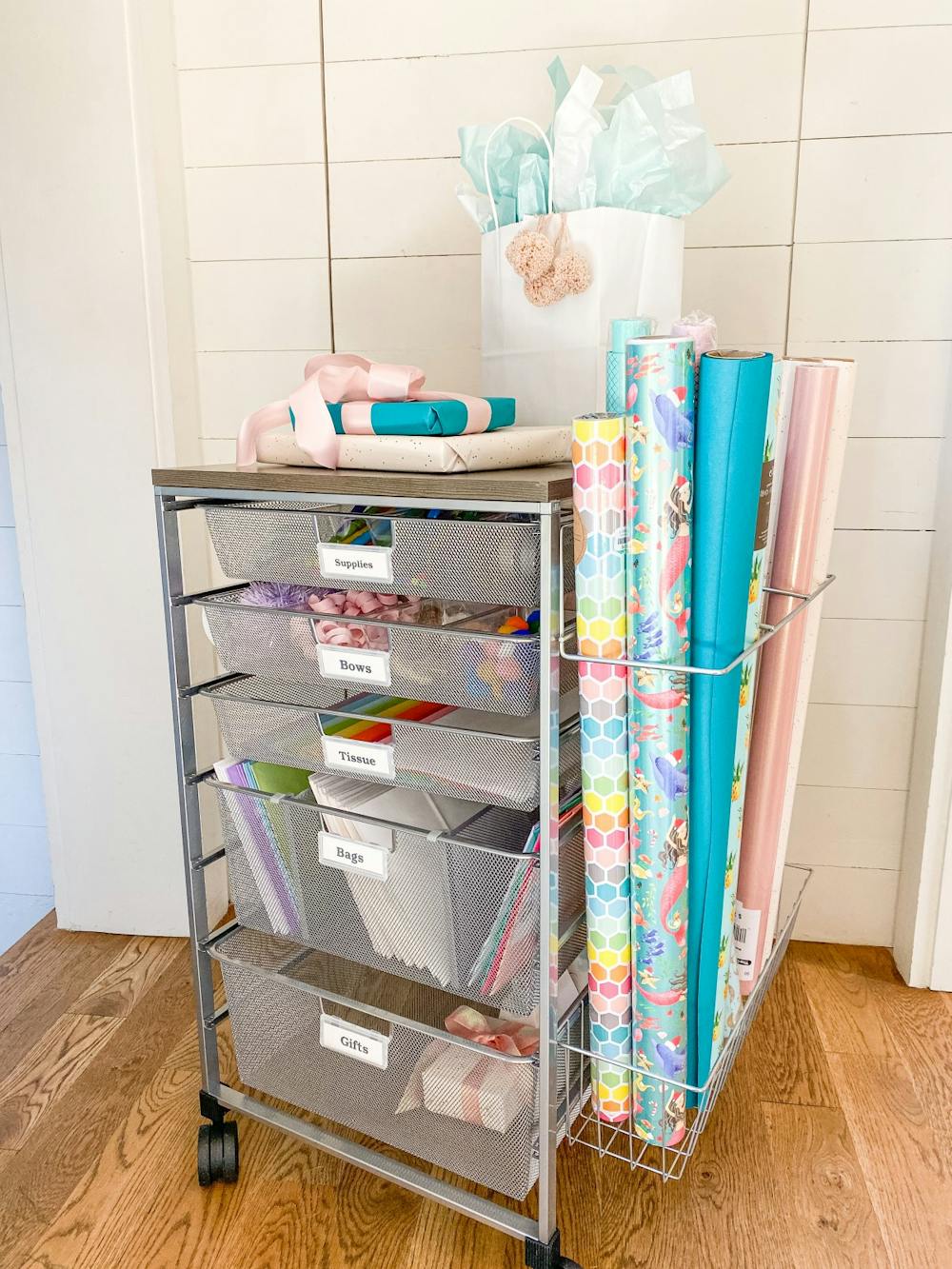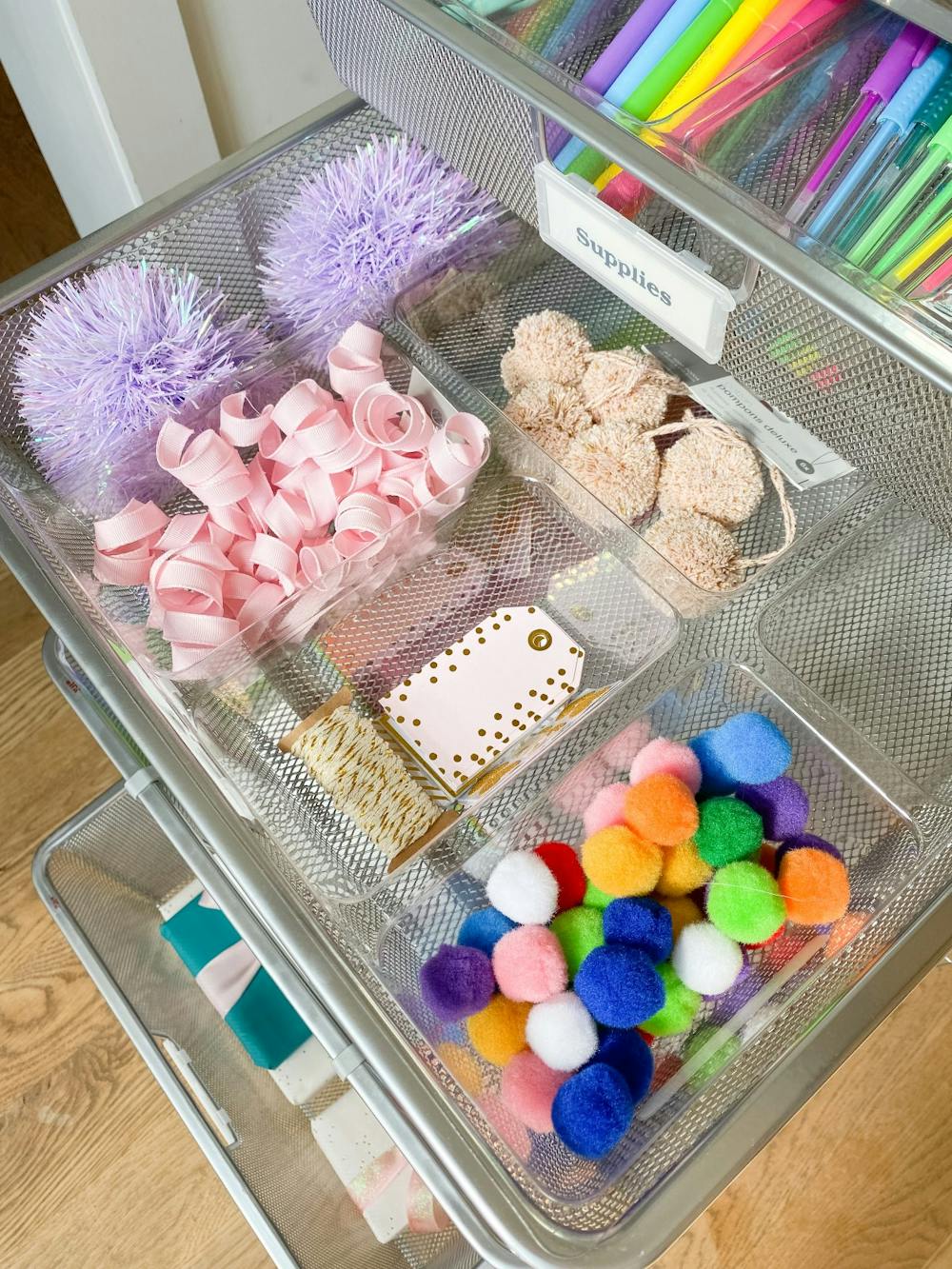 2. Invest in good supplies.
This Hands-Free Tape Dispenser has become a favorite of ours. It keeps both hands free for wrapping, while also keeping the tape from getting lost under a pile of tissue paper. Plus, it's only $4.99!
The Helix Paper Cutter & Folder is another favorite that's also under $5. Not only can you use it to cut your wrapping paper more smoothly, but the cutter also has a side that you can use to help flatten your paper while you're folding for a nice clean, smooth edge. And, if you feel like adding a little extra cheer to your packages with ribbons you can wrap your ribbon around the cutter to curl it.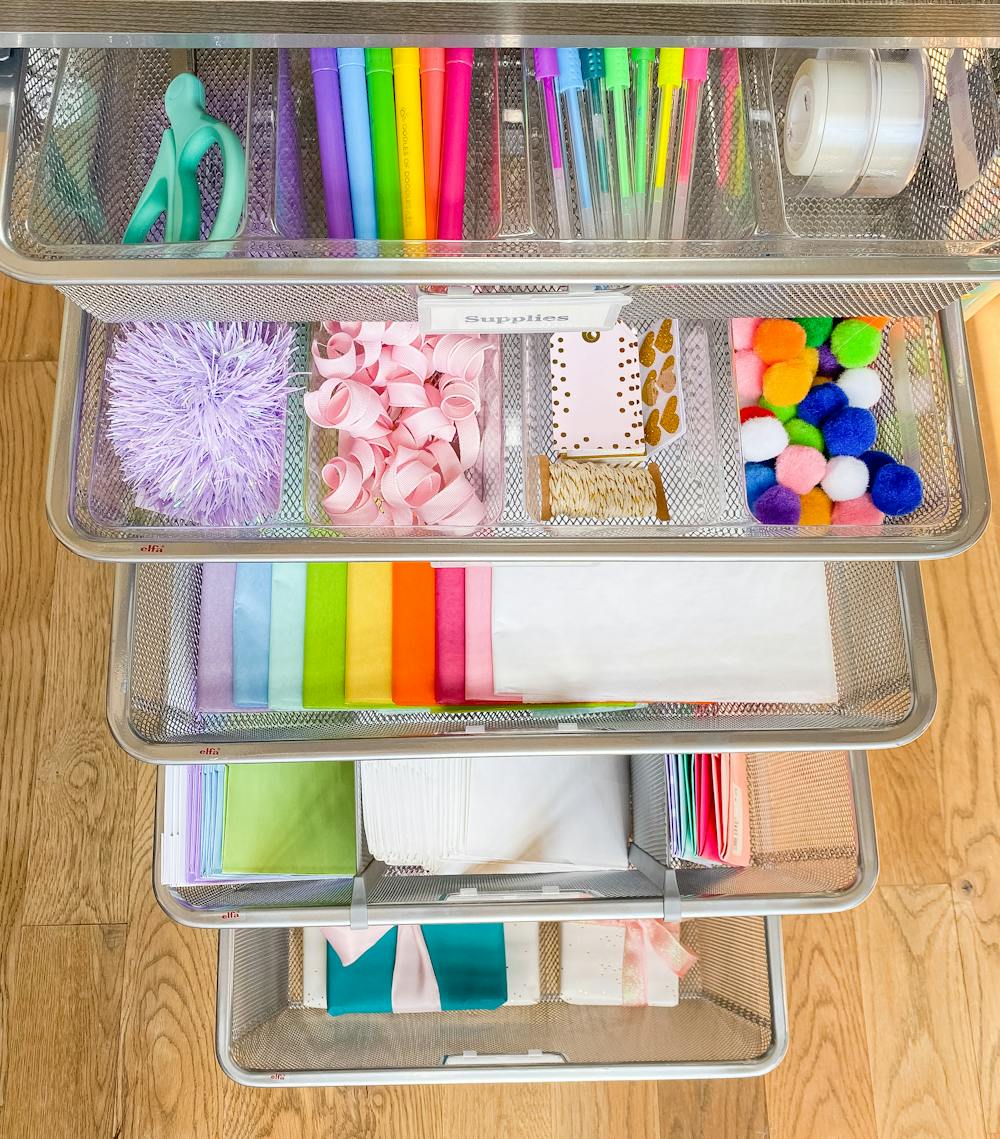 3. Bags, bags, bags.
We realize everyone doesn't love spending hours wrapping gifts. Luckily, using gift bags instead of paper can easily solve that problem. We always have neutral bags on hand because they can be used for any occasion and fun, brightly colored tissue paper or bows can make a plain bag more festive.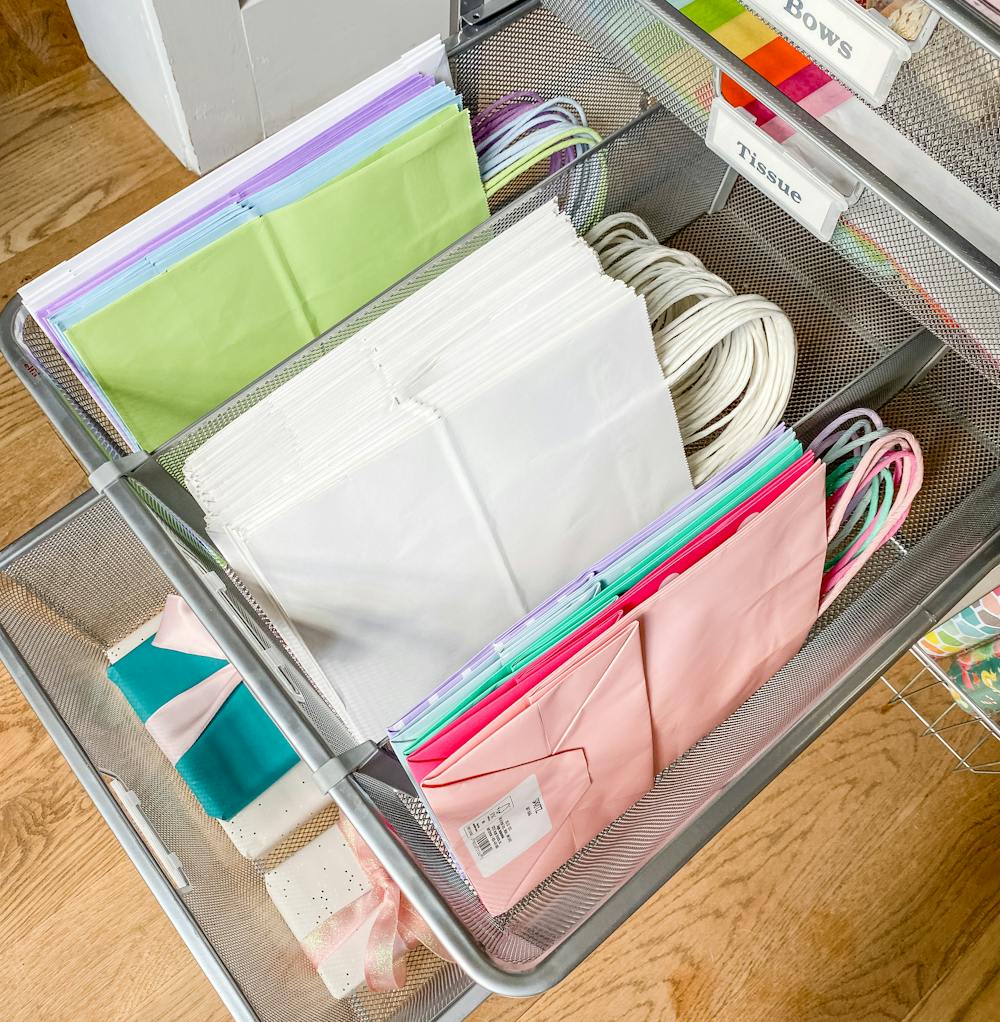 4. Do not use old bags or paper.
We know how easy it is to hang on to those old gift bags and wrapping paper, but go ahead and toss them and replenish with new wrapping supplies.  The Container Store has a ton of gift wrap options and accessories for every style. We're big fans of their high-quality wrapping paper.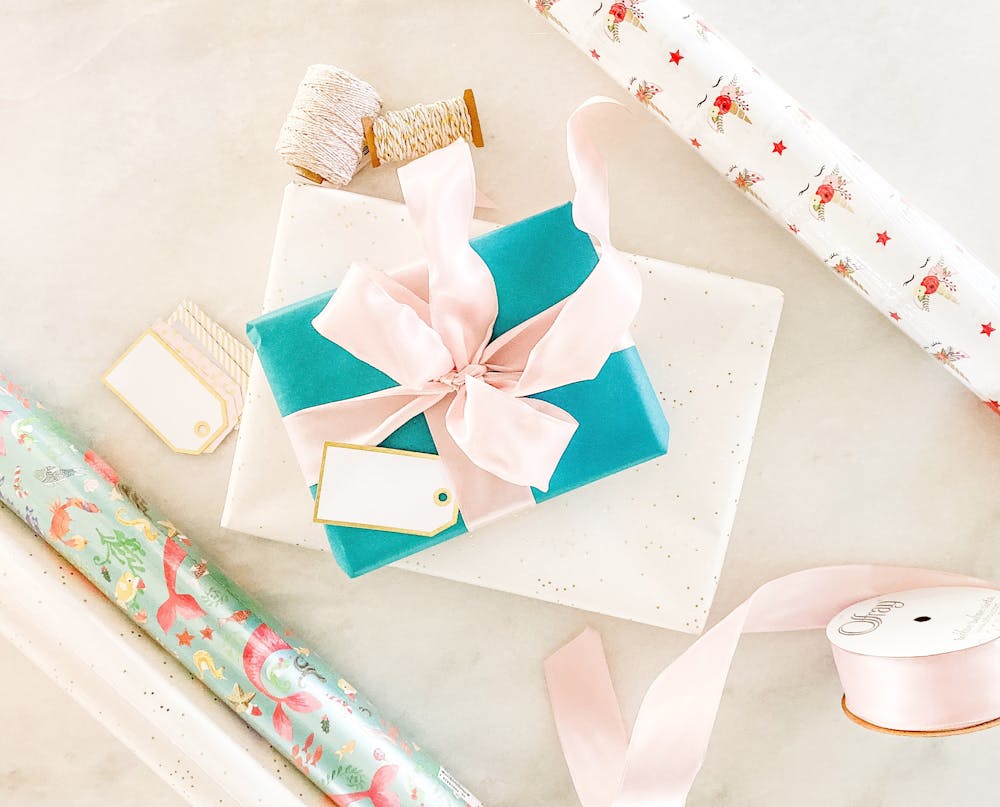 5. Keep spare gifts around.
We always like to keep a few spare gifts in our wrapping cart. You never know when you're going to be invited to a party and need something to take the hostess. They also come in really handy when you've accidentally forgotten a birthday or special occasion and don't have time to run to the store. (Just be sure not to buy too many gifts, because you'll have to store all of them.) You'll also want to keep all the gifts in one designated area, so they aren't all over the place and are easy to find right when you need them.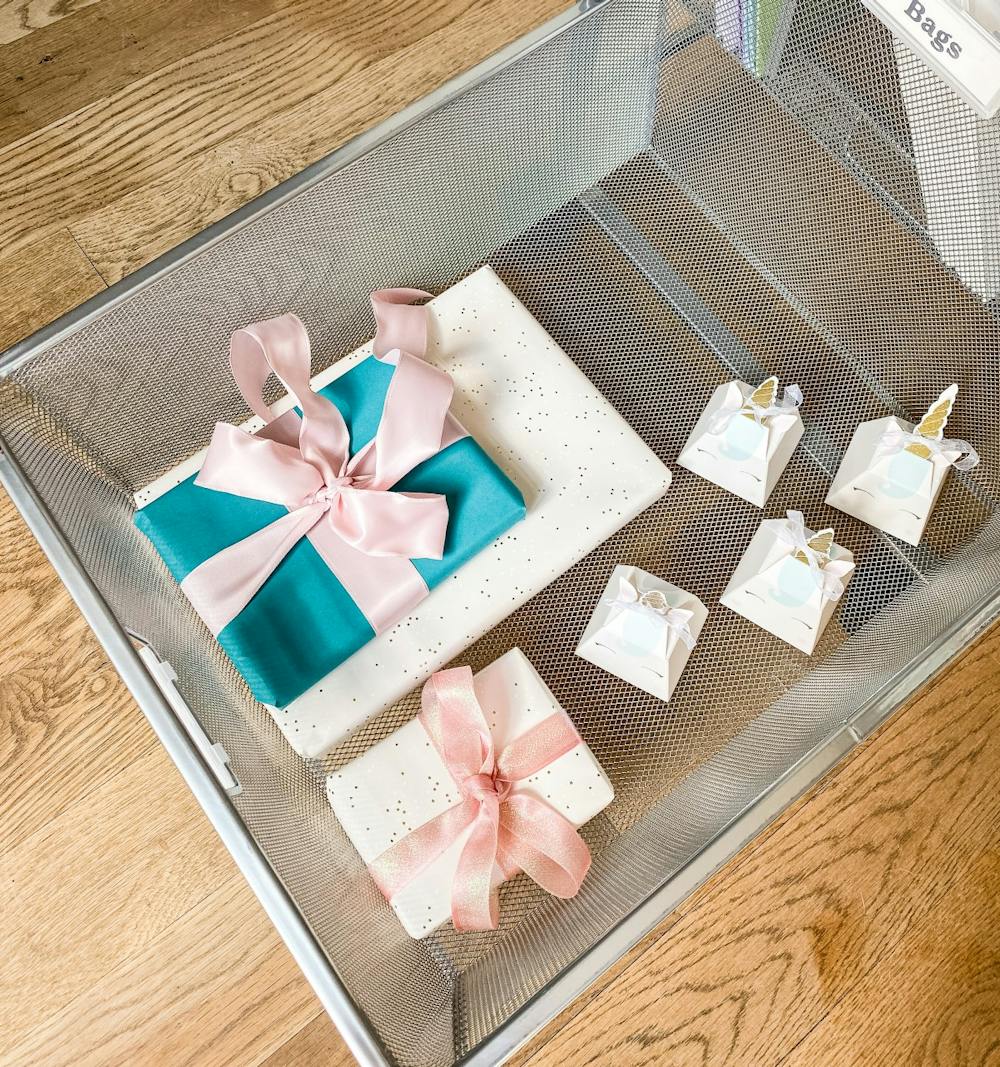 We hope these tips will help your gift-giving go a little more smoothly. And if you run out of wrapping supplies, head to The Container Store and you'll find everything you need to get organized and ready!
(For more great tips, check out Blue Pencil Home on their blog, Instagram, and Facebook.)