They say where there is order, there is tranquility. As a fashion blogger, this is especially true when it comes to closet organization.
Recently, Jordan and I moved into our new place and it was finally time for us to share a closet. We knew were up against no small task, that's why we partnered with The Container Store and Neat Method to help us organize our first shared closet as a married couple! The result is nothing short of amazing.
Check out the finished results below. PLUS, read my best tips for organizing your closet.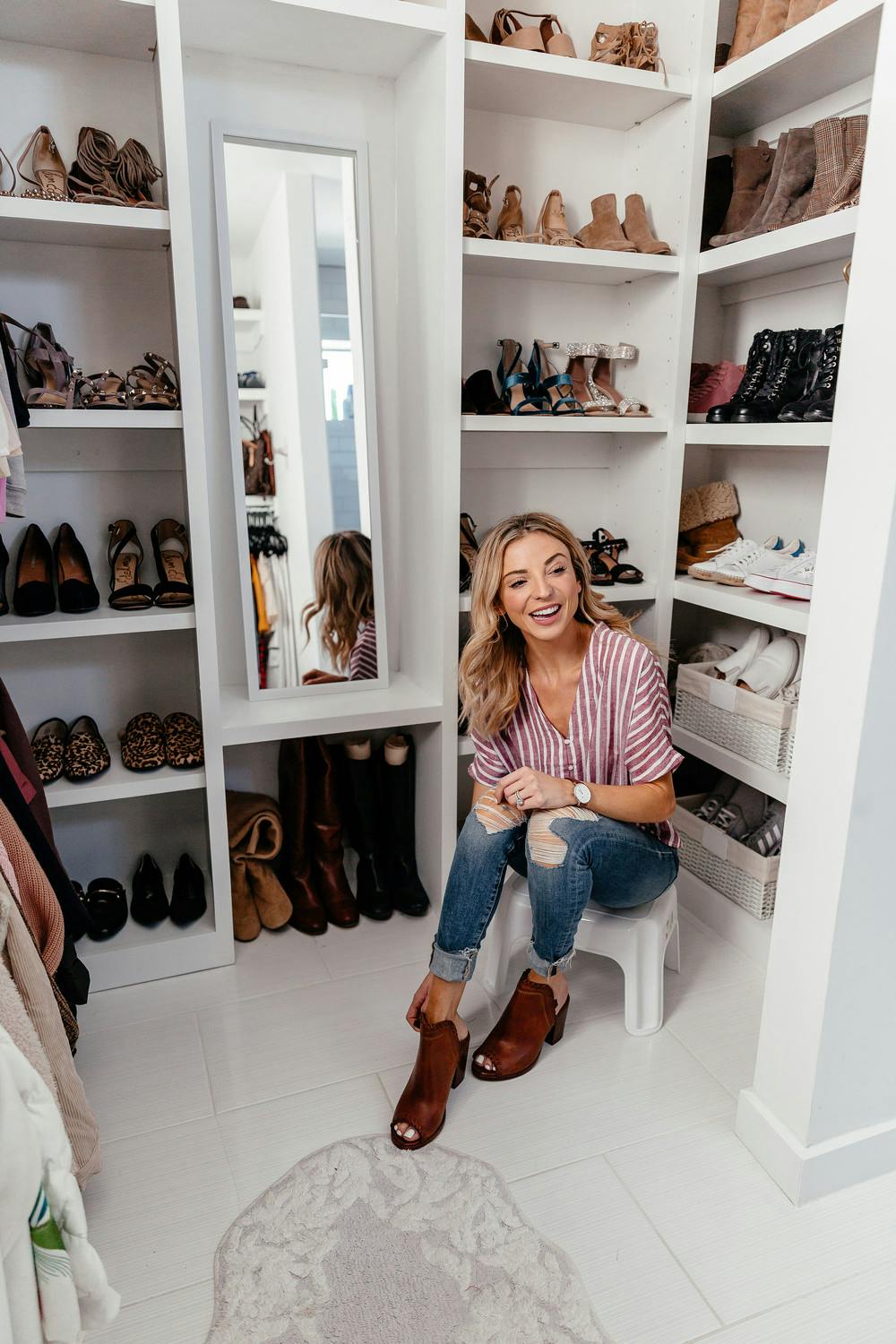 Before you get started...
Purge. If you haven't worn it for a year, it's time to say goodbye.
Keep. Hold on to basics, like neutral t-shirts and tanks. They're classic and they make great layering pieces.
Donate. Outfits in good condition that no longer fit, or match your style anymore can easily be given to a local charity.
Now that you've kept only your essentials, follow these tips to achieve closet organization that will last through the changing of seasons and survive all the fashion trends in between!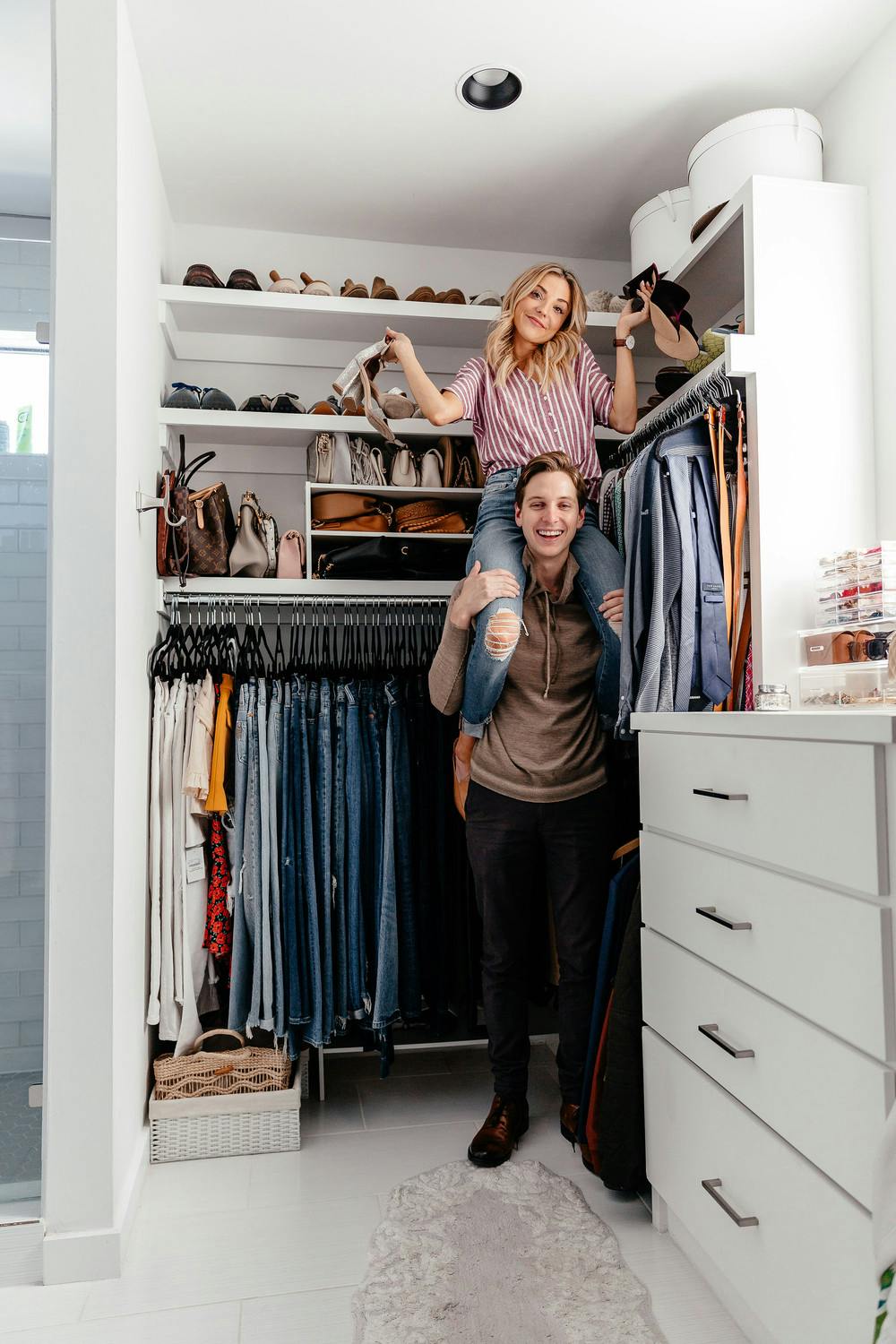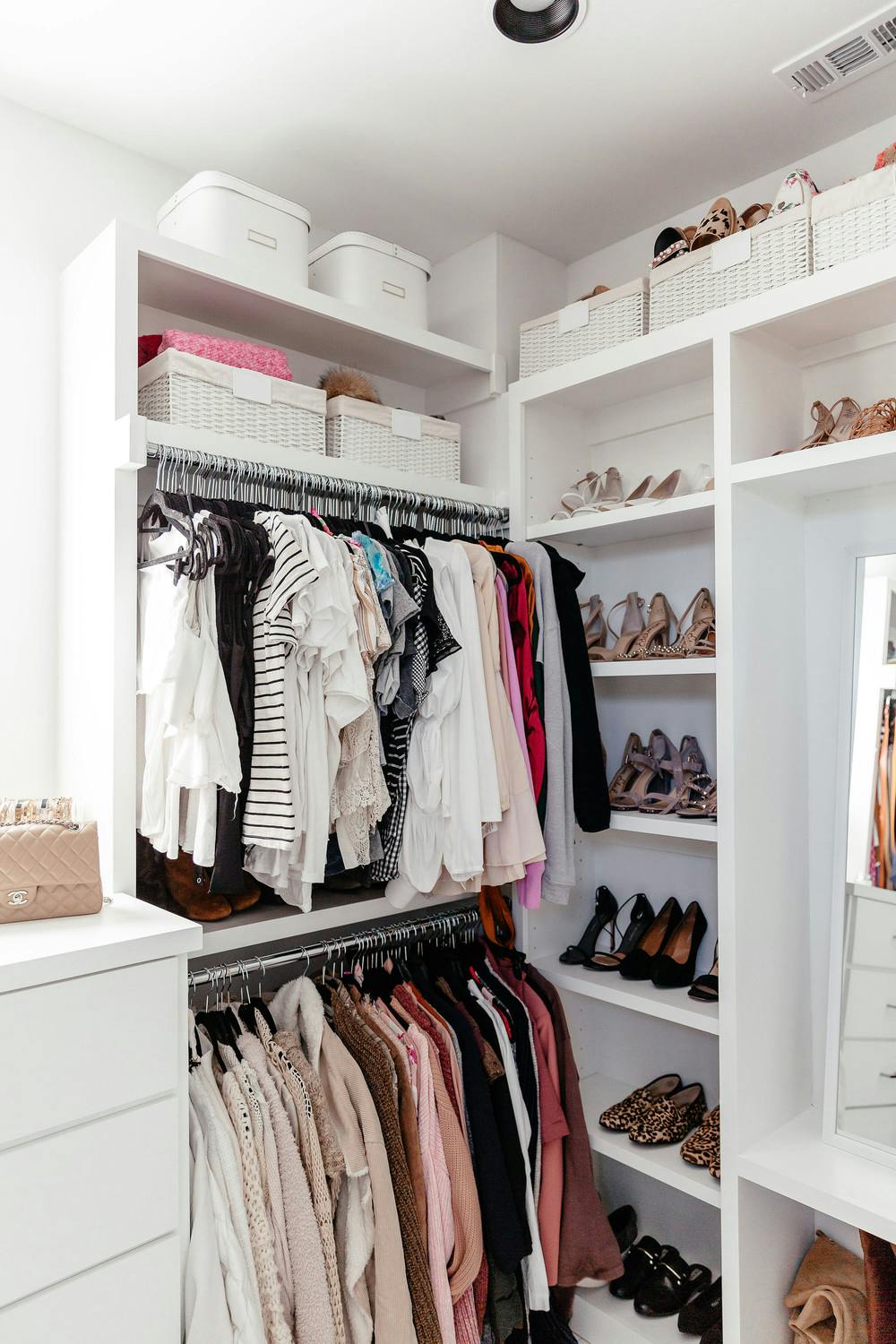 TIP 01  | KEEP YOUR TOP SHELF IN CHECK
Most closets end up with unused shelf space near the ceiling. Put all that space to good use with strategically placed Oskar Storage Boxes to store pieces you don't use frequently.
TIP 02 | USE BASKETS AND BOXES
An easy way to add organization to your closet is to hide little accessories. Montauk Woven Storage Bins are a great way to add a subtle touch of style to your space and make it easier to find your accessories.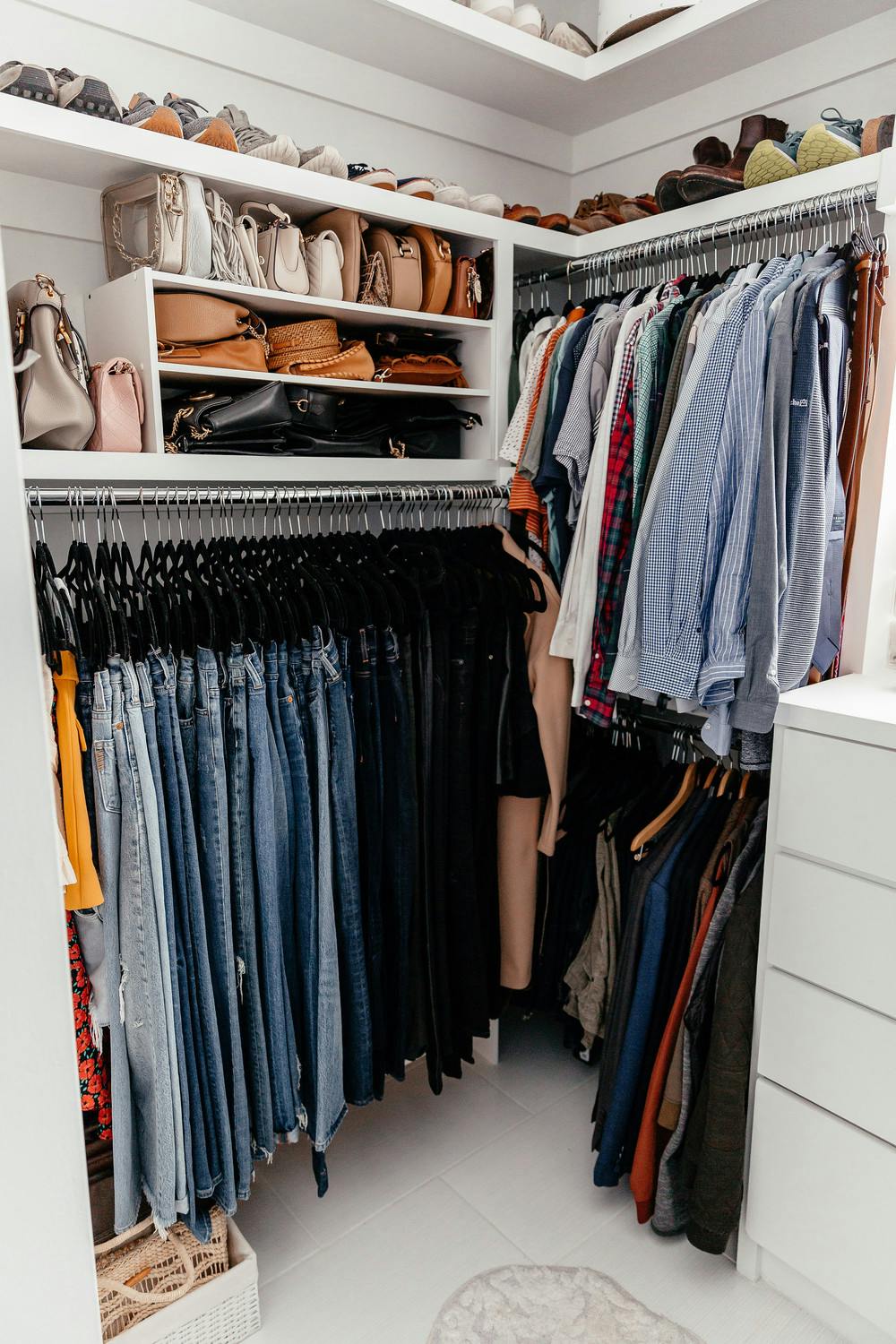 TIP 03 | HANG STRATEGICALLY
Shorter pieces of clothing, like tops and skirts, should be hung on the top section of your closet. Longer pieces, like pants and full length dresses, should have ample vertical hanging space to avoid being bunched up at the bottom.
TIP 04  | USE NON-SLIP HANGERS
Huggable Hangers are affordable, keep tops from falling off the hanger, and look oh-so-chic in your space. They're even rounded at the corners so you won't end up with bulging shoulder marks on your tops.
TIP 05  | SWAP OUT SEASONAL ITEMS
Don't waste precious hanging space with clothes you won't wear for several months. Instead, store out-of-season items, like swimsuits or winter sweaters, in another place for the time being. Swap them out when it's time to bring them back to life!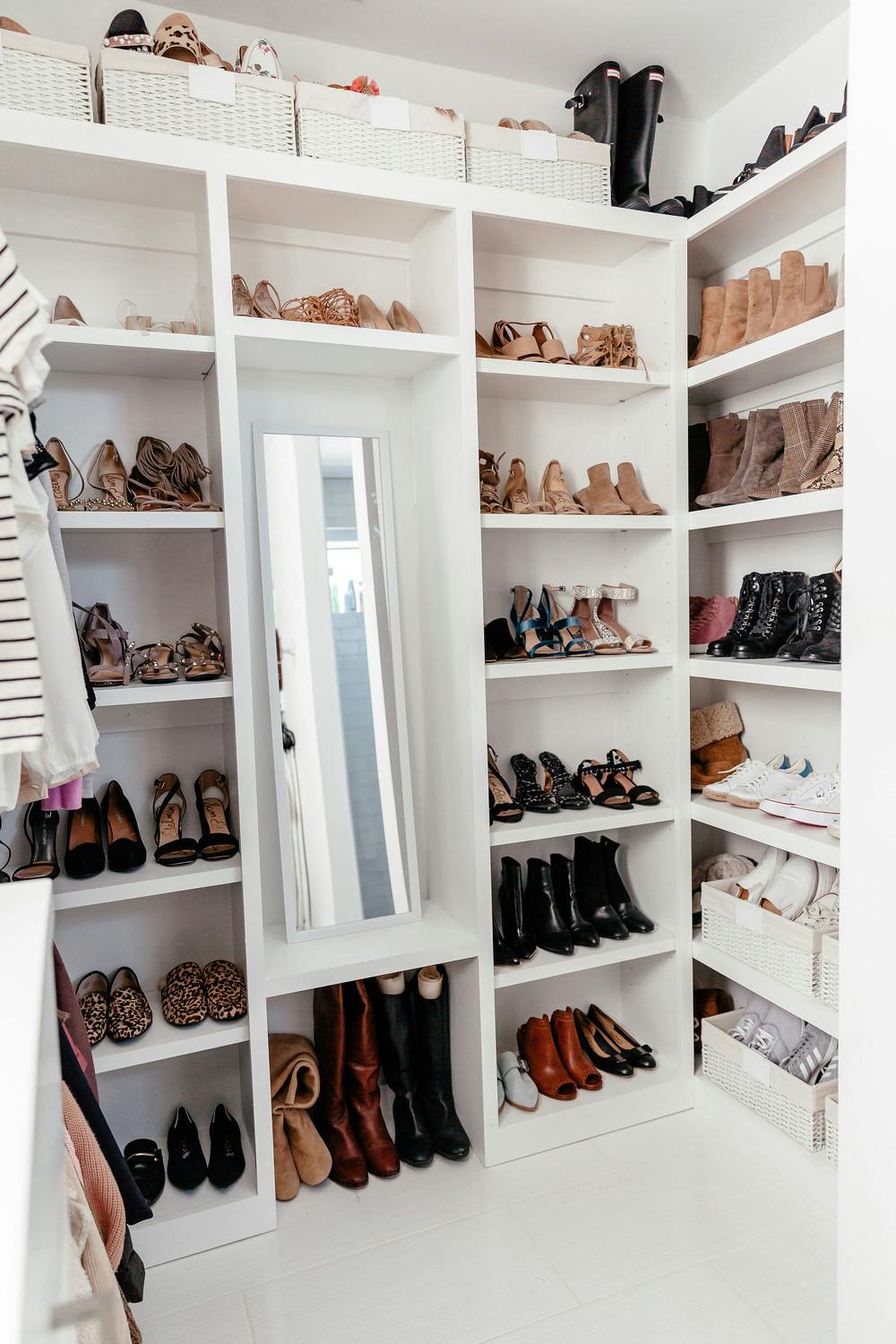 TIP 06  | USE FULL LENGTH MIRROR
A full length mirror is an essential part of any closet. It works wonders for opening up your space, and it allows you to see your entire outfit from head to toe. If you have the floor space, consider using a Hub Full-Length Floor Mirror. If you're tight on a space, an Over the Door Mirror will also work.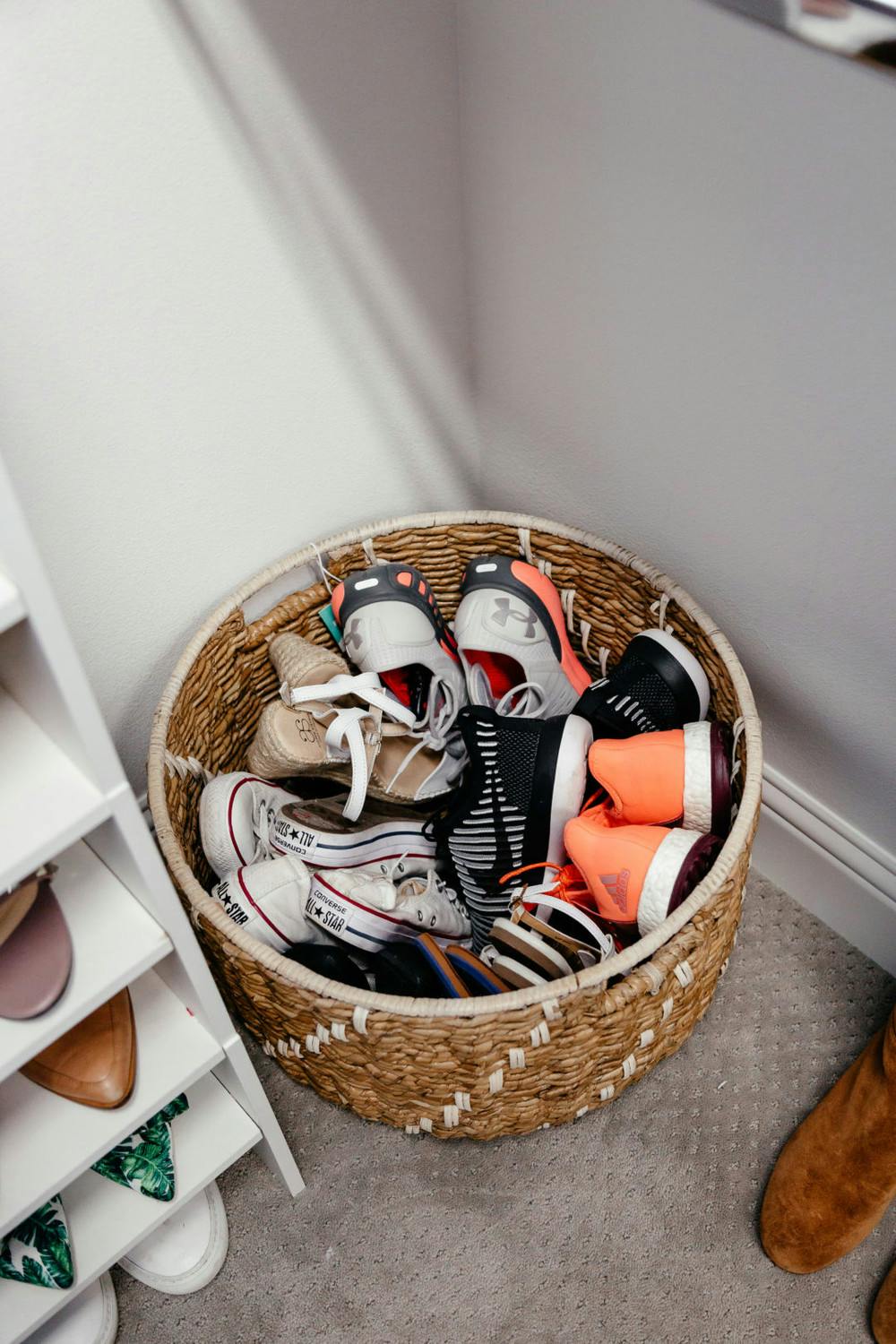 TIP 07 | USE A BASKET FOR SANDALS AND SNEAKERS
You know those shoes you don't care about that much? Store them in a Round Plastic Wicker Storage Bin with Handles in a corner of your closet. This keeps them hidden, and ensures they won't take up a large amount of space.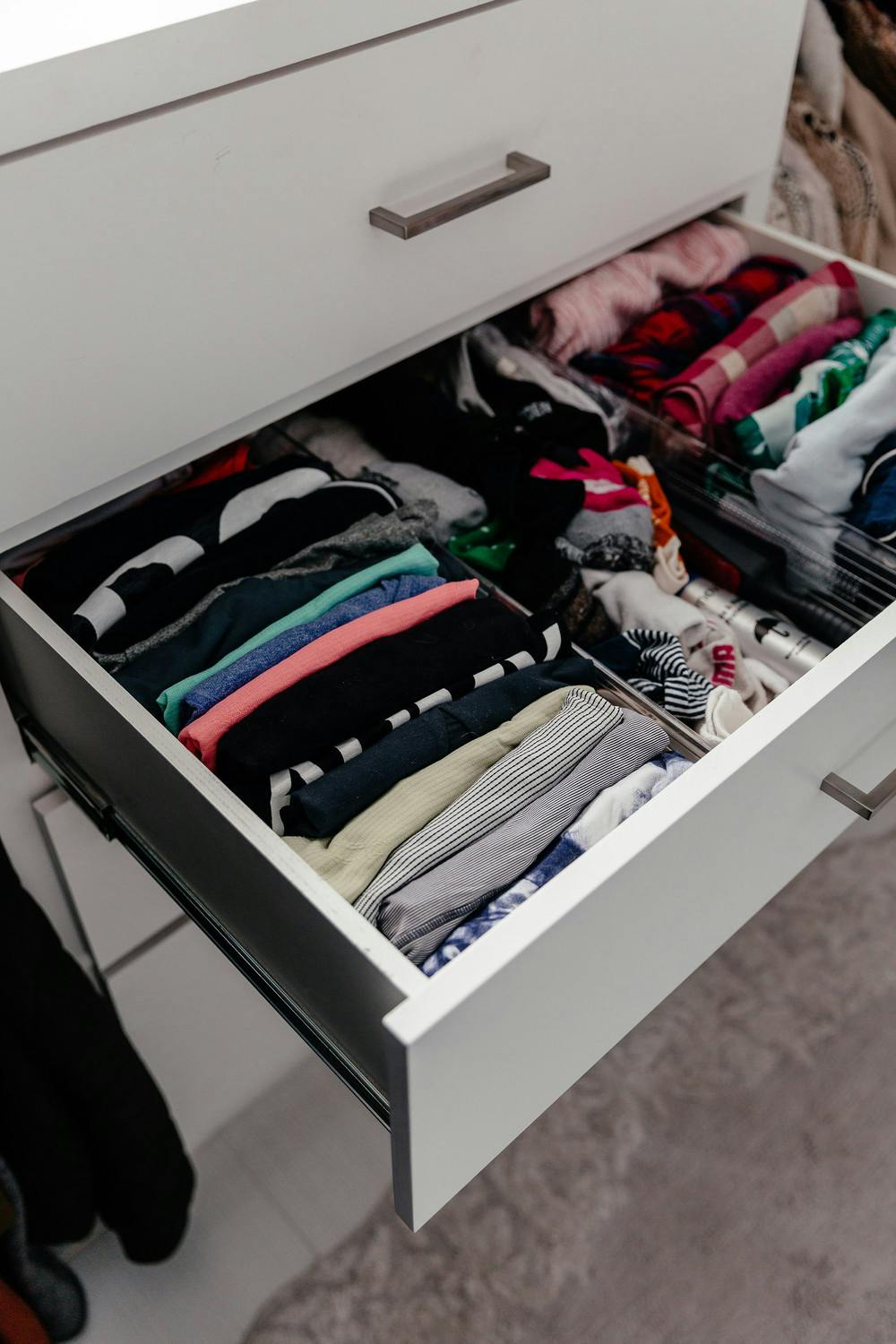 TIP 08 | FOLD T-SHIRTS TO MAXIMIZE SPACE
There's no need to hang up all your t-shirts. Instead, do a crisp fold that keeps them neat and aligned inside a drawer. This is a major space saver! Expandable Drawer Organizers are great for sectioning off different items in your drawer.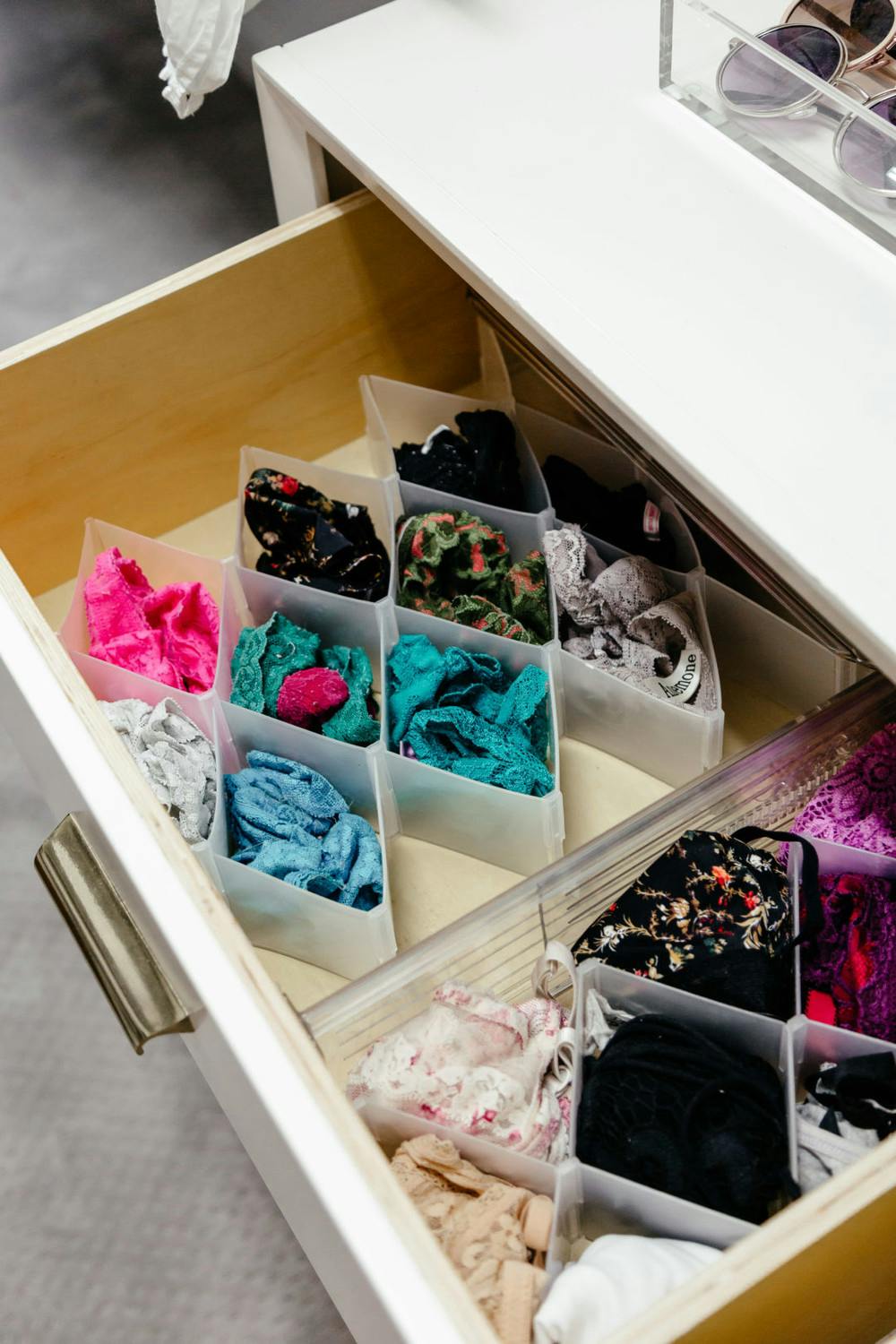 TIP 9 | UNDERWEAR DRAWER ORGANIZERS
It's so easy shove underwear in the drawer with no system of order. But the 32-Compartment Drawer Organizer makes it easy to see what you're working with, and it helps choose the right pair for your outfit.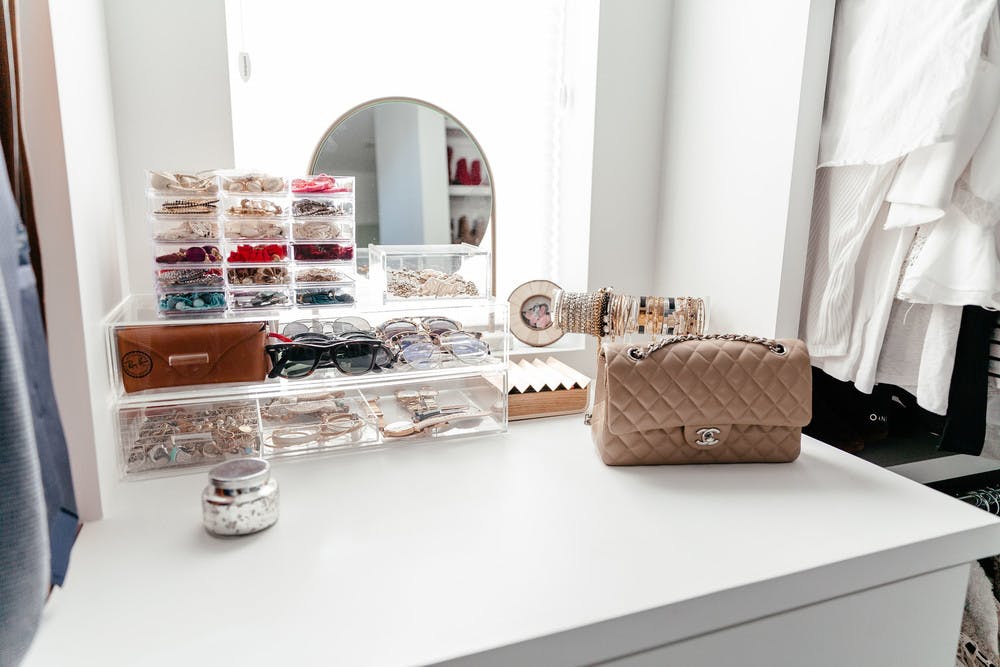 TIP 10  | CREATE A VANITY
If your space will allow it, consider creating a vanity area in your space. Place your jewelry collection next a mirror so you're able to see what you're trying on without having to move around so much.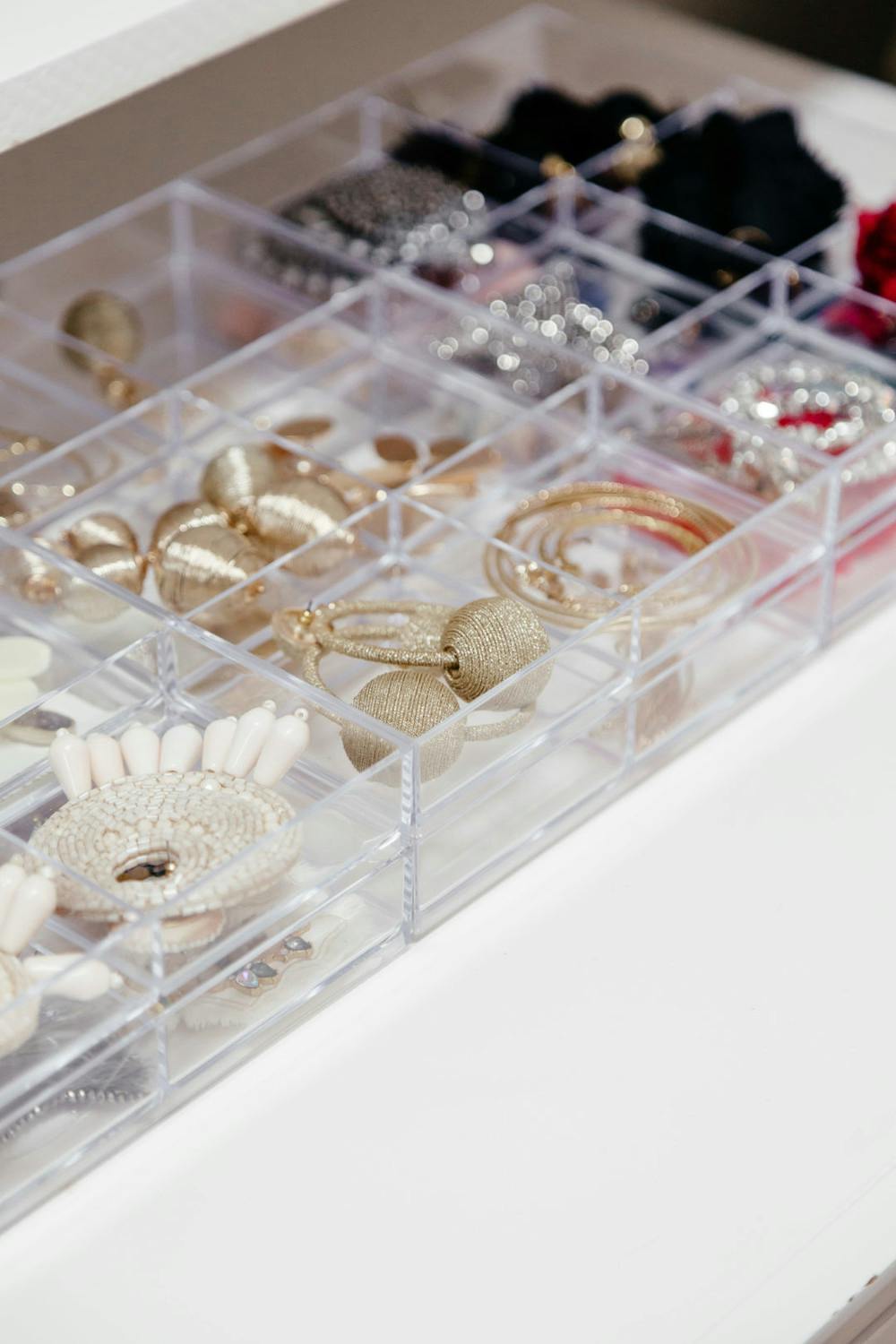 TIP 11 | USE DIVIDED ORGANIZERS FOR STATEMENT JEWELRY
Use Large Sectioned Drawer Dividers that stack for storing larger jewelry pieces. This takes advantage of vertical space, and it gives your collection a nice, clean look.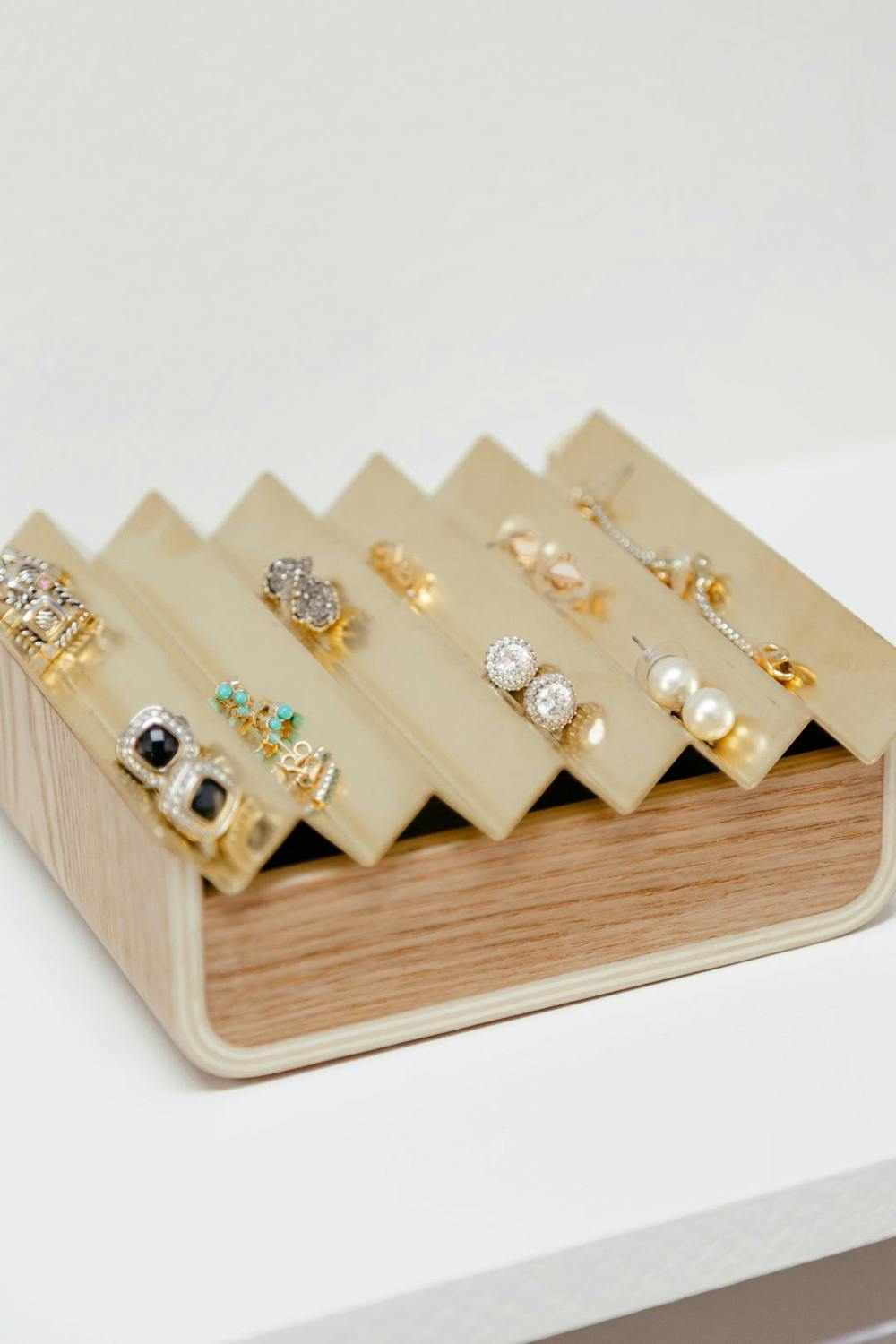 TIP 12 |  TRAYS ARE GREAT FOR EARRINGS
Trays are great for organizing earrings! They're a cute and modern alternative to a large jewelry box. Plus, they make it easy to see what you own. No more losing earrings, or forgetting what you own.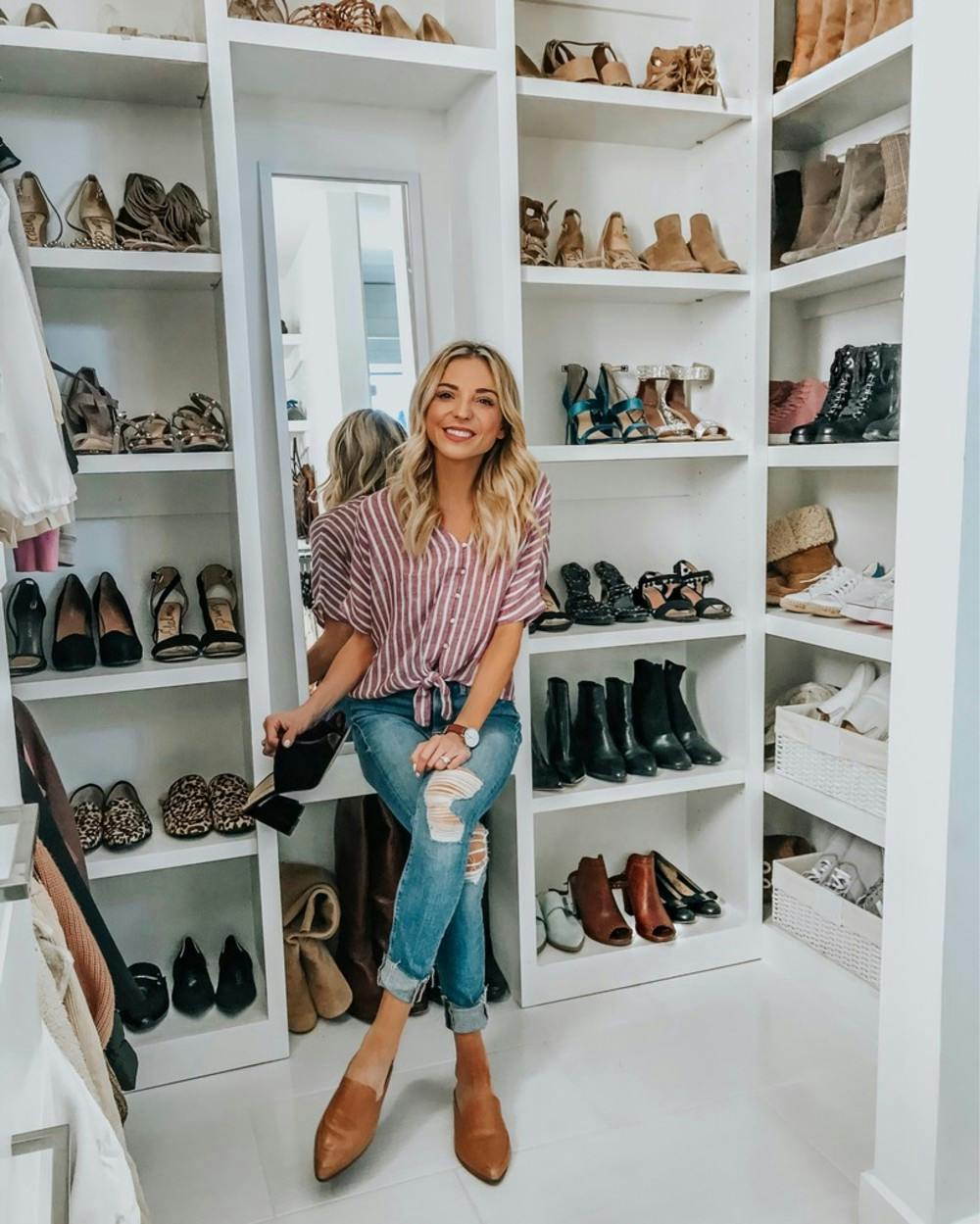 I hope you found these tips helpful for creating an organized closet! A huge thank you to the Neat Method squad for helping me organize our new closet in a functional way, and for helping me create these closet organization tips. I am so grateful for their time and effort! And also to The Container Store for having the best supplies to get my life in order. For more awesome tips, be sure to head to my Blog or follow me on Instagram.