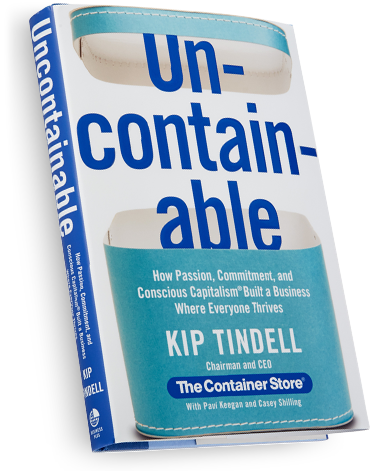 PRAISE FOR UNCONTAINABLE
"At root, "Uncontainable" is almost a "fairy tale" story of how some quixotic seers created a marvelous retail business with the fundamental objective of marketing empty products in their stores to generate empty spaces in their customers' abodes. Moreover, they defied historic retail convention by filling their employees' lives with good pay; job security; superb training; happy interrelationships; intuitional empowerment; and imaginative sales expertise, while turning their vendors into devotees.
"Uncontainable" gives a contrarian and sprightly portrayal of the creation and success of one of the great entrepreneurial and humanistic adventures in business history, a success in large part achieved because the author, Kip Tindell, TCS Chairman and CEO, is himself – UNCONTAINABLE." – Herb Kelleher, Co-Founder and Chairman Emeritus, Southwest Airlines
"Uncontainable brings to life The Container Store's values-driven Foundation Principles and their synergies with the tenets of Conscious Capitalism. It's an important book about how staying true to what a company stands for, operating with a higher purpose and servant leadership comes together to create wide-spread love and passion for a brand. The world and the world of business is fortunate to have Kip and The Container Store as an inspiration and example for doing what's right, and in doing so, creating vast opportunity for all." – John Mackey, Co-Founder & CO-CEO, Whole Foods Market; Author of Conscious Capitalism
"Uncontainable is an inspired journey that is fueled by Kip Tindell's passionate, purposeful leadership and the unique culture that he has created. The Container Store is more than a store, it is truly "the promise of a better happier life" and an example of how to achieve sustainable success and impact through soul vs. sell." – Mindy Grossman, CEO of HSNi, Inc.
"It's not about what you sell; it's about simultaneously delivering happiness to customers, employees, community, vendors and shareholders in a long-term, sustainable way. Uncontainable explains how anyone can build a conscious and culture focused company." – Tony Hsieh, NY Times bestselling author of "Delivering Happiness" and CEO of Zappos.com, Inc.
If you've ever wondered why you love The Container Store – well after you've loved the containers themselves – then you need to read Uncontainable. Kip Tindell's eminently readable memoir lays out his personal pathway towards creating a beloved, best-in-class business in which every stakeholder ends up in a better place: the embodiment of Conscious Capitalism. – Danny Meyer - Author, Setting the Table: The Transforming Power of Hospitality in Business, CEO Union Square Hospitality Group
"Kip has done a masterful job of tracing his journey with incomparable story-telling style to relate how Passion, Commitment, and Conscious Capitalism built The Container Store. While the business may be selling seemingly empty boxes, clearly they contain timeless truths about how to treat your employees and customers alike." – Karen Katz, CEO of Neiman Marcus
"Uncontainable" is a love story. Kip and Sharon's love for each other, their precious family, their business journey of joy and, most of all, their pure and uncontainable love for their employees and their families is clear and happy proof that the future of business is building love cultures. Oh, and when you have love on the inside customers shower uncontainable love back at ya from the outside. Love on brother!" – Roy Spence, Founder, Chairman and CEO GSD&M Idea City and The Purpose Institute
READ MORE
LESS
* Enjoy Free Shipping on Uncontainable (item number 10064901). Offer only applies to online orders shipped via standard shipping in the contiguous United States. The offer will be automatically applied to your cart and cannot be combined with any other promotion or applied to a Business Sales purchase.