Save Space In Your Closet
Share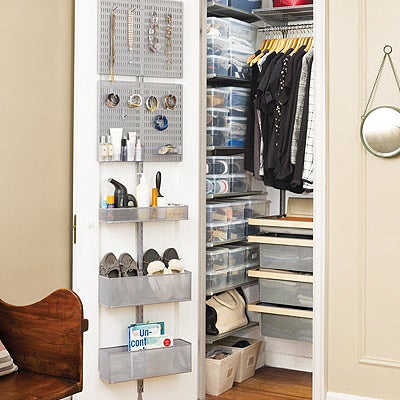 With more than 30 years of experience as the storage and organization experts, we've come up with some creative solutions for saving precious space and time.
We also love to hear from customers like you about how you stay organized.
Read up on our expert tips and then share your own!
For many of our customers, their closet is at the top of the list of areas in need of organization. Here are some quick and easy strategies to immediately create space and add organization to your closet.
Follow the two-year rule to purge outdated or ill-fitting garments. If you haven't used it or worn it in two years, it's safe that you won't use it again.
Get rid of anything that doesn't belong in the closet. Move it to another area of the home, donate or sell it.
If possible, move out-of-season garments to another area of your home. The space under your bed is a wonderful solution when you use an underbed storage box.
Take advantage of all vertical space by stacking sweaters, shoes and handbags on shelves. Use stacking drawers or shelves to prevent items from toppling over.
Use add-on hangers which take up as much space as a single hanger and store four times the amount of clothing.
Remove empty hangers from the closet rod; throw away or recycle unused hangers.
If most of your clothes are short hanging, add an extra closet rod to instantly double the amount of hanging space.
Separate clothing by long-hanging and short-hanging items. Color coordinate items to make selecting an outfit easier.
Utilize the back of a closet door to store shoes, belts, jewelry and other accessories.
We can show you how to maximize your closet space with elfa, our premier closet system. Try our FREE design services!