Tips for Baby's Closet
Share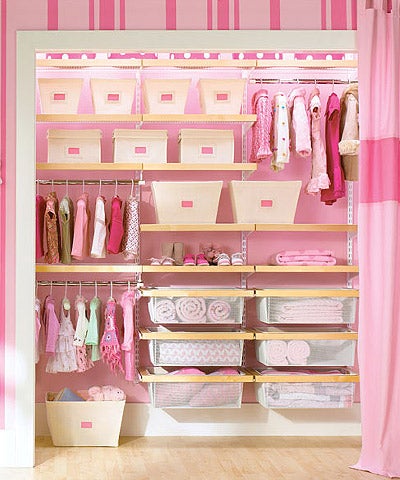 With more than 30 years of experience as the storage and organization experts, we've come up with some creative solutions for saving precious space and time.
We also love to hear from customers like you about how you stay organized.
Read up on our expert tips and then share your own!
Standard closets are notorious for their inefficient use of space — that's even more painfully obvious when planning for a baby's closet. Widely spaced shelves and closet rods leave a lot of wasted space when storing newborn clothing, baby gear and accessories. Follow these smart tips to get your closet ready for baby.
There's no doubt that you've either purchased or have been given baby clothes sized through the baby's first year and beyond. To ensure that you don't misplace larger clothes only to find them in the back of the closet just as they've gotten too small, clearly divide clothes by their size/age.
Use a hanging sweater bag to plan out outfits for an entire week. If this is your first child, you're navigating unchartered waters and are doing all you can to meet the basic needs of your child. Or if you already have children, you're juggling multiple schedules and definitely all of the "stuff" that babies and children need and accumulate so quickly.
Maximizing vertical hanging space is easy to do when managing small baby clothes. Use a rod doubler or a custom closet system like elfa to take advantage of that often wasted space. Look for something that offers flexibility — as your child gets bigger, you'll need to get that extra vertical space back!
Maximize vertical space on existing closet shelves by adding stacking shelves. Many closets have several inches between built-in shelves, and if you need that space to store folded baby clothes, that's often wasted space. Stacking shelves divide the space so you can store folded clothes on shorter, easier to manage stacks.
Utilize space on the back of the closet door to store and organize hats, hair accessories and other small items. Time is of the essence when you're juggling the needs of a new baby. An over-the-door organizer with clear pockets allows these items to be found quickly when needed.
Begin sorting toys by type at an early age — and keep them in colorful and portable bins within easy reach of your child. As they get older, it will be easy for them to put the toys back into the appropriate bins.
Place a pre-labeled box for each age category/clothing size at the bottom of the closet. This makes it easy to place outgrown clothes in the appropriate box for quick identification for a future child or when donating or having a garage sale. It can also help prevent clothing of different sizes from getting mixed together.