Everything You Need to Know About the 3-1-1 Rule
Share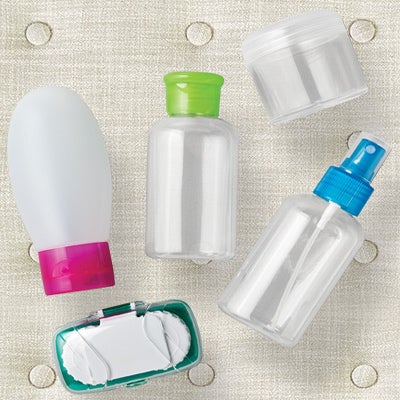 With more than 30 years of experience as the storage and organization experts, we've come up with some creative solutions for saving precious space and time.
We also love to hear from customers like you about how you stay organized.
Read up on our expert tips and then share your own!
Not following the 3-1-1 Rule when it comes to packing toiletries in your carry-on luggage can result in everything from delays going through security to having to dump your favorite products in the trash! Follow these easy tips when packing carry-on bags and you'll breeze through security checks.
1. 3.4 ounces or less
Remember, liquids and gels must be in 3.4 ounce (100 ml.) or smaller containers. Fortunately, these travel-sized containers come with a variety of lid options. Flip-top lids are ideal for your shampoo, conditioner and body wash, while those with pump tops are perfect for things like hair spray.
2. One clear, 1-quart zip-top bag
It doesn't matter how many 3.4 ounce or smaller containers you have as long as they fit in your clear, 1-quart zip-top bag. Regular food-storage bags work, or for a sturdier option, look for a reusable bag designed especially for travel.
3. One per traveler
Each traveler is allowed one of these clear, 1-quart zip-top bags. Be sure to have your 1-quart bag out and ready to be placed in the screening bin in order to move through security as quickly as possible.
4. Exceptions
Breast milk, baby formula and medicines are exceptions to the 3.4 ounce or less rule. Be sure to only carry what you need for your flight and declare it to the TSA agent before passing through security.
Shop All Travel Size Bottles & Containers
Related Blog Stories:
Travel Tips from Adventurous Empty Nesters
Girl on the Go!
A World Traveler's Purposeful Packing
Carry On