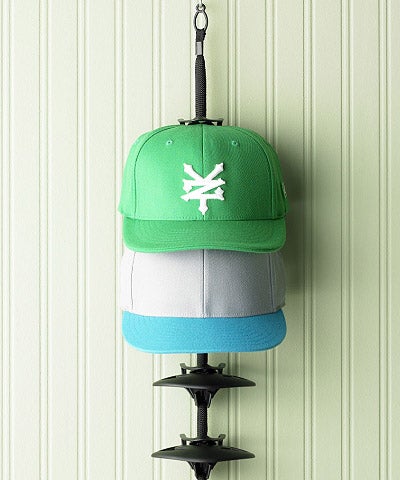 With more than 30 years of experience as the storage and organization experts, we've come up with some creative solutions for saving precious space and time.
We also love to hear from customers like you about how you stay organized.
Read up on our expert tips and then share your own!
Although women are typically known to collect accessories such as shoes and handbags, guys have stuff, too! Here we'll show you how to best store and organize a variety of men's accessories.
Ensure the investment made in neckties is properly protected by keeping them organized (and off the floor). Choose a solution that allows you to organize your ties to hang full length and by color for a quick grab each morning.
They're not just for taking out to the ballgame. Ballcaps have become a staple accessory for casual days, workouts and weekends — and there's always "just the right hat" depending on your mood. It's important to keep your favorite hats easily accessible, the shape protected and free from dust. Find a small unused vertical space in your closet or even on the back of your door to store and organize your entire ballcap collection.
Little Helpers
Collar stays, shoe horns, cuff links and extra buttons can easily make their way into every nook and cranny in a closet. But when you need them, they're impossible to find. Designate a small, clear storage box for each item and place on a closet shelf.
Men's dress shoes often come with shoe sacks for protection which can make it difficult to identify shoes. Use clear shoe boxes to keep them from getting dusty and allow you to maximize shelf or floor storage space by easily stacking pairs on top of each other.
Misc. "Stuff"
Every day brings with it a pocket full of loose change, dry cleaning tags, receipts, keys, golf tees, mints and more. Don't let those little trinkets end up scattered across a counter top or dresser. Use a divided tray to serve as a valet and catch all when you empty your pockets each evening. Place it in a dresser's top drawer or on an easily accessible closet shelf.