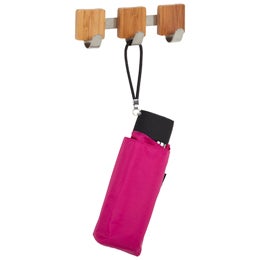 Click on the image for larger or alternate views.
Formbu 3-Hook Rack
Who can find time to install handy things like a rack of hooks? You can, with the strong, durable Formbu 3-Hook Rack. A simple peel-and-stick design means you can put it up in seconds. It's great for hanging keys and umbrellas in an entryway, scarves and belts in a closet or leashes in a mud room. Plus, it's crafted from a highly renewable natural resource that lends warmth to a sleekly contemporary style. Just peel, press and organize. More Information
Bamboo is easily renewable, so it's an environmentally friendly material
Features three rounded brushed stainless steel hooks
Adhesive backing is not recommended for use on wallpaper

We can help! Click here to chat with an expert.
| Item | Enter your zip code for product availability and pickup options at your nearest store. | Quantity | Price |
| --- | --- | --- | --- |
Formbu 3-Hook Rack
Bamboo is a group of woody perennial evergreen plants of the grass family. Some of its members are giant bamboo, forming by far the largest members of the grass family. Bamboo is the fastest growing woody plant in the world: up to three to four feet a day. This accelerated growth rate allows bamboo to be harvested in three to five years, far more often than the 10 to 20 year harvest cycle of most softwoods. Unlike the environmental damage caused by the deforestation of trees, proper harvesting of bamboo leaves the root system intact, creating little or no topsoil disruption. This renewable, sustainable resource produces 35% more oxygen than its equivalent in trees while reducing carbon dioxide gas that is blamed for global warming. With the tensile strength of steel, it's the strongest growing woody plant in the world.
The following items were added to your shopping cart:
version: 2.37.2 build: 3 timestamp: Thu May 16 11:38:52 CDT 2013 worker: worker16