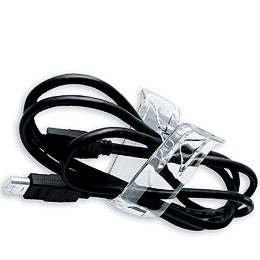 Click on the image for larger or alternate views.
Cordclip®
The Cordclip® is a fast, effortless way to keep control of electrical cords on appliances around the home and office. There are applications anywhere you have a cord that needs taming - the kitchen for blenders, mixers, food processors, coffee makers, and toasters; the bath for hair dryers, hot rollers, curling irons and electric toothbrush; the office for computers, phones, and adding machines; and, irons, stereos and power tools. A sturdy spring keeps your cords secured so they won't tangle or uncoil. Not only does this simple clip keep things neat and tidy, it will also extend the life of the cord by preventing it from being wound too tightly. This Cordclip® can also hold a thick stack of papers or hold a large bag (such as a 40 pound pet food bag) closed.
Made in the USA


We can help! Click here to chat with an expert.
| Item | Enter your zip code for product availability and pickup options at your nearest store. | Quantity | Price |
| --- | --- | --- | --- |
The following items were added to your shopping cart:
version: 2.37.2 build: 3 timestamp: Thu May 16 11:38:52 CDT 2013 worker: worker21