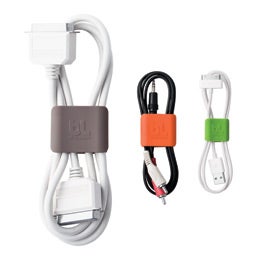 Click on the image for larger or alternate views.
CableClips™
Corral unmanageable cords with our CableClips™! Use them to create a convenient and compact bundle of cords or cables in your home, office or for traveling. They are perfect for stowing away all surplus cables or for keeping dangling cords tidy, clean and secure. They are also great for laptops, cluttered desktops and all electronic accessories and chargers. More Information
Available in three sizes for use with various cable widths and lengths

We can help! Click here to chat with an expert.
| Item | Enter your zip code for product availability and pickup options at your nearest store. | Quantity | Price |
| --- | --- | --- | --- |
CableClips™
The Small CableClips™ are ideal for short or thin cords such as earbud cords, small data cables and charger cords. Medium CableClips™ are ideal for shortening or storing USB and other data cords, small power cords, audio cords and phone cables. The large CableClips™ are perfect for shortening or storing thick or long power cords and Ethernet network cables.
The following items were added to your shopping cart:
version: 2.37.2 build: 3 timestamp: Thu May 16 11:38:52 CDT 2013 worker: worker22