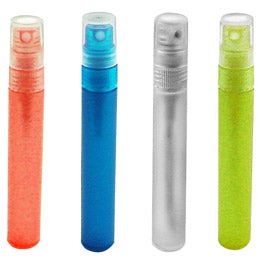 Click on the image for larger or alternate views.
Mini Sprayers
Enjoy the fine, light mist of our Mini Sprayers for cologne, hair spray, sun block, mouth wash, body spray, water or insect repellent. Our Mini Sprayers are available in an assortment of color - please let us choose for you. What is an assorted item? See More Information
BPA-free
Includes a clear vinyl carry case
| Item | Enter your zip code for product availability and pickup options at your nearest store. | Quantity | Price |
| --- | --- | --- | --- |
Mini Sprayers
An assorted item is one that is available in a variety of colors or shapes. When we say "Please let us choose for you" we mean that we cannot designate which color or shape will be shipped to you. We strive to offer assorted items in which all colors or shapes available are equally attractive. If you require a particular color or shape, please visit one of our stores to make your selection.
The following items were added to your shopping cart:
version: 2.37.2 build: 3 timestamp: Thu May 16 11:38:52 CDT 2013 worker: worker16