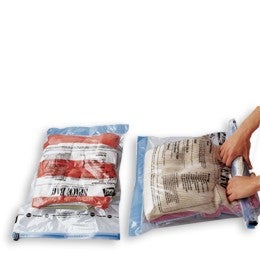 Click on the image for larger or alternate views.
Travel Space Bags®

Travel Space Bags®
The Travel Space Bag® packing system is the ultimate companion to the Pack-It® System from Eagle Creek®. They complement each other perfectly! Where the Pack-It® system excels at packing standard garments and keeps them neat and wrinkle-free, the Travel Space Bag® products are the solution for compactly packing and transporting bulky garments like sweaters and knits, and fiber-filled coats, as well as accouterments such as towels and pillows. It also makes perfect sense to take the Travel Space Bags® along completely empty to transport wet or dirty clothes, linens, or towels without making a mess of your other clothes, accessories and luggage. The secret is a one way valve in the end of each bag. Directions on proper folding of the garment are printed on the bag itself so they can't be lost or forgotten. More Information

We can help! Click here to chat with an expert.
| Item | Enter your zip code for product availability and pickup options at your nearest store. | Quantity | Price |
| --- | --- | --- | --- |
Travel Space Bags®
Once the contents are secured in the bag you begin rolling from the far end, forcing the air in the bag out through a one way valve. Access to the interior of the bag is simplified by the zip-seal closure, which insure the bag is sealed properly every time.
The following items were added to your shopping cart:
version: 2.37.2 build: 3 timestamp: Thu May 16 11:38:52 CDT 2013 worker: worker26