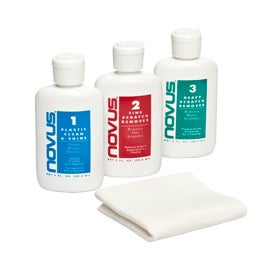 Click on the image for larger or alternate views.
Novus® Plastic Polish

Novus® Plastic Polish Trio
Keeping plastics looking like new is as easy as 1,2,3 with our Novus Plastic Polish Set. It's a complete system for scratch removal and surface restoration of plastic, acrylic and fiberglass. It can be used to clean CDs and DVDs, microwave oven doors, hot tubs and spas, telephones, fax machines, copiers, plastic storm windows and skylights, as well as acrylic or fiberglass sinks, countertops and showers. The set includes three, 2 oz. bottles. To learn about the three steps for cleaning, see More Information
Includes two polish mate cloths
Made in the USA


We can help! Click here to chat with an expert.
| Item | Enter your zip code for product availability and pickup options at your nearest store. | Quantity | Price |
| --- | --- | --- | --- |
Novus® Plastic Polish Trio
The Novus #1 Plastic Clean and Shine gently cleans all plastics without scratching the surface. It leaves a lustrous shine that resists fogging, repels dust and eliminates static. The Novus #2 Fine Scratch Remover removes fine scratches, haziness and abrasions from most plastics. With repeated use it restores faded and discolored plastics. It removes the damage rather than simply filling it in. The Novus #3 Repair and Prepare removes heavy scratches and abrasions from most acrylic surfaces. Use when damage is too severe to be restored with the #2 polish. See the packaging for more detailed instructions.
The following items were added to your shopping cart:
version: 2.37.2 build: 3 timestamp: Thu May 16 11:38:52 CDT 2013 worker: worker27