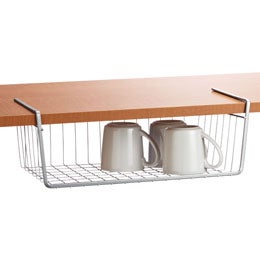 Click on the image for larger or alternate views.
Polytherm Undershelf Baskets
Utilize the often-wasted space between your cabinet shelves with our functional and attractive Polytherm Undershelf Baskets. Available in three sizes and an attractive silver finish, these shelves instantly add storage space to your kitchen cabinets for storing mugs, cups, linens and more. The baskets feature flat wires that offer a secure, snug fit on your existing shelf. The wide opening of the basket allows easy access to the interior. More Information
| Item | Enter your zip code for product availability and pickup options at your nearest store. | Quantity | Price |
| --- | --- | --- | --- |
Polytherm Undershelf Baskets
Polytherm is a cutting-edge polymer with the look of brushed chrome and the protective qualities of vinyl. The soft, silvery color gives each article it's applied to a coolly elegant appearance while it's completely sealed for protection against the elements. The cost of Polytherm is lower than chrome plating and the process is very environmentally friendly.
The following items were added to your shopping cart:
version: 2.37.2 build: 3 timestamp: Thu May 16 11:38:52 CDT 2013 worker: worker22