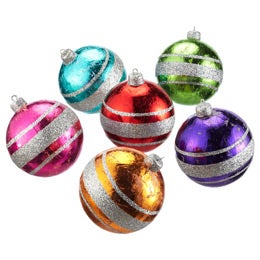 Click on the image for larger or alternate views.
Ball with Glitter Bands Tie-On
Our Tags and Tie-Ons personalize and accent any gift presentation, giving it a certain flair that distinguishes it from the others. Coordinate them with your favorite Gift Wraps, Gift Totes & Bags and Creative Packaging designs. Our Ball with Glitter Bands Tie-On is available in an assortment of colors - please let us choose the color for you. What is an assorted item? See More Information

We can help! Click here to chat with an expert.
| Item | Enter your zip code for product availability and pickup options at your nearest store. | Quantity | Price |
| --- | --- | --- | --- |
Ball with Glitter Bands Tie-On
An assorted item is one that is available in a variety of colors or shapes. When we say "Please let us choose for you" we mean that we cannot designate which color or shape will be shipped to you. We strive to offer assorted items in which all colors or shapes available are equally attractive. If you require a particular color or shape, please visit one of our stores to make your selection.
The following items were added to your shopping cart:
version: 2.37.2 build: 3 timestamp: Thu May 16 11:38:52 CDT 2013 worker: worker24