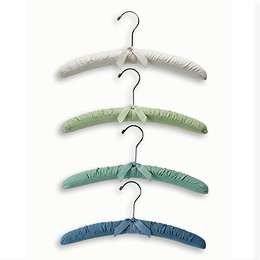 Click on the image for larger or alternate views.
Pastel Damask Padded Hangers
Designed and manufactured to our specifications, our Damask Padded Hangers are exceptionally beautiful and wonderfully garment-friendly. They are unscented and feature an extra long chrome hook so they're kind to garments with shawl collars: robes, coats and furs. The hooks are securely screwed into the wood and the foam padding runs the full length of the hanger on both the top and the bottom. In short, these are superior padded hangers. Padded hangers are always an appropriate gift for the women on your list. Pick-up a few sets for Mother's Day, graduations, bridal showers, and birthdays. Add them to a guest closet for an impressive touch of class. Each package of four includes one each of white, mint green, aqua and light blue. More Information
Exclusive to The Container Store
| Item | Enter your zip code for product availability and pickup options at your nearest store. | Quantity | Price |
| --- | --- | --- | --- |
Pastel Damask Padded Hangers
Damask is a popular fabric woven so that a pattern is produced by the different directions of the thread, without contrast of color. This weaving technique, named after the city of Damascus in Syria where the silk trade routes from the Far East ended in ancient times, produces a strong material of subtle beauty.
The following items were added to your shopping cart:
version: 2.37.2 build: 3 timestamp: Thu May 16 11:38:52 CDT 2013 worker: worker23