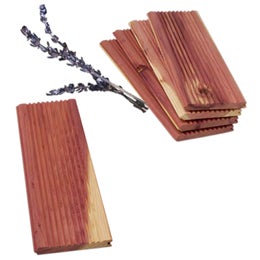 Click on the image for larger or alternate views.
Cedar & Lavender Drawer Liners
Our Cedar & Lavender Drawer Liners can be used in drawers, sweater boxes, chests, and garment bags to freshen garments as well as their storage environment. The slats are ridged to maximize their aromatic effectiveness. Tongue-and-groove edges securely join the slats together for a custom fit in almost any space. They're ideal for lining hanging garment bags, storage trunks and totes. Renew the fragrance of your Cedar & Lavender Drawer Liners annually by gently sanding the surface with fine sandpaper - more frequently if the fragrance fades. More Information
Made in the USA

| Item | Enter your zip code for product availability and pickup options at your nearest store. | Quantity | Price |
| --- | --- | --- | --- |
Cedar & Lavender Drawer Liners
The aroma of Lavender has been a favorite since ancient times - when the Romans first used it to scent their famous bathwater. The scent of Lavender is cherished for its ability to soothe, calm, and reduce stress. For instance, crushed Lavender seeds were reportedly used in the classrooms of 19th century France to calm unruly students. If it can accomplish that, imagine what it can do for you!
The following items were added to your shopping cart:
version: 2.37.2 build: 3 timestamp: Thu May 16 11:38:52 CDT 2013 worker: worker18