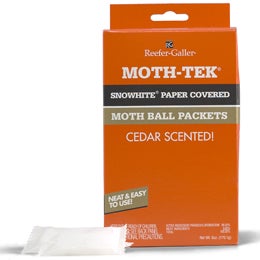 Click on the image for larger or alternate views.
Moth-Tek® Packets
Moth-Tek® uses the same proven moth killing ingredient as found in No-Moth® - para-Dichlorobenzene. The contents (in tablet form) is enclosed in a unique space-age paper that allows a steady flow of the protective vapor to escape while it prevents you and your clothing from coming into direct contact with the chemicals. Use one box of Moth-Tek® packets for every 25 cubic feet of confined storage space. Spreading the individual packets liberally throughout any storage space will ensure uniform protection. These are great for trunks, drawers, storage wardrobes, storage boxes, clothing pockets, hat boxes, etc. to protect your clothes, blankets, hats and sweaters.
Made in the USA


We can help! Click here to chat with an expert.
| Item | Enter your zip code for product availability and pickup options at your nearest store. | Quantity | Price |
| --- | --- | --- | --- |
The following items were added to your shopping cart:
version: 2.37.2 build: 3 timestamp: Thu May 16 11:38:52 CDT 2013 worker: worker17