I use this on a door in my bathroom. My bathroom is small and has little storage, so I put it on the back of the door leading in to my closet. I put all my makeup and hair accessories ... but rather than using a million baskets for stuff, I'd like solid bottom shelves. As it is, my curling iron and straightener fall through the shelves. I'd either like baskets long and narrow enough to fit on these shelves, or solid bottom shelves. Please advise!
2 years, 6 months ago
by
0
out of
0
found this question helpful.
Vote:
0
0
http://answers.containerstore.com/answers/1626/product/10029074/question/1759167/undohelpfulness.djs?authsourcetype=__AUTHTYPE__&format=embeddedhtml&innerreturn=http%3A%2F%2Fanswers.containerstore.com%2Fanswers%2F1626%2Fproduct%2F10029075%2Fquestions.djs%3Fexpandquestion%3D1759167%26format%3Dembeddedhtml%26scrolltotop%3Dtrue&return=__RETURN__&sessionparams=__BVSESSIONPARAMS__&submissionparams=__BVSUBMISSIONPARAMETERS__&submissionurl=__BVSUBMISSIONURL__&user=__USERID__
Answers
Answer:Â 
We recommend our elfa Door and Wall Rack Solution. It varies slightly because it has ventilated baskets instead of openings. Please see our Product Recommendations for additional details. You can also design your own door and wall rack solution by clicking on our elfa button at the top of our website.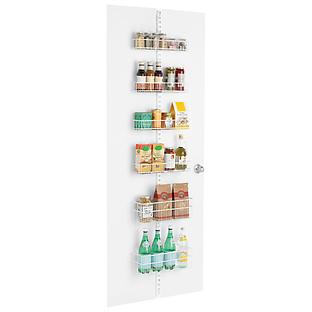 White elfa Pantry Door & Wall Rack Solution
(
79
)
2 years, 6 months ago
by
tcbeall@containerstore.com
0
out of
1
found this answer helpful.
Vote:
0
1
http://answers.containerstore.com/answers/1626/product/10029074/answer/1666614/undohelpfulness.djs?authsourcetype=__AUTHTYPE__&format=embeddedhtml&innerreturn=http%3A%2F%2Fanswers.containerstore.com%2Fanswers%2F1626%2Fproduct%2F10029075%2Fquestions.djs%3Fexpandanswer%3D1666614%26expandquestion%3D1759167%26format%3Dembeddedhtml%26scrolltotop%3Dtrue&return=__RETURN__&sessionparams=__BVSESSIONPARAMS__&submissionparams=__BVSUBMISSIONPARAMETERS__&submissionurl=__BVSUBMISSIONURL__&user=__USERID__