< Return to Product Page
Customer Reviews
Travalo Easy-Fill Travel Perfume Atomizer
Overall Rating:
Customer Reviews
Rated

4.5

out of

5

 by

34

reviewers.
Rated

5

out of

5
 by
travelproHB
Best travel accessory
This little gadget is way cool!! No tiny funnels, no spilled perfume...piece of cake to fill with your favorite perfume. Compact so doesn't take up much room in your quart bag of liquids/gels when flying. Love it!!!
June 23, 2016
Rated

5

out of

5
 by
Getting2Organized
Perfect Pocket/Purse gift
I gave this as gifts to non family guest over the Christmas holiday. Everyone enjoyed the surprise gift. It was a perfect purchase.
December 29, 2015
Rated

5

out of

5
 by
AnnieMo
Perfume Atomizer
Very convenient and easy to use. No mess, no fuss. I bought one for my daughter and cousin who travel a lot including myself.
December 29, 2015
Rated

5

out of

5
 by
Ellen4832
How did I ever live without this?
On a recent overnight trip, I discovered that my "travel-sized" perfume bottle had leaked in my toiletry kit. Sure, it smells great, but I wanted the perfume on my body, not in my brand new travel organizer. Voila, the easy-fill perfume atomizer. I had my reservations, but this thing is truly easy to fill and convenient. I have already purchased one for each of my daughters, who have been known to tote suitcases heavy with full-sized toiletries.
December 18, 2015
Rated

5

out of

5
 by
AlexInSox
Easy To Fill, But Good For 1 Scent!
I used the TRAVALO EASY-FILL PERFUME ATOMIZER to take my favorite cologne, Tom Ford Tobacco Vanille, on a quick trip to SF. At first I thought the pump on the cologne bottle wouldn't fit in the TRAVALO, but it fit perfectly and I experienced no leaking. It was easy to fill it up, took about 4-5 pumps, and you can see the liquid in the viewer as it fills up. I got the silver one. The only draw back to this handy little device is you can only use it for one fragrance since there's no way to open it up -- at least I haven't found a way and it's not in the directions -- so that you can clear out the fragrance you put in it. If you use it up, more than likely some of the cologne/perfume scent will remain, so if you put another fragrance in it it'll probably mix and change the scent of both. I haven't tried it so I could be mistaken, but I wouldn't chance it.
August 24, 2015
Rated

4

out of

5
 by
Cyren
Great travel accessory
This is good so that you don't have to worry about breaking your bottle of perfume/cologne. It works great and doesn't leak.
May 28, 2015
Rated

5

out of

5
 by
containershopper
Perfect travel accessory
This atomizer was easy to fill and the small window is a great feature. I carry mine in my handbag. I checked out cheaper atomizers at other stores and this by far was more durable.
May 7, 2015
Rated

5

out of

5
 by
KWarnke
Top Christmas gifts received this year!
To take $100+ bottle of perfume and be able to carry it with you in your purse is epic! This atomizer is functional and pretty. I want several colors to separate my fragrances. Excellent idea and awesome gift!
December 28, 2014
Rated

5

out of

5
 by
golfrn9
Great Travel Item
Easy to fill! This is a great product! I loved it so much I purchased for my daughters. I would highly recommend, especially if you travel often
December 22, 2014
Rated

5

out of

5
 by
TexasGran
Wonderful Tool for Travel!
My husband and I have been travelling for years and just returned from living in Italy for 3 years where we were always taking side trips across Europe. As you can imagine, perfume (me) and cologne (husband) are items that are often packed but difficult to manage due to size. We were captivated by the concept of this refillable spray bottle and decided to give it a try. It is wonderful! So easy to fill, portable for carrying in luggage or purse, and large enough to last for a trip. We loved it so much we returned to Container Store and purchased 16 more for family members for Christmas. It is not just for women. It packs great for men as well. Most useful tool we have discovered in a long time. Great job!
December 12, 2014
Rated

5

out of

5
 by
CleartheClutter09
Amazingly Simple, and now, Necessary!
This is an amazing little gadget that every woman will want as soon as she sees! I bought one to test and have already used it several times on a few perfumes including Prada, Carolina Herrera, and Gucci Light Blue. If you are having trouble with it I recommend taking it to the container store with a perfume bottle and learning how it works. It is very simple; take off the lid and spray top of perfume, push suction end of atomizer down several times and Voila! You have a way to bring your perfume (or cologne, gentlemen) with you everywhere!
November 12, 2014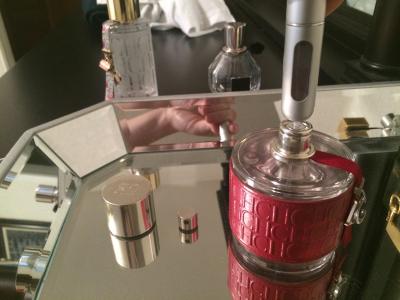 Rated

5

out of

5
 by
MaryWinDenver
Just what I was looking for!!
This works easily and it is indeed a snap to fill.
November 8, 2014
Rated

5

out of

5
 by
TexasTigger
Love it
So easy to fill. Fits perfect in my purse. Glad I bought 2, but now realizing I need another 2.
August 31, 2014
Rated

2

out of

5
 by
SusieQ324
good at first; didn't last
I knew that there were mixed reviews but I really didn't want to spend additional money for the travel sized version of my fav perfume. This was relatively easy to fill and worked well for about a month. Then it was drained and when I went to refill, it broke.
July 20, 2014
Rated

5

out of

5
 by
stazia
A unique item
I bought quite a few for friends and family. The quality is great. It is unique because perfume from spray bottles can easily be transferred to it. Whoever invented this is creative and ingenious.
May 31, 2014
Rated

5

out of

5
 by
cruisezealot
A Must-Have for Travelers
I purchased one of the atomizers for an upcoming trip. I liked it so much that I bought two more for my other fragrances and a set of two for a relative as a gift. Not only will they easily meet TSA requirements, they won't leak while they are in your purse or makeup bag. The little window easily reveals the perfume level, so you'll always see when it needs refilling. I had stopped packing perfumes in my travels because I had experienced them leaking. Now that is no longer a problem.
April 30, 2014
Rated

3

out of

5
 by
Ladybelle
Great idea, still testing it.
I like this product. It is a little difficult to fill and doesn't fill more than half full. I think it has to do with the pressure built up while filling the perfume. So far it works great, I think I will probably give it more stars once I've had it longer.
April 27, 2014
Rated

5

out of

5
 by
GCNY
AWESOME TRAVEL ITEM
I highly recommend the Travalo Travel Atomizer! This item should be marketed to BOTH Men and Women! The perfect travel item for fragrances; women's perfume and men's cologne. Fragrances are so expensive, and buying the small travel sizes are even more expensive! Travalo is the solution! You simply pull off the plastic spray top from your large fragrance bottle, insert the bottole's pump stick into the bottom of the Travalo, and them press down repeatedly until the Travalo is full. It's easy to see the fluid level in the viewing window in the side of the Travalo. My Travalo is filled, and ready to go on the next trip! Travalo is only $12.99 at The Container Store. They're $15+ on the Travalo site. My only suggestion would be to offer more colors; the aluminum, gray color is the only TCS offering. For those who have more than one favorite fragrance, multiple colors would be an easy way to tell the fragrances apart. Make a bigger deal of this item! If customers knew it existed, everyone would want at least one!
April 27, 2014
Rated

5

out of

5
 by
ermayo01
Great for travel!
I purchased this for traveling because I don't care for roller ball perfumes. It was easy to fill up, easy to use, and does not leak - even with altitude and pressure changes while flying. It was an excellent purchase and I plan to buy more for my other perfumes.
April 25, 2014
Rated

3

out of

5
 by
fatbaby88
Works but not perfect
better than others but still not perfect. lots of perfume leaking when filling but no leaks after
April 6, 2014
Rated

5

out of

5
 by
HRobud
Perfect for Travel
This is a great item if you travel a lot. Easy to refill and the perfect size.
March 31, 2014
Rated

5

out of

5
 by
PokerGirl
Great purchase!
The refillable perfume spray is so easy to fill and use! No more buying travel size perfume for me! Definitely worth the price. And the girls at The Container. Store were so helpful! Go visit them at. Bridgeport in Portland, Or if you are in town!
February 18, 2014
Rated

5

out of

5
 by
WABS
Love This
Perfect size, incredibly easy to fill and refill, and travels well. I can now travel with my favorite fragrances without having to risk the entire expensive bottle. I bought one for my husband as well for all of his business trips and he asked for two more. He says it's his favorite travel accessory in his shave kit. That says a lot.
February 15, 2014
Rated

5

out of

5
 by
WestieMom
Wonderful for travel
I wear only one fragrance and use it every day. The small travel size of my cologne is quite expensive and hard to find so this little atomizer saves me lots of money and it's so easy to fill and fits in my cosmetic bag just perfectly. So glad my daughter found it for me.
January 25, 2014
Rated

5

out of

5
 by
KittyQ
Terrific travel bottle
I was skeptical whether or not this would really work and it was a little difficult to get the pressure right to fill it but once I figured it out I am in love. I am so happy to finally have a way to travel with my perfume instead of whatever samples I have on hand. Great product!!!
January 7, 2014
Rated

5

out of

5
 by
deb4g
Best Purchase
This is one of the best products I have bought. Easy to fill, easy to use, and most important of all it does not leak!
December 13, 2013
Rated

5

out of

5
 by
julzounanian
Best Purchase Ever
Bought as Xmas gifts and one for myself. So easy to fill. Love this item.
December 2, 2013
Rated

1

out of

5
 by
YellowRose13
Wastes fragrance
Doesn't work. Wastes expensive fragrance. Can't get the two containers to connect so it sprays everywhere except in the container. Will be returning the seven I bought for myself & as gifts.
November 27, 2013
Rated

1

out of

5
 by
Orlandodude
Perfume
It doesn't work!!!. I saw the video, fallowed the instructions and I couldn't fill it up
November 25, 2013
Rated

5

out of

5
 by
OrganizingGenie
Terrific gift!
I bought this atomizer because I was going out to a Fundraising Gala and wanted it for my evening bag. Filling it could not be easier. Now I keep it in my regular purse and use it frequently. It's cute, compact and really helpful for having quick access to your favorite scent with no fear of spills. Enjoy!
November 5, 2013