< Return to Product Page
Customer Reviews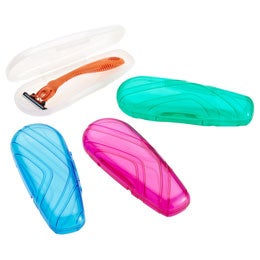 Razor Case with Microban®
Overall Rating:
Customer Reviews
Razor Case with Microban®
18
18
No more sliced fingers!
Exactly what I need for travel, after many times slicing my finger on the razor when reaching in to my med kit!
December 19, 2014
It is great to finally find a case !
Never, in my life have a seen a hinged razor case!:-) This store thinks of everything! Even more importantly, it has Macroban ! This is a bacteria resistant chemical that is put onto the products, so you do not have to throw away the case. It does not wash off or rub off.:-) Great job Container Store!:-) :-) :-) :-)
June 12, 2014
Too small for my razor
I use Venus razors and some fit and some do not depending on the type of blade I have on the razor and the handle which tends to be larger since it is designed to easily hang onto in the shower. We will put this to use since my fiancé has a razor with a different design and he thought it was a good idea for traveling.
April 18, 2014
Fits Venus Razor!
Love this little case - they do send a random color, I wish I could have chosen, but otherwise, I love it. Snaps closed, protects your blade, but also surfaces/clothing wherever you set it down. Great item :)
March 12, 2014
Love it!
I've travelled so long with my razor WITHOUT a case, that it was a novel thought to think I could have one! These cases are well-made, inexpensive, sleek-looking, and definitely worth having so that there is no danger of cutting a finger or getting caught on something in your luggage. They are also good if your razor is still wet.
February 15, 2014
A Great Find
I have been searching for a long time trying to find a container for my razor for traveling. I saw this one and purchased it and I really like it. It was reasonably priced and great for traveling.
September 7, 2013
Good case
The case does what it needs to do. However, I would not order from the Container Store again. Will find elsewhere in the future.
August 19, 2013
good size, sturdy and fits the hydro handle and blade
April 29, 2013
Venus razor fits!
The Venus razor fits. The case stays closed. Razor and fingers are protected!
March 18, 2013
Durable
The sleek design is great making it easy to clean. I had trouble finding a razor box without many nooks and crannies where water would sit. Since I travel every week, this container gets a workout. Every few weeks I put it on the top shelf of the dishwasher and it looks like new. I use a Venus razor and it fits well snapping closed easily. I even have space to put an extra blade in there too.
February 22, 2013
Great razor travel case
This travel case is durable and closes nice and tight. No cons for this product. Another great product for the container store.
July 9, 2012
The case could be a little bit longer
I love the concept of the razor case. It prevents me from cutting my fingers when I reach into my toiletry bag. However, my razor with the trimmer on the end doesn't fully fit in the case. The case could be a tad bit longer.
June 15, 2012
Razor case
For those of you who are wondering if an old fashioned double sided blade razor will fit in this, it will! And the case will close all the way. No more worrying about slashing my fingers when I reach into my toiletry travel bag. Wonderful!
June 7, 2012
Exactly What I needed
This is the perfect item / case to help prevent the razor from rusting.
March 5, 2012
Travel Necessity
This is a must-have for preventing icky residue (that inevitably collects on your razor) from getting all over your cosmetic or toiletry bag. (My bofriend loves his as well)!
July 1, 2011
Great container
I hated throwing my razor in my toiletry bag when I would travel; it would always stick out and I would nick myself reaching in my bag. This container is great because it is large enough to fit most razors and even the ones with large razor heads! And the razor doesn't get all goopy; and the container stays closed so the razor never falls out. Plus the Microban is great too!
April 6, 2011
Razor Case with Microban
I love this. It fits the razor perfectly. Great colors. I feel much better having my razor stored so it does not mix in with my other packed toiletries.
July 7, 2010
Great Solution
This is the perfect solution to rusty blades! great buy.
April 25, 2010