< Return to Product Page
Customer Reviews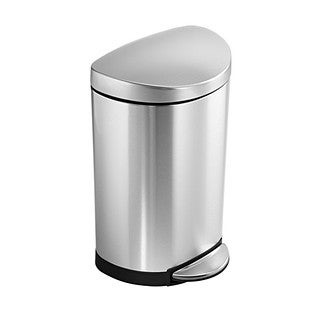 simplehuman 2.6 gal. Semi-Round Step Can
Overall Rating:
Customer Reviews
simplehuman® 2.6 gal. Semi-Round Step Can
8
8
Just what we needed
Simple Human is the best. We have had several trash/garbage cans from them over the years and all have been excellent. This one is of the right size and function for our needs.
July 11, 2014
Great for small spaces
This step can was a perfect purchase for my loft. It filled a small space near the laundry center and the office. It looks like it's part of the office, but it also fills the needs of the laundry room!
April 3, 2013
Terrific and modern for the bathroom
The foot pedal makes disposing of ... less than pleasant bathroom items ... much easier and sanitary! It's a dream to clean, and makes the bathroom appear modern and sexy! (For a trash can!) You can't lose with simplehuman!
March 18, 2013
Perfect small can
It's the perfect size for any small bathroom. I use plastic grocery bags to line it. I love that it has an inner pail that can be pulled out and cleaned. Sturdy, doesn't move around, silent lid opening and closing. The dog can't get into it. A great deal for the price.
April 28, 2012
Form WITH Function
The space saving design of this trash can doesn't hold it back from holding loads of trash. I placed it in the bathroom against a wall -- it doesn't move around when opening it like the previous round one did. You won't regret this purchase.
December 26, 2010
Nice contemporary shape
I like the semi-round shape of this trash can. The soft-open, soft-close action of the lid is a welcomed feature.
July 9, 2010
Perfect little garbage can! So glad I got it!
This small garbage can is the perfect size since I recycle most of my garbage anyway! It sits right next to my larger recycling can. Looks really great in my kitchen too and the lid closes slowly and quietly so it doesn't scare my kittys ... it's just what I was looking for to put to put in my small kitchen!
June 15, 2010
Simply the best trash can
Love this sleek design and simple to use trash can. It is simply indispensible!
May 24, 2010