< Return to Product Page
Customer Reviews
Feathergrain Wooden Storage Bins with Handles
Overall Rating:
Customer Reviews
Rated

4.5

out of

5

 by

49

reviewers.
Rated

5

out of

5
 by
MopNewYork
Useful Storage for shelf or under bed
Love this storage bin. Have been keeping my wrapping supplies in it. Large handle makes it easy to quickly grab and slide or carry.
March 19, 2012
Rated

5

out of

5
 by
littledavis
Great and lightweight
I bought one of these last year for my first year of college and wish I would've bought some more! I was going for a natural theme for my room, so of course I was drawn to the look, but I use it every day to hold all of my first aid and grooming things. I like it because it's easy to bring back and forth to school each semester since it's extremely lightweight.
March 19, 2012
Rated

5

out of

5
 by
CDELSIGN
Great Product!
Perfect for storage or turning into a basket! Looks great online and in store.
March 5, 2012
Rated

5

out of

5
 by
Pov95
Sturdy Solid
Great at the bottom of my closet for sandals and flip flops
March 4, 2012
Rated

5

out of

5
 by
SCPerry
Well Worth the Money
I have purchased a couple of different types of baskets and plastic containers to attempt to organize our closet in our kitchen that houses everything from dog food, treats and toys to tools to shoe shine to gloves, hats and mittens. I could never find something that made the closet "look" organized as well as acutally organizing and hiding the items that we have in it - until the Feathergrain Bins!!! These bins are made well and make my closet look clean and organized. They are definitely well worth the money and I feel that they will not be a trend look and I will use them as long as they last! Please do not discontinue Container Store!!
February 28, 2012
Rated

5

out of

5
 by
ShiraH
Beautiful and functional
I was impressed by how beautiful these boxes are- the small ones are just the right size for mail or papers.
February 21, 2012
Rated

5

out of

5
 by
NanaJoyce
Perfect!!!
These bins fit perfectly in my front hall desk which is rather thin but needed help in the storage area. I can fit two of them in it and now have a front hall desk I am proud of... they are sturdy, made a lot nicer than I expected and I know will last a long long time!
February 16, 2012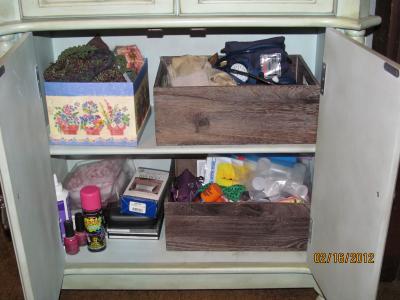 Rated

4

out of

5
 by
MrsRiley
There Be Clutter (No More)
A perfect solution for where to put the day's paperwork
May 10, 2011
Rated

5

out of

5
 by
Brookgirl
Beautiful!
These are really high quality beautiful storage boxes. They were even better in person than in the picture. In the picture they look gray, but in reality they are a rich brown tone wood, that looks like expensive furniture. As soon as i got them, I ordered more.
April 29, 2011
Rated

5

out of

5
 by
OrganizerExtraordinaire
These Baskets Are Great!
Used larger sizes on shelves to hold all my craft supplies and the smaller to corral the never-ending piles of mail on my desk. Get lots of use and handling and are wearing nicely. Wouldn't use to store sweaters or any other fabrics...but have used in my closet to store some out of season sneakers and flip flops.
March 3, 2011
Rated

4

out of

5
 by
JerseyJenna
A great solution
I used these bins for a cube shelving unit I have and they give a really clean simple look to it. the wood is sturdy and durable. The only drawback is that they wobble ever so slightly, but barley enough to notice it.
February 14, 2011
Rated

2

out of

5
 by
mina
Not So Great
Online the boxes were just what I wanted. In person not so. The finish is not sealed. I took a damp cloth to wipe the boxes and came away with a cloth full of stain. I wanted to store clothing in them but will have to finish them with polyurethane before doing so. This may be more trouble than I want to take so I will probably return them.
November 22, 2010
Rated

5

out of

5
 by
moderne28
Great for DVD Storage
I bought the medium size to try for DVD storage. I love it and ordered another one. The DVDs fit well and the bin blends into the dark wood floor. Nice quality too.
November 20, 2010
Rated

5

out of

5
 by
mylalagirl
a tidy solution
I needed something to house my extra cables, cords, adapters, chargers, etc. Finally, I found something with some style, easy access, and that keeps my accessories tamed! No more wild-looking cords and I can keep everything together without trying to hide them.
November 20, 2010
Rated

5

out of

5
 by
Organizedshopper
Practical purchase
I purchased the smaller size bin to store my mail and paperwork. It works beautifully, is the perfect size and it looks nice on my kitchen counter. It is well constructed and is reasonably priced. I love it! Paper pile problem - solved!
May 17, 2010
Rated

5

out of

5
 by
Killy23
Beautiful and durable
I love the texture of the feathergrain wood, and the boxes are very sturdily built. I use these every day in my bathroom storage, so I am glad that I didn't go for a cheaper option that would have fallen apart in a few months. Definitely worth the money.
May 17, 2010
Rated

4

out of

5
 by
Caren
Feathergrain bins a good way to go
These are multi-purpose and work well if you want to store things in an area where you still want something to look nice. The sizes and construction are all good. You can use these for dog toy box or general shelf storage.
March 30, 2010
Rated

5

out of

5
 by
S2001
Great Bin!
I looked everywhere for a good-looking, affordable storage bin to have out in my home. I was thrilled to come across these! They look great, and they are practical. Great purchase.
March 25, 2010
Rated

5

out of

5
 by
LSSN
Just what I was looking for
These boxes are good looking, lightweight, and are space efficient. I looked all over for a box that would be practical and thought I'd have to throw the lid away. I was just about to give up when I found these. Because I have a suspicious nature, I ordered just one to see if these were really just junk. It arrived and I ordered 24 more immediately!
March 3, 2010