< Return to Product Page
Customer Reviews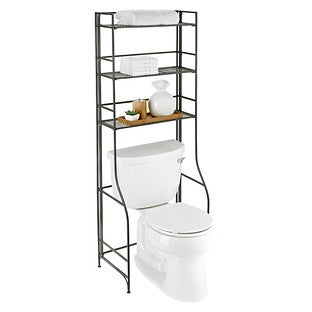 Iron Folding Bath Étagère
Overall Rating:
Customer Reviews
Iron Folding Bath ÿtagère
3
3
Bath Etagere
I love this.....it's the answer to where to put stuff you need at hand in a small bathroom. It's pretty, but more important for me is that it was a synch to put together. Basically, you just fold it out and add the 2 support rods...easy as can be.
September 2, 2014
The Best On The Market
You won't go wrong purchasing this for your bathroom; it's, hands down, the best out there on the market, and worth every penny. I have purchased others before and either they have been so rickety, or not worth the effort to take with us when we move, but this one is fantastic. It looks great, very sturdy and overall very visually appealing. There are levelers on the bottom of each leg, if your floor were to be uneven. I just had knee surgery and still have the arms on the commode; I was worried this wouldn't fit until I am able to remove the equipment. It fit around the assistance equipment. It's a tight fit, and I didn't screw on the bottom bracing bars, but that isn't a problem at all, because the unit is still very sturdy. It's very easy to set up. One could store bricks on the shelves,, because they are that sturdy. If you have smaller items you are storing on it, either they should to be put in baskets or trays because of the spaces between the bars; consider purchasing some ELFA or Metro shelf liners from The Container Store and cutting them down to fit so they can sit flat. Our bathroom lacked proper storage for items we needed to get to; now they are in arms reach. The item isn't carried in the store, but it's worth ordering it online; you won't be disappointed.
July 31, 2014
Awesome addition to the iron folding line
I just moved into a small studio where extra storage is a must! My bathroom only has just the one undersink cabinet, and that is just not doable. There is very little counterspace, and with the toilet next to the sink, I was not able to put a shelving unit next to the sink- until I discovered the new iron folding bath etagere! It fits perfectly over the toilet and allows me to keep all my makeup (in my acrylic modular bath organizers, natch) and hair products neatly organized and close at hand. The best part is, it's iron, so my old magnetic makeup organizers for inside a medicine cabinet (which I no longer have) attach securely to the side! It also matches nicely with my 3 and 4 shelf iron folding bookcase and my media rack. I think I like the iron folding line just a bit!
July 16, 2014