< Return to Product Page
Customer Reviews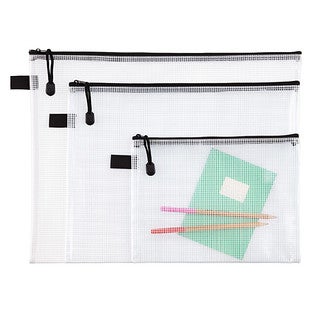 Zippered Vinyl & Mesh Pouches
Overall Rating:
Customer Reviews
Zippered Vinyl & Mesh Pouches
52
52
FABULOUS FIND
I purchased 5 of this item and. will purchase more, to keep my cross stitch projects in. They are the perfect size. Sturdy and will keep the fabric dust free.organized and I can see what project is inside as well as all supplies. Price great value!!
August 27, 2014
Zippered Vinyl & Mesh Pouch
Love, love, love these oversized zippered pouches. They are so strong and durable I use them so often, for travel documents (I always buy the largest size so everything fits), file folders I need to carry with me, etc. They are without a doubt one of the best vinyl pouches out there. They don't split, tear or otherwise fall apart. If you are in the market for an inexpensive vinyl pouch, you will not go wrong with this purchase.
June 28, 2014
Good product
We use these pouches for holding delicate items - they are sturdy and wear well.
June 4, 2014
Perfect Pouch
This does exactly what I bought it for!!! I wanted something fairly thin, and big to carry my knitting in. I wanted it to put in another bag. It's PERFECT!!!!!!
May 28, 2014
Perfect way to group paperwork with small items
I absolutely LOVE these pouches and have used them for many years. The smaller size holds letter size papers and smaller items, the larger size holds legal size papers. The interior is quite generous and the zipper makes access easy. I love the feel of the pouches and that they are super-strong because of the embedded nylon mesh. Of course, the vinyl makes it easy to see what you have inside. I am on several committees, and this is an easy way to group the paperwork, pamphlets, etc. and take them with you to a meeting.
May 23, 2014
Very durable product....
Great product ....long lasting and will hold many documents
May 18, 2014
Awesome
Great for storing art supplies! Love it! Keeps project materials organized and since it's clear you can see everything!
April 25, 2014
Love, Love, Love this item
Besides being great for travel......These bags are great for quilters. I bought several to keep my different "projects" in and it keeps me so organized. I tie a coordinating ribbon on the zipper pull and I know at a quick glance which "project" I want to work on. When I got to quilt club I take my pouches with me. I don't have to worry about rain, snow sleet or hail getting my projects wet from car to quilt shop. The girls that I quilt with are all doing the same thing now....we all love it. Thank you.
April 18, 2014
Very helpful keeping organized
Helps organizer cross stitch projects. Being able to see thru, saves time looking for a project.
April 11, 2014
Mobile office organization
Love these pouches to keep papers and misc items in order while traveling. I have 5 of them and am constantly changing their use based on my needs. Love that they are clear, but sturdy. They bend without cracking. Dont know what I did before theseZ. Love love love.
April 9, 2014
Zippered Vinyl Pouches: Teacher Dream Come True!!!
My 4th grade students have so many books and folders that comprise our reading and writing program!! They were previously using plastic baggies but not everything fit in them and they always ripped, and were very poor in protecting the contents. We use whole class text collections, which will be used again next year, and the year after that! The books will never last as they were being kept in the disposable baggies! The zippered vinyl and mesh pouches are absolutely perfect for this purpose! Their notebooks, folders, texts, and other miscellaneous items fit neatly and securely in these pouches. They are protected from water bottle spills, rainy days, or virtually anything else that could harm their stuff! It also keeps their stuff together so that they are always prepared for class, and they don't lose papers or packets! I plan to add these to my supply lists every year!! I am also going to share this discovery with all my colleagues and recommend it to my principal as she has a vested interest in protecting the text collections we purchased!
April 2, 2014
Great multi-purpose bag
This bag is very sturdy and classically designed. I use it to tote materials to interviews. It looks professional and clean.
March 18, 2014
Cannot Praise Enough!
I bought one and went back and bought another! This is great to house multiple folders or papers in a large tote. I have on filled with file folders that are labeled as needed and can organize papers in files on the go. I have two which I keep in a very large tote that I take to school. One contains all my folders and notebooks for MWF classes and one contains all my folders and notebooks for TuTh classes. If i only want to grab one of those I can or I can carry both around and keep things organized and neat in a giant bag. It fits full size folders and notebooks (including Five Star size notebooks).
March 11, 2014
great quality
nice thick mesh - nylon. Flexible too. heavy duty,
February 28, 2014
Legal Size Pouch
This pouch is great because it fits many things other than legal size documents. I was specially pleased to use it for big photos.
February 26, 2014
Great teacher's tool!
I bought these pouches to hold my student's Math Wall work pages. (Teachers get 10% off of 1st purchase when you sign up at the container store teacher's program!) They are great to keep students organized and ready to learn!
February 16, 2014
Wonderful for wooden puzzles!
I have had been using these pouches for several years and never thought to write a review until I had to order some more for recent Christmas presents. These pouches work perfectly for wooden puzzles, like Melissa and Doug. Easy enough for the kiddos to unzip. They sometimes need help in slipping them back into the pouch though. I love that they are clear, which makes it easy to see the contents. Can't beat the value for the price at all. Trust me, I've looked. Thanks Container Store for solving yet another storage problem.
January 5, 2014
Lots of uses
I use these pouches for a lot of different uses. I have some that I use as wetbags for my kids swim suits after trips to the pool or beach. I have some that hold paper and crayons so we can take coloring supplies with us on the go. Love them!
December 31, 2013
Great for International Trips
Because you have to have in your hands your passport, receipts, visas, etc. when you go through customs, this Zippered Vinyl & Mesh Pouches are great. You show you are organized and ready to present any document the officials ask you. When you do not have what they ask promptly, chances are they will ask you to go to a room to be interviewed. You will lose time and after a 20-hour trip that is the last thing you want to lose!
November 28, 2013
Great for everything
I got it as storage for my travel pillow but it can be used for many things.
September 3, 2013
great for corraling paperwork in your bag
I have recently taken over the mail for my father in law who broke his leg and is in rehab. I use this in my tote bag to corral his mail and checkbook. When I visit him everything is there for him to see and sign checks for me. Very convenient.
September 1, 2013
Zippered Vinyl & Mesh Pouch
Great product! have my papers in order, and when it rains I do not have to worry that it will get wet . Strong & Durable!
July 21, 2013
Perfect
Such a great product. My only request was that they'd make this series of pouches in other sizes. This is perfect for storing documents or paperwork safely. It's sturdy from the combination of vinyl and mesh and the see-through aspect of it is very convenient. Make more sizes! I'd love to see smaller pockets, not the 3d type of makeup pouch but a smaller, 5x8 sized flat zippered pocket.
May 4, 2013
Great wet bag for pool/beach!
Because it's weather resistant, you can use this as a "wet bag" to hold bathing suits after the pool or beach. It's also great for holding kids' clothes in the car or your bag. Keep the dry ones in here, and if their clothes ever get wet or dirty, you can just switch them out. Keeps all the moisture in! Be sure to take everything out immediately when you get home, so things don't get moldy. LOL. But yes, LOVE these! We have several for this purpose! :-)
April 23, 2013
Great Bags!
Love these bags and price is great! I'm a needleworker and use these to store unfinished projects with all the necessary materials for the project. These are nice becasue you can see through them making finding a project easy and the zipperer top keeps the dust off!
March 25, 2013
Excellent for Storage and Travel
I am a trainer and carry a lot of material for my courses. These pouches are excellent, just the right size and very durable. I paired them with the erasable labels. Highly recommended.
March 18, 2013
Indestructible
I keep buying more and more of these zippered pouches because they are so hardy and handy. I keep stitching projects in them so they are ready to go. I am still using pouches I bought many years ago. I have never had to throw one away because of damage. They hold up forever it seems.
March 9, 2013
first time i've seen this
this is the first time i've seen this product and i love it...it's unusual
February 22, 2013
Pouches for all purposes
Vacation Travel documents kept tidy and handily inside backpack; documents and stuff I am working on at home kept in separate pouches to carry wherever I am working or need them; putting away/saving vacation souvenirs for each trip all then tucked into a Container Store clear storage box; keep and carry all current documents/notebooks for organizations I belong to - carry to/from meetings; these are simply great and since they are clear you know what is in them.
February 18, 2013
I love these
I'm a grad student and I take a lot of courses that require me to print out a lot of journal articles. These pouches are great because they allow me to store all the articles for each class long-term. I also use them to organize my coursework and documents around the house.
February 11, 2013