< Return to Product Page
Customer Reviews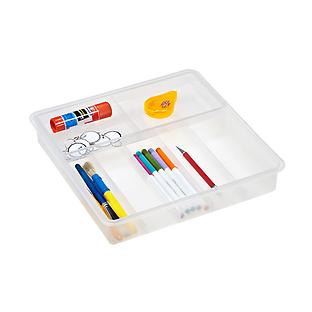 Sliding Drawer Organizers
Overall Rating:
Customer Reviews
Sliding Drawer Organizers
14
14
Desk organizer
I love how now everything in my desk is so organzied and I can find what I am looking for and everything has a place for it.
August 14, 2014
Great organizer
A great piece in and out of a drawer. I use this organizer for watches, outside of the drawer. The top sliding tray is excellent for quick retrievals.
July 6, 2014
Small
Small and while that might help fit in a small drawer, it didn't hold much, therefore wasn't useful, and had to go back
February 16, 2014
Really good
Fits perfectly, and a great organizer. I was hoping that some of the sections would be big enough for sewing scissors...but they don't quite fit. Luckily I have lots of other small itms that fit in there perfectly!
February 12, 2014
Excellent organizers for desk
Two small sizes fit perfectly side-by-side in my Java Roll-out Desk (also from the Container Store). They're high quality and keep the drawer neat.
November 11, 2013
Perfect!
This item was exactly what I was looking for. It's the perfect size for my drawer and it has enough compartments to hold all my desk utensils.
September 15, 2013
handy organizer
THis little organizer is a good size for any size drawer. Keep small things corralled.
April 1, 2013
Great Product!
I no longer have a "JUNK DRAWER". Everything is neat and I can find things when I need them.
June 19, 2012
Sliding Drawer Organizers
I used 5 drawer organizers to organize. Very, very helpful to organize hair pieces, hygiene products, and desk supplies.
April 21, 2012
I have both the small and large versions of this product, and really like them. The sliding bar on the top is very convenient. Make sure to pay attention to the dimensions of the product though- if my desk drawer wasn't so small, I probably wouldn't want the small organizer since it doesn't store too much. Also, some other reviewers mentioned cracking- I didn't have any problems with this while using the organizer, but when I first bought it, one of the corners was cracked. I brought it back into the Container Store and they exchanged it for me easily. I haven't had a problem with cracking since, but I don't move it around very much.
April 15, 2012
Good Value for Useful Organizer
I purchased the large organizer because I didn't want an organizer that came in several pieces, was adjustable, or was too expensive. The large fits perfectly in my top file cabinet drawer (with about 1/4" to spare). I was excited to see that this is a Japanese plastic product, and I have had good experiences with Japanese plastic products from The Container Store. They are minimal and well designed. I find this to be a very good value.
March 31, 2012
Good and utilitarian
This is a good product for normal use. I bought the medium size and the large size and when I dropped the larger one a piece of the plastic cracked off. It still works fine but seem to crack very easily.
March 27, 2012
Effective
This does exactly what it's supposed to do. The bottom compartments are really long, about the length of two pencils, so I kind of wish they were divided into 6 shorter compartments, but that's just me being particular.
March 17, 2012
Works Like a Charm
I needed a tray like this to organize my pens, computer usb cords and media cards off my desk but easily accessible.
March 5, 2012