< Return to Product Page
Customer Reviews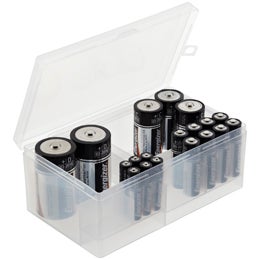 Multi-Battery Storage Box
Overall Rating:
Customer Reviews
Rated

4.7

out of

5

 by

47

reviewers.
Rated

5

out of

5
 by
Ensley
All our batteries in one place. I do not have to hunt all over the house or cabinet to find the right size!
May 21, 2012
Rated

5

out of

5
 by
Mely
No more batteries rolling around!!!!
Okay I am a organizational freak! this product is why I love Container Store, I had no idea this existed and I also thought that I was the only weirdo that kept my batteries in the fridge. This container is awesome! Before this, I would keep my batteries loose in a drawer, better known as a "junk drawer", (come on ladies, you know what I'm talking about!) and now they are so neat and organized! Love it! Highly recommend this product, especially if you have kids whose toys seem to need an endless supply of batteries :)
April 30, 2012
Rated

4

out of

5
 by
Flyer
Very handy
We like the battery container because at a glance we can see what we have and what we may need. Never want to run out of those batteries.
April 30, 2012
Rated

5

out of

5
 by
Vaelorn
Love it!
I love that it has a lid you can't lose. So many battery storage options are open with no lids at all, so this is a great plus for me. I like to keep everything lidded.
April 27, 2012
Rated

5

out of

5
 by
Girasol
Great for someone who organizes EVERYTHING!
I obsess about organizing EVERYTHING even batteries! Until I even knew this product existed we always struggled to find batteries when we needed them the most. Now they have a place of their own!
April 24, 2012
Rated

5

out of

5
 by
slfergus
Great Battery Storage-+
This keeps the batteries in the junk drawer organized and easy to find.
April 14, 2012
Rated

5

out of

5
 by
tiva
Nice height to fit in even a small drawer
My battery drawer was so disorganized that I kept buying batteries I already had. Now I can see exactly what batteries I am stocked up on or need to pick up at the store, plus the height of the container fits just right into my relatively small buffet drawer. I love it!
March 31, 2012
Rated

5

out of

5
 by
Mollie2012
Great Product!
It made finding a new battery much easier! I no longer have to rummage through drawers looking for fresh batteries, they are all neatly in one easy to find place. I am very happy I purchased the battery storage box!
March 20, 2012
Rated

5

out of

5
 by
beckz
No more batteries rolling around in a junk drawer!
I love having all of my miscellaneous batteries in one place instead of loose in a junk drawer or kept in ziploc bags.
March 19, 2012
Rated

5

out of

5
 by
BiancanKamsMom
Keeps them all organized!
We keep this in the back of the fridge and always know where to find the batteries that are charged. We no longer have to search the junk drawer to find good batteries! Great idea!
March 19, 2012
Rated

5

out of

5
 by
WallySTL
Great Way to Organize your Batteries
I love this organizer! Way better than the shoe box I was using before.
March 19, 2012
Rated

4

out of

5
 by
SadieAnn
Great Organizational Tool
We use this so we know which of our rechargable batteries are charged or not, if they're in the box that means they're charged! I just wish it had more space for more common battery sizes like AA.
March 4, 2012
Rated

4

out of

5
 by
Mimisea5
This is a handy little box! Before, all my new batteries were thrown into a small basket. Love the divided sections; lets me see exactly how many of each battery size I have on hand and when I need to replenish my supply. Was expecting it to be just a bit larger, but still handy when you use lots of batteries around the house.
March 2, 2012
Rated

5

out of

5
 by
LaurenC
Fantastic Little Containers!
Great little containers to hold batteries and see exactly how many you have left of each size.
March 1, 2012
Rated

5

out of

5
 by
Cottontop
Great Organizer
I love this product. It makes it so nice to have the batteries easy to find and always know what I have and what needs to be purchased. It works well!
February 20, 2012
Rated

5

out of

5
 by
jmfpma7
Great idea for battery storage
This is a great storage box. I could never find my batteries as they were in open pkgs and all over the place. Now I have one place, it fits in the drawer and I can visably see what I am getting low on. Too bad it doesn't hold 9 volts too.
December 30, 2011
Rated

3

out of

5
 by
FortWorthTX
Returned item
This box has the right configuration inside for a variety of battery sizes. However the lid and box are a single piece, rather than the lid being attached with an articulating hinge. I was concerned that the attachment would weaken and break over time, so I returned the storage box.
December 20, 2011