< Return to Product Page
Customer Reviews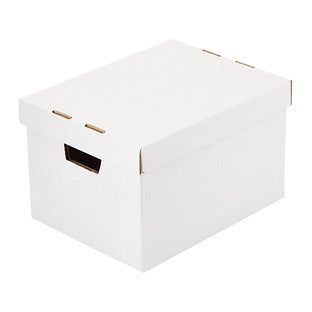 Our Best Box
Overall Rating:
Customer Reviews
Rated

4.7

out of

5

 by

36

reviewers.
Rated

5

out of

5
 by
Limerent
It's called Our Best Box for a reason
I used the Best Box for boxing up dishes recently--it's a heavy box as a result, but the size makes it very manageable to carry and transport. The built-in handles are very robust. I also plan to use the Best Box for boxing up books. The extra cost of buying these versus using boxes sourced for free from the grocery store is well worth it to me, as they are very sturdy and will hopefully withstand being stacked on top of each other without buckling, even if they are not filled 100% to the top. An added benefit is the visual cohesion and modular convenience, as they are uniform in size. Furthermore, the outside is plain, bright white, with nothing printed on them to distract from my Post-It labels. I would suggest to the company to make this box in several other colors, which will be useful for "color-coding" according to one's needs. It's a fast visual cue of what type of items are stored inside (e.g. kitchen, books, tools, etc), if used in such a manner.
May 16, 2016
Rated

5

out of

5
 by
ThereAreWorseAddictions
My "go to" for sorting and storing
One of the BEST TCS purchases. They are sturdy, hold a lot and can easily be transported with the handles. These boxes are also stackable. Easy to label. Economical and the most durable I have found.
July 13, 2014
Rated

5

out of

5
 by
SalesLuvr
Great Sturdy Box
I needed something affordable to organize my small studio and found these boxes at the Container Store. I was delighted that they are white, have lids, and are easily moved. Also, I try to be "green," so the fact that they are made from 100% recycled materials was the clincher. They are great for storage, hold a good amount of weight, and look better than most storage boxes, since they have no writing on them. I highly recommend these for affordable storage or moving purposes.
April 29, 2014
Rated

5

out of

5
 by
SHope
Great box for moving/storage
I used this box to pack up my boyfriend's apartment. It was easy to put together and very sturdy!
April 21, 2014
Rated

5

out of

5
 by
LeavingRaleigh
How to move books
Great box. Perfect for storing books of all sizes.
March 25, 2014
Rated

5

out of

5
 by
SabrinaM
IT REALLY IS THE BEST BOX !
Years ago my husband purchased a case of these boxes for our move from apartment to first house. I was very vocal in my opposition of buying boxes for moving as we could get boxes free at the grocery store. I've had to eat my words for over 20 years every time we remove items from storage in these awesome boxes. TIP: Number your boxes and keep an index of stored items on a card or address book or on your computer or smartphone. Then when the box is used for something else or items are added or removed, the list may be updated instead of writing all over the box.
February 24, 2014
Rated

4

out of

5
 by
linlin
best box, solid buy
Good, simple design, easy to pile,very good alternative to ugly plastic boxes.
July 12, 2013
Rated

5

out of

5
 by
ChaoticMoon
Sturdy!
We bought a case of Best Boxes to organize our employees' belongings while we rearranged the setup of desks in the office. The instructions printed on the flaps made it easy to have each employee assemble his own box, the lids made the boxes stackable, and we were pleasantly surprised at how much the boxes held. We especially appreciated the flaps that fold in to create the handles; having the extra cardboard layer helped keep each box together as well as protecting our fingers from the raw edges when we picked the boxes up.
June 17, 2013
Rated

5

out of

5
 by
KellyS
Boxes great for teachers!
My husband is a teacher which means each year we have to pack/unpack his collection of books & supplies. These boxes work fabulously well! The plain appearance is aesthetically pleasing and the ability to fold them flat throughout the year is a great asset. We also use the identa-labelâ¿¢ Pouches with these.
May 28, 2013
Rated

5

out of

5
 by
EsideLa
Exactly what I was looking for
I really needed to organize my closets. Ultimately I would love to have an Elfa system but since I am a broke grad student, I had to come up with a cheaper solution. These boxes were perfect! They look way better than the plastic drawers and mismatched crates I have collected over the years of moving and they fit my budget. I also plan on using these for future moves :) They were quite easy to put together and are really sturdy. I also bought white erasable labels and my closet looks pretty darn good.
April 5, 2013
Rated

5

out of

5
 by
Urbanus
Durable, Attractive Reusable Storage Box
I've been using the Container Store's classic Best Box with removable lid for years. It's white form without distracting writing (except on the underside) allows a tall bookcase (their excellent Skandia) filled with these boxes to hold a lot while still looking tidy and attractive enough for a den, office, and even an informal family room. An especially nice system if you have to move fairly often and dread repeatedly unpacking/repacking. The boxes are very sturdy and do a great job of protecting whatever is inside thanks to the 2-3-wall construction in most places. The boxes also can be disassembled, stored, and reused. The only thing I would suggest improving is somewhat easier-to-break connections between panels when setting up; some of the jagged cardboard break points can leave a slightly messy appearance. And a longer and slightly taller version of the Best Box (ideally 24-26" long and 12" high) with the otherwise same construction quality/sturdiness and removable lid is needed. The previous longer, lidded version that Container Store sold years ago was not nearly as rigid or robust.
March 25, 2013
Rated

5

out of

5
 by
songoflove
You can store so much misc stuff
I used to store t-shirts, socks, and other misc stuff, then I typed a label and place on each box, looks so neat and I know whats in each box, no more searching the labels works great!
March 20, 2013
Rated

4

out of

5
 by
Momto3boys
Sturdy but instructions poor
This box is more sturdy than boxes I have bought from other stores, however the directions are lacking. Once you start putting the bottom together, you can no longer see the instructions. There are no instructions for the lid. If you have put similar boxes together, you should be able to figure it out.
March 18, 2013
Rated

5

out of

5
 by
PeggyK
Best Box is Best box EVER!
I bought several of these boxes for set dressing for a play. during the play they got thrown about and stood up to the abuse. We now use them for prop storage and 4 plays later they are still strong.If I ever need boxes again I will defiantly get these
March 18, 2013
Rated

5

out of

5
 by
Sueli
You cannot wrong. Best Storage.
I just did a renovation in my bedroom. So , I decided to make shelfs in light color. I got more than 20 boxes in beige color for storage. It is neat, nice, organize and make the room very light. I strongly recommend.
February 20, 2013
Rated

5

out of

5
 by
skirk94
Sturdy and Easy to Assemble
I bought this box to store a huge coffee mug collection. I was not sure it would work, but the box held up super strong with room to spare! I was able to put it all together and pack it up in seven(7) minutes. Now it rests on the highest shelf of my pantry and my cabinets are free of cluttered coffee mugs!
July 28, 2012
Rated

5

out of

5
 by
dinosaurshugar
Sturdy boxes for moving/storage
Easy to use, simple to construct the flat boards into great, sturdy boxes though the perforations weren't the best (I had to literally punch them out). Good price for the quality and quantity.
May 6, 2012
Rated

5

out of

5
 by
Abra
Great multi-purpose box
When I lived in a small apartment, I needed to corral some clutter around my computer table (not a desk). I decided to give this box a try and it has continued to work well. It's rare you can find a box without any writing on it. I keep the office supplies I need occassionally in it...and my printer also sits on it perfectly. I am sure when I upgrade my work area, I can find other great uses for this box. Money well spent!
May 1, 2012
Rated

5

out of

5
 by
Lisrey
Great for storing tax documents/receipts
We have our own business and these are great for storing our tax documents and receipts. I simply write the tax year on the outside with a bold marker and stack them in our storage.
April 27, 2012
Rated

5

out of

5
 by
tliao
Very sturdy
I purchased two boxes for our recent move and they worked great!! A little pricey though....
April 27, 2012
Rated

5

out of

5
 by
Audi5k
MY GO TO BOX
IN THE LAST DOZEN YEARS OR SO I HAVE MOVED THREE TIMES, AND I EXPECT I'LL BE MOVING TO AT LEAST A COUPLE MORE PLACES. I'VE USED MANY SIZES OF BOXES, FROM DISHPACKS TO WHATEVER I COULD FIND BEHIND A GROCERY STORE. IN ALL THE PACKING, AND MOVING, I'VE NOTICED THAT SOME BOXES ARE NOT EASY TO DEAL WITH BECAUSE OF SIZE AND WEIGHT. THIS BOX, HOWEVER, IS PERFECT! WHETHER IT IS FILLED WITH BOOKS, KITCHEN ITEMS, OR SPACE BAGS OF CLOTHES, I CAN HANDLE IT EASILY. AND THAT IS ALL I EVER WANTED IN A BOX.
April 27, 2012
Rated

1

out of

5
 by
gwadja
Not as Advertised
This box is advertised to be 12.5in x 16.5in x 10.75in. Nowhere in the description does it state that these are the external measurements. I bought these boxes because they seemed to be the perfect size to move a record collection that was in danger as a result of a flooded house. Records are notoriously difficult to move as they must remain upright and are extremely heavy. These sturdy boxes with handles seemed like they would be the perfect solution. As records are 12in. x 12in. I assumed that they would fit perfectly in these boxes. Not so! The records do not fit in the boxes at all! Had I known that the 12.5x measurement was of the outside of the box I would have checked to ensure that the records would fit before buying them. I will not be buying these boxes again, and would not recommend to a friend.
March 24, 2012
Rated

5

out of

5
 by
collegestudent25
Durable
This is a fantastic product. The boxes are easy to fold up the first time, and just as easy to break down to store flat if necessary. I've used the same boxes countless times over the past 3 years to move in and out of dorm rooms and summer apartments, and I used the boxes in between to store stuff in my room (some are currently makeshift bookshelves). These boxes last forever! People always ask me where I got them because they are so handy and convenient; love the handles!
March 19, 2012
Rated

5

out of

5
 by
AtlantaCSfan
Best box is best box ever
I love these boxes. They are very sturdy, easy to assemble, and durable. Much better than the traditional banker's boxes that have labels on them that you don't need or use. These are simply white boxes. Catch them while they're on sale!
March 16, 2012
Rated

4

out of

5
 by
kmruss
Great storage solution
Although the box did not fold together as precisely as I would have liked, this box is an excellent storage solution for getting old files out of your file cabinet.
March 11, 2012
Rated

3

out of

5
 by
JazzyGal999
Inexpensive and easy to build but not heavy duty
These were easy to buy and easy to build, got a bunch for our move across town. Not cute or very heavy duty but suited our needs just fine.
March 2, 2012
Rated

4

out of

5
 by
Piddlin
The Best Box held the dinner plates and serving pieces that were too large for the Dish Drum, plus some glassware wrapped and placed on their sides. Seems well constructed.
February 19, 2012
Rated

5

out of

5
 by
PAGardener
Great Storage Solution
I own approximately 100 of these, purchased over a period of twelve years. They are clean in appearance (pure white, no writing all over them, easy to see labels I attach) and are sturdy. Because they are white, they do not rub off any color onto the paint on my walls, as some other brands have done. Obviously, I would recommend them highly, since I frequently buy more, and am still using some of the originals. I have filled many with books, and they support the weight. Only two "cons": 1. As they age (more than about 8 years), they tend to yellow a little to an off-white 2. They are not the very thickest-sided boxes available, and when you detach the flaps "B" and "D" (which come attached to the flattened box as purchased), the sides of the box may bend slightly, leaving a small permanent crease in the box. This is easily remedied by using a utility knife or scissors to detach the flaps.
July 12, 2010
Rated

5

out of

5
 by
Joyous
Best "everything" Box
I keep a few around for all sorts of storage needs. Not only are they a great size, but they are super strong to!
May 17, 2010
Rated

4

out of

5
 by
OrgtheRig
Handy Item to have on hand
I buy the "best box" by the case and have used them for storage and moving - the handles and size are great, because they don't tend to get too heavy for me to pick up and move. Being "file size' make them easy to fit, stack and store and they are easy to fold/put together. I also like the "lid" as opposed to having to tape the box shut or do the funky every-other-corner-thing with regular moving/shipping boxes. Because they tend to require less taping, etc, they are easier to reuse and keep in good shape. I also used stamps and woodblocks to decorate some of the boxes which I use as more permanent storage in my library, office, craft area...
May 16, 2010