< Return to Product Page
Customer Reviews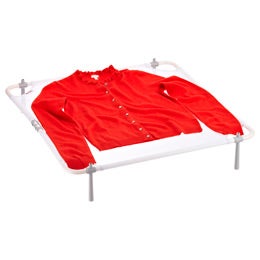 Good Grips Folding Sweater Dryer
Overall Rating:
Customer Reviews
Rated

4.4

out of

5

 by

10

reviewers.
Rated

5

out of

5
 by
Wndrss
Great purchase
I purchase a similar product a few years ago, however this OXO product is so much better and convenient. Large but perfect size for my clothes and very easy to store. Purchased two will need another one soon.
July 5, 2015
Rated

5

out of

5
 by
Scooper
Great for drying sweaters
Bought two of these as replacements for an older set of sweater dryers - these are much better because the items you're drying lie flat unlike the old set that had a bar in the middle and the netting never was flat.
June 26, 2015
Rated

4

out of

5
 by
Sam1Am
Easy
I bought these to replace my old drying racks. My old drying racks broke down completely so were easy to store but a pain to rebuild every time I wanted to use them. The Good Grips drying racks are easy to set up the first time, fold up easy, and are easy to set back up.
February 6, 2015
Rated

1

out of

5
 by
TexasCats
Doesn't Work
I tried everything to get the thing to remain open, but it collapses on itself.
June 7, 2014
Rated

5

out of

5
 by
ChosenProtection
Best Necessary Purchase
I bought this product not only for sweaters, but to air dry our pillows that must be hand-washed, cannot hang outside on the line in the sun, and cannot be put in the dryer either. Works great!
April 21, 2014
Rated

4

out of

5
 by
SpeakEnglish
Glad I found it . . . But one doesn't work
Excellent product. I was holding off washing my favorite sweater until I could find a good dryer and this is it! It doesn't take up a lot space and I was able to lay my sweater flat. It dried completely. I have since used it several times with satisfying results. BONUS: The dryer folds and I store it in the bathroom closet next to the hamper. I actually order two because they are stackable., However, one of the dryers is faulty and won't lay completely flat.
March 17, 2014
Rated

5

out of

5
 by
QP24
Fantastic product!
Love this product. Not only because it works so well but also because its easy to store! Love it.
February 23, 2014
Rated

5

out of

5
 by
trooper64
Wise Buy
Had a similar product years ago and loved it. Unfortunately, I lost it in a move. I finally found this product at your store. Glad you had it. It is actually better then the one I lost. It is easy to assemble, use and store. Much better to use one of these instead of towels to put your sweaters on to dry. Everyone should own one.
February 20, 2014
Rated

5

out of

5
 by
grandmajudy11
how did I live so long without this
I love it. my "lay flat to dry" love the new drying.
January 26, 2014
Rated

5

out of

5
 by
Rohrer4
Drying Rack that Folds!
This is functional and easy to put away! Problem of storage solved AND a great way to save energy on drying hand washables!
October 17, 2013