< Return to Product Page
Customer Reviews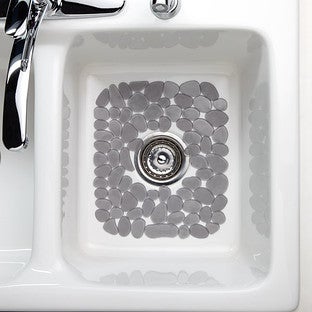 Graphite Pebblz Sink Mat
Overall Rating:
Customer Reviews
Graphite Pebblz Sink Mat
15
15
Pebblz sink mat
Really great to have in the sink to protect glassware and dishes.
December 9, 2014
Great product!
Really needed something to protect our sink and this mat looks awesome!! We bought both the small and large graphite mats. I really loved the idea of cutting pebbles to make it fit our sinkhole.
April 25, 2014
Looks nice and works well...
...but I still think it looks a little smaller than I thought and needed. It does not cover all the bottom surface of the sink. Overall, nice.
October 19, 2013
Really nice looking!
This mat is really nice. It doesn't get "gunky" and is really modern looking. I don't have a modern house, but it really adds to the look of my kitchen. Plus it's very different than anything in the big box stores!
March 20, 2013
My Drain is not in the middle! Thanks Pebblz mat!
My drain is not in the middle of the sink so I have had the hardest time finding a sink mat that works. With the Pebblz mat, I can cut the hole in the exact location. Voila! Plus the grey color it looks great in my stainless sink. When the mat needs cleaned, I throw it on the top rack of my DW and presto! it's sterilized.
March 18, 2013
Black granite sink and charcoal mats, blends wonderfully! My daughter says it looks like it was suppose to be there!
March 5, 2013
great base protector
Just got a new place and it looked like the previous owners either cleaned the bottom of the sink with cleaners that were too harsh or placed something extremely hot and ruined the bottom of the sink so I needed something to cover it up. Found this in the store while I was looking to get a dish rack and I like that I can customize the size in the middle. The only problem is that you can't leave something like spaghetti sauce setting in, that has to be taken care of right away. I'm going to purchase another one for the other side of the sink. I use the center I cut out as a base for my container holding my bottle cleaners.
August 3, 2012
Pretty good!
We got a stone sink with our kitchen remodel and had to get something to protect our dishes, but didn't want to hide the sink. This works very well -- wish I had it on both sides of the sink [hope to rectify that soon!] Only problem is keeping it clean: thought it was supposed to be mold-resistant but unless it's taken up each night and rinsed and/or scrubbed with a brush, black stuff seems to 'grow' in the crevices between the "pebbles". It goes away quickly, not permanent, just annoying.
February 17, 2012
Very Satisfied
These mats are of good quality and serve the purpose of protecting your dinnerware and sink. The only "con" I have is that they smell awful. I've had them for about a week or more and the smell is still there. Hopefully, in time, the smell will be less noticeable. I would, though, highly recommend them since they DO do the job they're intended to do.
January 12, 2012
Perfect
Just what I needed for my stainless steel sinks! Protects from scratches and easy to clean.
November 26, 2011
Finally a good looking mat that lasts!
I was tired of buying sink mats that looked bad after the first week. This mat is durable, good looking and stays in great shape after several weeks of daily use. I am very happy with the looks and functionality of this product and would recommend it highly!
November 6, 2011
don't waste your money
mats easily stain and need frequent washing. Water seeps through the design's openings and leaves residue on the sink bottom.
July 20, 2011
Great looking!
These mats are very nice, quality made and easy to alter to your kitchen sinks. I would definately buy these again if I need them.
July 19, 2011
Would Buy Over & Over
Love them!! They look great in my stainless steel sink. I have them on both sides and love them! They don't stain and easy to clean/wipe off.
February 14, 2011
Cuts easily to fit the sink and drain. I like that it protects my sink because it is white and it shows the scratches easily!
January 5, 2011