< Return to Product Page
Customer Reviews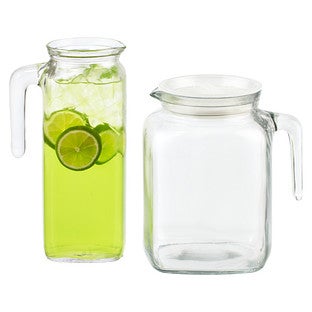 Glass Refrigerator Pitchers
Overall Rating:
Customer Reviews
Glass Refrigerator Pitchers
149
150
Glass Refrigerator Pitcher
We use the large pitcher for orange juice. The size is perfect for mixing frozen orange juice. It even holds 4 cans of water plus one can of concentrate; our preferred dilution rate. Comes with a tightly sealing lid which prevents the content from taking on refrigerator odors. However, the lid has to be taken off to pour. Glass is non leaching and you are able to clearly see the content. The spout drips a little when pouring. Handle seems a little close to the body for large hands.
August 16, 2014
Great for serving tepache.
I use this to serve the tepache. Works great, just add ice and pour.
August 14, 2014
Good glass pitcher!
I've read even BPA free plastics may be harmful, so I've switched to glass for my food storage. This container does break if boiling water is poured in, but other than that it's very durable!! Wide mouth makes it easy to clean & it's dishwasher safe. Just be sure to keep all 4 of the plastic lid parts accounted for. Lose one and the lid will not work. Locks refrigerator odors out of pitcher. Good size to fit in fridge. Looks nice on the dinner table too!
July 6, 2014
Perfect for iced tea!!!
Love the pitcher. Handle is a little too close to the body of the pitcher but not a show stopper. The lid hermetically seals and is very easy to use, even with arthritic hands! Fits well in fridge and keeps tea tasting just-brewed fresh for days! Love it!!!
June 21, 2014
Just OK
We thought this was just the ticket for our new refrigerator with less space between shelves. However, the lid components kept coming apart and falling into the juice. Also, the juice dripped down the side from the spout.
June 16, 2014
Was Not Pleased with This Purchase
I purchased the shorter pitcher to cool brew ice tea. It's strong and sturdy, however, it is hard to hold when pouring (handle too close to body) and liquids usually drip down side of pitcher after pouring. I find it poorly designed.
May 15, 2014
Perfect!
After juicing fruits and vegetables, I love using these pitchers for storing due to the airtight lids. Helps me keep the juice a bit longer in the fridge.
May 11, 2014
Loved it so much, I got 2
I've owned a 34oz one for years for mixing lemonade with iced tea, infusing water with fruit, etc. I brew tea in it with 212 degrees F water straight from my electric kettle. No issues with it at all, as the pitcher has always been at room temperature first. Then I let it cool down for over an hour until no longer warm to the touch, and I stick it in the fridge. Got another one and have been doing the same with it. No cracks, no leaks, etc., even though the company says not to put boiling liquids in the pitchers, with their max somewhere around 148F.
May 6, 2014
Handy Glass Pitcher
Bought two of these as replacements for some thinner walled glass pitchers I purchased at a major discount retailer.These work great! The low profile of this pitcher and size work well for refrigerator door storage. The tight fitting lid keeps the contents fresh! I have some other Frigoverre storage containers that I use for food storage and they are superb as well. A great price is always a bonus!
May 4, 2014
Perfect!
These are the perfect pitchers for daily use or a dinner party! They go from the fridge to the table effortlessly!!
May 3, 2014
NO SPILLS!!
I had looked at and bought several plastic pitchers for the frig to store Kool-Aid and mixed juice drinks, but had repeated trouble with them dripping and/or lids coming off while pouring. Finally, a pitcher (purchased both sizes) that does not drip when pouring, and because you take the lid off to open and pour, you know it is not going to fall in your glass! And the air tight lids are a plus! No more absorbing odors/flavors from other stuff in frig. Also, because the pitchers are glass, they don't discolor or absorb odors from what was stored in them previously.
April 28, 2014
great inexpensive pitchers
I've had both the small and large pitchers for a couple years and I love them! The seals have held up great to multiple dishwasher cycles and still expand for a tight seal. I use them to keep small portions of the bulk juices I buy in our main fridge, and also for homemade almond milk. I found that they keep mimosas nice and fizzy for many hours if closed tightly between pours too!
April 25, 2014
Great Pitcher
This pitcher is perfect for storing fresh juices because of the airtight lid. It's unique squared off shape means it fits more easily in the fridge. Could use one or two more!
April 25, 2014
Perfect Pitcher
This is the perfect pitcher! Clear, durable, dishwasher safe glass. Secure fitting lid, Made to fit well in your frig and just the right size for juice/lemonade/iced tea - I've got 2 in my frig right now.
March 27, 2014
No More Plastic!!
I can't say how much we love these pitchers! We keep milk, juice, and tea in them. Our drinks stay so fresh tasting due to the airlock seal, never taking on odors of other foods in the refrigerator. They are durable and so easy to clean. The seal is very simple. Hold the outer ring with one hand, twist the top with the other. We have never had dripping, leaking, or any issue with this. I did price check these at several stores online. Hands down, Container Store was best.
March 26, 2014
Refrigerator size pitcher
I like the fact you can see the content and it fits compactly in the fridge, especially with a tight fitting lid...
March 18, 2014
Good, Wish Was Larger Size
This glass refrigerator pitcher is good. It's sturdy and hefty with a nice cover. My only gripe is that I wish it were bigger. While they do sell an accompanying slender pitcher(sold separately), this pitcher would get 5 stars had it been in a larger size. We are a family of two and were are constantly making we iced tea and it similar drinks. Otherwise it's good for the price and seemingly durability.
March 17, 2014
Great for healthy water infusion!
I bought this at what I thought was a very fair price and I'm so incredibly happy I did :-) this is a very well made product with a tight sealing lid. I use this pitcher to make delicious detox water infusions! Because of this pitcher, our whole family is drinking more water and enjoying better health! Way to go Container Store!!!
March 14, 2014
GREAT SEAL ON COVER
BOUGHT TO STORE WATER WORKS GREAT NOT TO HEAVY FITS ON THE DOOR glass put in dish washer to sterilize
March 6, 2014
Practical and beautiful
I've had these for years with different color lids and they are always the ones I go back to. They fit beautifully in the refrigerator without taking up too much space and they are great to use when entertaining. Perfect!
March 3, 2014
rightsize container
this container is just the right size for holding any kind of liquids..
January 30, 2014
A Great Buy
I recently purchased my second glass refrigerator pitcher. I was so happy with the first one for storing iced coffee in the refrigerator that I had to buy a second one to store my iced tea. I love that the pitchers can go right I into the dishwasher and that they are so easy to store in the refrigerator.
January 19, 2014
Iced Tea
I got this for my husband as a gift to keep his iced tea in the fridge. It fits perfectly in the door and he makes the tea right in the container. I would caution that if you plan to put hot liquids in this container, make sure it is at or around room temperature before doing so. We made a new batch of tea in our first pitcher right after taking it out of the fridge and it cracked because of the temperature differential. This is not a con though, just science!
January 7, 2014
A great size and a tight seal
I was looking for a wide-mouth pitcher to store soup, spaghetti sauce, etc. but this is also perfect for making a batch of eggnog or something that needs shaking between servings. Nice heavy glass, and a perfect sealing lid.
December 31, 2013
Glass Refrigerator Pitchers
The short one is too heavy once a drink is added to it, and takes up too much room in the refrigerator. The tall thin one is much better.
November 16, 2013
Perfect size
I purchased this to keep smoothies, iced tea and juice in the fridge. The size is perfect for our family and the glass is hefty enough without being too heavy. Love it.
November 12, 2013
Glass Refrigerator Pitchers
the 34 oz glass pitcher was what i wanted to start with fits great in my new whirlpool fridge in the door storage, i am getting ride of all theplastic in my home going with all glass like i grew up with. no chemicals in my home. I will be buying the bigger one soon that holds 64 oz. well made and i love the tops they areeasy to use andi love that they screw shutt so they wil not come off.
November 3, 2013
Great little pitcher.
I was delighted with the glassware I received from containerstore.com. Shipping was prompt, the items were well packaged with almost no chance of breakage. Everything was just the way it was displayed. The quality was excellent and I consider every item I bought a great value!
October 15, 2013
Wonderful pitcher
I bought two of the 68 oz because of the height (fits nicely under the shelf in my refrigerator), one of the best pitchers I have ever purchased, seals tightly and keeps my tea fresh for days. I do not have trouble with the tighting of the lid or with dripping......Wonderful product.
October 10, 2013
Disappointing pour/lid function
Quality glass and leak-proof lid but it is a hassle to have to completely remove the lid (which the lid liquid will then drip) every time you want to pour, and the pour spout is not drip proof so I have to wipe off the container every time I pour liquid.
September 23, 2013