< Return to Product Page
Customer Reviews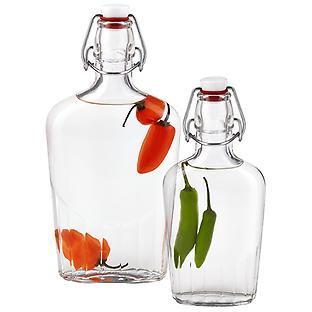 Hermetic Glass Flasks
Overall Rating:
Customer Reviews
Hermetic Glass Flasks
36
36
great bottles
I'm using these for homemade salad dressings. They keep them fresh and look nice.
May 20, 2010
Good Quality, Good Price
I bought these to make flavored vodka for myself and they are perfect. I am now thining of buying 10-15 more to use to make more vodka and possibly flavored cooking oils to give away as Christmas gifts.
April 9, 2010
glass flasks
Don't ever let these go out of stock! Perfect size and decorative flask. Great for gift giving. I will have an ongoing need for these.
March 21, 2010
Nice Size Nice Price
These Flasks work great... not much to them, they seal well and are clear glass and are sturdy. what else do you want in a flask?
March 9, 2010
Great Flasks!
Easy to open and close they were PERFECT for my project. I was making a batch of Skittles Vodka and they did the trick for repackaging. No problems with chipped glass, no breakage even with transporting and partying. Great item! Thanks!
March 2, 2010
great, exactly what I expected
The flasks are clear, which I couldn't find anywhere else. They arrived exactly as advertised, and I am quite happy with them.
February 16, 2010