< Return to Product Page
Customer Reviews
Rectangular Klip-It Food Storage
Overall Rating:
Customer Reviews
Rated

4.6

out of

5

 by

56

reviewers.
Rated

5

out of

5
 by
Tamigirl
Great for lunch boxes!
We use the smallest size in our kids' lunch boxes all the time. They fit well in their Pottery Barn lunch boxes and are easy for the kids to open and close. They also stack well in the lunch box or frig. The plastic ring on the lid needs to be removed every now and then to get them really clean, but I like that they help to get such a good seal.
March 24, 2012
Rated

5

out of

5
 by
Talofa
Excellent Product
I order these to organize my pantry. The size is perfect for pastas, my baking items, etc. I love these storage containers so much, I ordered more.
January 15, 2016
Rated

5

out of

5
 by
jerseystitcher
Perfect!
I bought two of these to store my Christmas pizzelles. Two stacks fit in each box perfectly, but even better, it kept them perfectly fresh. I'm hoping it's long enough to store a loaf cake in, but if it's not, I'm still a satisfied customer.
January 4, 2016
Rated

5

out of

5
 by
Marysb
Klip-it
This item is exactly what my daughter ordered, she loves these containers. They keep things fresh and helpt o make the pantry organized.
June 30, 2015
Rated

1

out of

5
 by
H417
LEAKS!
I bought the smallest container for salad dressing and the very first time I used it - it leaks like crazy. Very disappointed after reading such great reviews.
October 19, 2014
Rated

5

out of

5
 by
stazia
Very well made
The sizes are useful. I use some for items I keep in the car, and the rest for food items in the home. They are sturdy and have secure closures. They are opaque, but items inside can be viewed from the outside.
May 31, 2014
Rated

5

out of

5
 by
GrammyKpt
Containers are the best!
Containers with the snap sides are the best! Secure, easy on, easy off! Fantastic!
May 25, 2014
Rated

5

out of

5
 by
SashaLyn
Safe, better use of space than round container.
Love these. These are just the latest addition to my collection. I add a few every time I go into The Container Store. Plan to eventually replace all my food storage with Klip-Its. Container Store is just a toy store for grownups.
May 6, 2014
Rated

5

out of

5
 by
molmag
love
excellent product, really keeps things fresh and super easy to use and to clean.
May 2, 2014
Rated

5

out of

5
 by
debbie3sc
my pantry is amazing
has helped me organize my fridge and pantry and my kitchen is amazing now
May 2, 2014
Rated

5

out of

5
 by
CMWilson17
The right size
I bought this Klip-it container because my boyfriend like to cut up lemons and limes and just leave them out on the counter top. When walking through the store, the container caught my eye because it was the perfect size AND had a picture of a lemon and lime on the display. Therefore I bought it and when I got home I showed it to him and said, 'for now on, your lemon and limes go in here.' And the container has been used ever since.
April 29, 2014
Rated

5

out of

5
 by
Happy20
Best Container Ever
These food containers keep everything fresh for a very long time. They are great and I love how they open and close. I just love them.
April 29, 2014
Rated

5

out of

5
 by
littlebit23
Great storage for crafts
I love these Klip-It food containers. The lids are airtight and it's really easy to open. I use the smallest containers for my crafting powders (embossing, fine glitter, micro beads, etc) and small items like buttons, sequins and brads. It keeps everything safe and secure. It won't open if you accidentally drop it. It's very sturdy and it stacks up together very nicely.
April 29, 2014
Rated

4

out of

5
 by
Robin22
Great product
Great product, dishwasher safe, doesn't leak. Small sizes are very small and awkward to use with the flat design
April 23, 2014
Rated

5

out of

5
 by
CookingJ
I love these!
I love that the lids snap tightly shut on these and they stack nicely. I have dozens of the smallest containers in my pantry because they always seems to be the perfect size for nuts, seeds, dried fruits, etc.
April 22, 2014
Rated

5

out of

5
 by
katlang
Great product keeps everything nice and fresh and see though so you know what is in it at first glance. Washes good and looks great when you take it to someones house. I will be buying more sizes.
April 6, 2014
Rated

4

out of

5
 by
marybethr
Almost completely love this product
I have dozens of these boxes in all sizes. Just beware, the larger sizes don't stack well.
April 3, 2014
Rated

5

out of

5
 by
Kateiscooking
Storage Container
Ahhh, my flour and sugar bags are no longer a pain in the tookus in the pantry! This is SO much easier.
March 19, 2014
Rated

5

out of

5
 by
genevieve
tired of losing lids
Oh yes, wonderful. I got tired of losing lids to containers so I wanted one with the lids attached. Super. I'm in the process of freecycling the old containers and replacing with the klip it ones.
March 11, 2014
Rated

5

out of

5
 by
jonboat
stackable
I make soap and also paint with acrylics, oils and gouache and use 5 qt containers to store all the paint tubes and brushes. Excellent for storing soap after curing is done. Stackable, stores on shelves neatly.
February 28, 2014
Rated

1

out of

5
 by
Clem
These containers are NOT airtight. I have two of them, and they did not keep my Oreos or cereal mix fresh. However, the Tellfresh containers are terrific, I have them in two sizes.
February 18, 2014
Rated

5

out of

5
 by
pbannan
Klip it Food Storage
Great size. Airtight. I have not had for long but seems to be working great.. Would buy again.
November 19, 2013
Rated

5

out of

5
 by
ialv
Durable
I love the clasp and click lid. It is secure and keeps my food fresh in the fridge.
May 1, 2013
Rated

5

out of

5
 by
imlost119
Awesome
These are my favorite pieces of plastic wear ever. I used them for leftovers, the neon for my son to bring to daycare, and for our pantry. They fit so nicely on top of each other and on top of wire shelves. I highly recommend them to anyone looking to organize their pantry or for storing leftovers.
April 28, 2013
Rated

5

out of

5
 by
yorokobu
Great for snacks
I love the little klip-it I bought. Ideal for snacks. I know the container is sealed thanks to the snap. It's like what "blue and yellow make green" did for ziploc bags.
March 21, 2013
Rated

5

out of

5
 by
Katherine888
Best food storage
Convenient clips on the airtight lids It is very easy to open.
March 18, 2013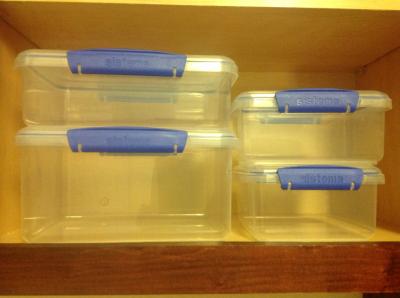 Rated

5

out of

5
 by
mcmann
easy for little hands to open at lunch
I searched far and wide for a way to eliminate the disposable sandwich bags in my kids lunchbox and have tried many products. I can honestly say this is the first one that not only keeps things fresh, but can be easily open and closed by little fingers. Even my five year old can easily work this without assistance.
March 18, 2013
Rated

5

out of

5
 by
Kat18
very handy!
this is a very good size & easy to use. The choices of size are helpful for both storage & carrying meals to work & play.
March 14, 2013
Rated

5

out of

5
 by
REDBONE
Great Product
The container store has a nice selection of food storage containers. I absolutely love this product because you can securely clasp the top to ensure that the food doesn't spill or stays fresh. I purchased the larger storage container and the container with the two compartments. I made use of the smaller one immediately by chopping all of my veggies and fruits for the week and putting them on each side. Now I just have to see if my fruit will hold up.
March 12, 2013
Rated

5

out of

5
 by
prospermom
klip storage containers
fabulous containers easy close and space saving great for many differant food items use them for rice storage, garlic storage, and spice packets
February 26, 2013