< Return to Product Page
Customer Reviews
Tellfresh Oblong Food Storage
Overall Rating:
Customer Reviews
Rated

4.9

out of

5

 by

40

reviewers.
Rated

5

out of

5
 by
Winn
Single
I love all the Tellfresh Containers. Being alone I open veggies etc put serving size in containers and freeze. Also love the larger Tellfresh Clear Containers for my food pantry.
January 8, 2017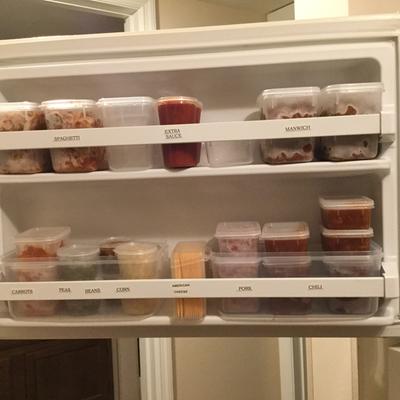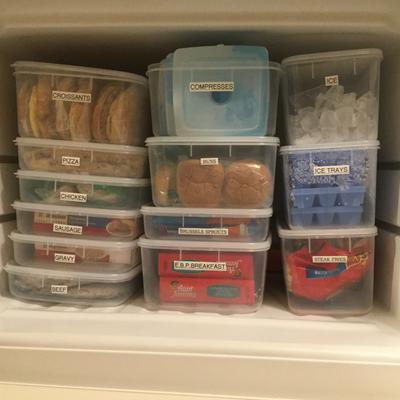 Rated

5

out of

5
 by
purpleiris
best I've ever found
Love these storage containers, firm, good seal, good for freezer or microwave. Not at all flimsy, lasts in excellent shape for literally years.
February 22, 2016
Rated

5

out of

5
 by
Reilleysmom
Pantry Re-Do
I have a small pantry and these Tellfresh containers are PERFECT for keeping my ingredients organized and easily accessible!!
January 8, 2016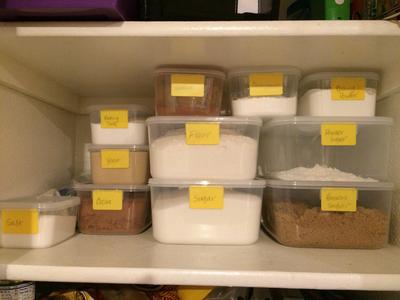 Rated

5

out of

5
 by
Leetie
Great products
I have had telefresh containers for a few years and just ordered more for my vacation home. They stack well for storage and the variety of sizes are great. Red sauces will stain if microwaved.
July 17, 2014
Rated

5

out of

5
 by
CJOrg
Best Pantry Boxes Ever
I decided to reorganize my pantry one day and started with these boxes. Before I knew it, they had taken over my entire pantry and I wouldn't have it any other way! Now nothing is allowed in the pantry without being in their appropriate (and labeled) box! :)
May 4, 2014
Rated

5

out of

5
 by
containrhead
Great for making and shaking salads in
I needed a container I could prepare my salad in and then close it with a lid and shake it so the dressing gets all over the ingredients. This worked perfectly for that, and it was easy to clean and didn't retain the smell of the food too much afterward. I would highly recommend this product for that kind of purpose.
April 18, 2014
Rated

5

out of

5
 by
ME2002
Great food storage option
The Tellfresh Food Storage containers are a very high-quality product. I especially like the consistent shapes of the containers, mainly rectangular or square, which optimizes storage space. A few options even have the same size lid making it easier to grab the right lid when you want it. Easy to clean, goes through the dishwasher (top shelf) just fine, seals well, nice-looking.
April 14, 2014
Rated

5

out of

5
 by
Spruci
So very stackable!
I am a huge fan of the Tellfresh line. This size container is large enough to store bulk items and fit neatly on any shelf. Highly recommend!
March 30, 2014
Rated

5

out of

5
 by
Bettyfm
Perfect size
I have a French door refrigerator with a deli drawer. It was always a mess and difficult to find what I was looking for. I bought these containers to corral the variety of items that I keep in there. They work perfectly! I can put deli meats in one, sliced cheeses in another, etc. When I want something, I just remove the container and there it is!. These containers are sturdy and I can easily fit 5 of them in the drawer. I highly recommend them.
March 3, 2014
Rated

5

out of

5
 by
Pembos4
Great storage containers
This is the only brand I purchase now. Easy to open, affordable, & large variety of perfect sizes for lunch box snacks or refrigerator leftovers.
March 18, 2013
Rated

5

out of

5
 by
Kat18
affordable & useful
This has many sizes and is useful in both storage and transporting food safely.
March 14, 2013
Rated

5

out of

5
 by
TrebleMaker
Best Food Storage
I love all of my Tellfresh Food Storage! I use it to put pantry items in like flour and sugar, but mostly what I love it for is putting snacks together so that my teenager will eat more healthy foods and for leftovers that I can have handy so I can grab a meal to take to work with me without having to do too much planning ahead.
February 26, 2013
Rated

2

out of

5
 by
pragmatic
Great Shape but Not Durable
I love the shapes ----but they are not durable...they crack and shatter within the first month or so of normal use. Sooooo Sad----if they were more durable, I'd give them a 5.
December 15, 2012
Rated

5

out of

5
 by
4catmom
Tellfresh Oblong Food Storage
I ordered on line and received my order in a remarkably short time. Thank you! We use the 7.5 quart bowl to feed feral cats at CSULB. The bowls are very sturdy and we use the same ones year after year. Half of the time, these bowls are sitting outside, and still they last. They clean very easily and you can be assured that a lid from an earlier purchase is going to fit on a recently ordered one.
November 24, 2012
Rated

5

out of

5
 by
Tmac
Nice Size!
I marinate meat in this container and it is a nice size. I've had 9 sliced Ribeye steaks marinating in this container! It travels well and fits nicely without taking up the whole fridge.
August 13, 2012
Rated

5

out of

5
 by
funsurfer
This container does food & a whole lot more!
This 5x5x11" container is indeed very good for storing smaller but longer food items in the frig. And it's easy to clean for re-use. But this modest size shoebox is also WONDERFUL for storing all sorts of audio, video, and computer parts and short cables. Since the plastic boxes are easy to see inside, you can quickly set-up a dozen or so to create easy-to-find storage for those small, pesky SD cards, thumb drives, audio & digital cable adapters and the like. It's size is also convenient for use on most utility shelves where bigger, standard containers don't fit. It's the best container I've found for smaller parts in 20-years.
June 9, 2012
Rated

5

out of

5
 by
Irishlady
Good purchase
I use this container for celery. I use it asparagus. It is "just right" for tall or long veggies.
May 26, 2012
Rated

5

out of

5
 by
amangoaday
Great quality plastic food containers
Light weight, easy to open/close, high quality plastic containers. I have been using these for 2 years now, still in good shape!
April 30, 2012
Rated

5

out of

5
 by
storagenut
Favorite Storage Containers
These uncomplicated, stylish storage containers are my favorite. They are good for anything that needs organization from food to desk top items. I save a special set to use for organizing food in our camping ice chest. Never suffer from wet cheese again when your ice melts!
April 27, 2012
Rated

5

out of

5
 by
PIRADEE
Nice and Fresh
Love these containers. They have perfect and various size option for your need. Keep fresh fruit and vegetable fresh longer and easy to clean!!
March 26, 2012
Rated

5

out of

5
 by
Verified Reviewer
Great Product
Perfect size for celery and carrots. Keeps produce fresh longer. Not too bulky and fits easily in fridge.
March 19, 2012
Rated

5

out of

5
 by
dzorro
best food storage containers
These are the only storage containers that I use. I don't live near a container store, but every time I am near one I buy more containers or order then online. I have them in all sizes.
March 19, 2012
Rated

5

out of

5
 by
goldenemma
best storage containers
We've replaced our "name brand" food storage containers with these. They seal well and stack well.
February 28, 2012
Rated

5

out of

5
 by
magic
cozy kitchen
These storage containers have a wide range of sizes & shapes. Can go into the freezer. Easy to open. Stays closed. Great all around help for your kitchen.
February 20, 2012
Rated

5

out of

5
 by
CarolinaNeatFreak
Great add-on to Tellfresh containers
Bought these tags to go with my Tellfresh containers. What a great idea :) They just slide in on the front or side of all the Tellfresh containers except the round ones. The little pencil and eraser are also handy and it wipes off clean. Great see-thru containers to keep anything organized. Also love the wide variety of sizes and shapes.
August 23, 2011
Rated

5

out of

5
 by
Chaservie
Best Food Storage Containers Ever
My husband and I found these by accident while just browsing through a store one day. We bought a couple to try a I loved having all one shape (rectangle/square) that nested and stacked. I also enjoyed the fact that they work in the microwave, fridge, and freezer and are dishwasher safe. All things important to me in food containers. We were absolutely delighted with these so much that I ordered 10 more in varying sizes. No more wasted space with using round containers, they stack, are easily labeled and keep my fridge neat and organized. Plus they are very light and easy to carry lunches to work in.
July 8, 2011
Rated

5

out of

5
 by
Boothound
Tellfresh Products are Fabulous
I recently got a new Tellfresh Soup container - it is perfect to keep at work with cans of soup for those days when you forget your lunch. All the Tellfresh containers are high quality!
February 13, 2011
Rated

5

out of

5
 by
QnBee
Pantry Protection
Love, love, love this product. . Great in the pantry. So many different sizes. I store rice, flour, pasta, dry beans. My pantry looks so organized and you can see everything that's stored.
January 13, 2011
Rated

5

out of

5
 by
dante451
Great storage container
Great variety of sizes, looks great too. Use in freezer.
December 27, 2010
Rated

5

out of

5
 by
jaf2
Love the Tellfresh collection
I purchased 3 containers from the Tellfresh line. I love these containers so much I am waiting for my shipment of 6 more that I just ordered. They are great for packing lunches and freezing food in single portion sizes. I am very pleased with my experience with the container store.
October 9, 2010