< Return to Product Page
Customer Reviews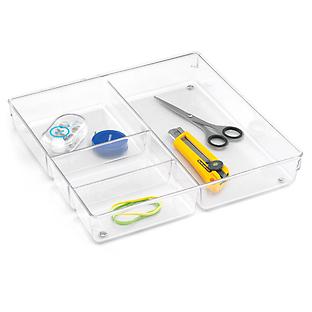 Linus 4-Section Drawer Organizer
Overall Rating:
Customer Reviews
Linusâ¿¢ 4-Section Drawer Organizer
14
14
Nice Cosmetics Organizer
Looks really sharp in the drawer and organizes cosmetics nicely!
May 11, 2015
Love Linus products
This is a great organizer. I use this size in my nightstand to hold paperbacks, kindle, chargers, pens, coaster and a notepad. Keeps everything in its place and no clutter on top of the furniture. I also purchased 2 for my desk to hold markers, pens, clips, stapler, tape , etc. Only down side is post it notes can't lay flat in the smaller compartments. I store them on end instead.
February 3, 2015
linus minus the blanket
Clear so you can see in it. Sturdy plastic so it won't break.
August 27, 2014
Nice
This organizer is high quality- good size compartments with nice depth.
March 18, 2014
Great in the Kitchen
This worked perfectly in our kitchen drawer along with a couple of the individual drawer organizers.
July 1, 2013
Good quality - easy to use
I bought these in many different sizes to organize drawers in my new kitchen. They are great quality and come in very useful sizes to allow you to store many different items. My only complaint is that with my particular drawer, I would have loved to fit the product end-to-end, and even when adding several of these together, there is still a gap around the sides. All in all, it is a great solution and I like the product.
April 23, 2013
Very useful
I bought this to use for makeup brushes, compacts and eye shadows and it does the job very well and looks good besides.
April 16, 2013
Good Choice For Shallow Drawers
I have placed these organizers in a shallow drawer and the quality is first rate. They stay in place perfectly due to the rubber feet. Used in combination with the taller organizers gives me many more options when arranging my drawer space.
April 1, 2013
Junk drawer necessity
Fits the drawer perfectly. Ideal corral for scissors, scotch tape, rubber bands, tape measure, etc. I combined this product with the Linus 2-section drawer organizer for pens and markers too. Your junk drawer needed this- like yesterday.
March 4, 2013
Worth it!
I used to think it was a waste of money to buy organizers for drawers. I got fed up with rummaging through the drawer to find things. It's amazing how much easier it is to find what you're looking for when things are "organized." I bought several others.
February 22, 2013
Great for keeping jumble drawer syndrome away
This is a great line of functional plastic sorters that are reasonably priced. They're not something I would display out, but they do exactly what they're supposed to in my drawer.
May 2, 2012
Perfect for customizing drawers
I love these clear plastic containers for organizing drawers. When I went to the store, I brought my drawer dimensions and was able to buy exactly the right combination to fit the space perfectly! To keep everything from shifting slightly when I open and close the drawer, I put a piece of rubber rug holder backing (an inexpensive and practical solution!) It's great to have a place for everything and keep it all organized. I used to divide the space with a kit where you cut rigid plastic strips and slide them into holders that have adhesive on the back to stick to the sides of the drawer. This is a far superior solution! The other option gives unlimited options of how to divide everything, but invariably the glue on the holders starts to fail and the spaces no longer are sturdy and start to come apart.
April 15, 2012
Great Value at Sale Price
Attractive & practical. Can see contents at a glance and good for separating typeical desk drawer stuff
April 9, 2012
Good size for putting by the door to sort wallet/keys/change, etc. Clear plastic makes it fairly inconspicuous. Just wish it was made out of an organics-based plastic or other sustainable material!
March 20, 2012