< Return to Product Page
Customer Reviews
80-Pocket Canvas Hanging Jewelry Organizer
Overall Rating:
Customer Reviews
Rated

4.7

out of

5

 by

149

reviewers.
Rated

5

out of

5
 by
Baru
Great buy
Could organize all my ear jewelry in one place & could see all of them trough clear plastic. Awesome organizer.love love love it.
May 13, 2012
Rated

5

out of

5
 by
lindsay242
Awesome!
I have two of these hanging in my closet. I have a small home, so maximizing space is important and I don't like a lot of clutter on the tops of my dressers. This keeps the jewelry from tangling up, as each piece can do into its own pocket. This also makes a great gift. You could also use this for nails, screws, buttons, and other small items.
May 5, 2012
Rated

4

out of

5
 by
Losa
Good overall view
A good solution for some easy and space-efficient jewelry storage in your closet. It fits a lot of pieces and provides a quick and good overall view. It looks sturdy, however the pockets are a bit rigid and I do not use it for my finer silver pierced earrings as I am afraid to bend the rods. Also, it does not fit larger jewelry pieces (especially if you put them in pockets on opposite sides from each other, even the larger pockets, at the bottom). I wished I had bought the "Little Black Dress Hanging Jewelry Organizer by Umbra" instead, that has some pockets on one side and some hooks on the other.
May 3, 2012
Rated

5

out of

5
 by
FrazzledinTN
Love to Accessorize but Hate Rummaging?
This is a great concept! I have these hanging in the closet so that I can see the jewelry with the clothes and make my selections quick! What took me so long to do this? Kicking myself for waiting. Don't think about it, do it! Take the plunge! The days of big ole jewelry boxes are gone. Too much neat stuff out there to choose from to wear! Go for it!
May 3, 2012
Rated

5

out of

5
 by
raha
AMAZING!!
Wish I had known about this and how great it would be years ago! Very sturdy; ability to visualize all my jewelry at once. Initially I wished the pockets would zip but the open pockets allow for the bulky and over-sized jewels as well!
April 30, 2012
Rated

5

out of

5
 by
MeganE
Great product
I was happy to find the pockets are nice and secure so jewelry doesn't fall out easily. The smaller and larger pockets are nice for different size earrings. The larger pockets aren't big enough for bangles in case you were wondering.
April 30, 2012
Rated

5

out of

5
 by
jooles
the easiest way to select the right earrings
I love this earring organizer. It takes up very little space yet I can see all of my favorite pairs at a glance. It's a great way to reduce clutter and make getting dressed easier.
April 30, 2012
Rated

5

out of

5
 by
Susalito
convenient visual
This is a great product where you can see your earrings and pins at a glance. Buy it!!
April 27, 2012
Rated

5

out of

5
 by
lw1191
Master of My Accessories
I love this product and use it on a daily basis to organize my jewelry accessories for the week. I use one side for longer term storage and the other side to put the jewelry that I am wearing to work for the week.
April 27, 2012
Rated

4

out of

5
 by
GuuurlPlease
Unexpected Benefit!
I bought this to tame my jewelry collection but I began using the back side of it to store extra buttons that come with clothing. Before, I would store them WHEREVER and never be able to find them when a button came off (usually months or years after i had taken the tags off). I also temporarily keep folded papers in there (receipts for items I might return, lotto tickets, etc). I use more of my jewelry now that i can see it all easily, and it's great for keeping buttons and other little odds and ends.
April 27, 2012
Rated

5

out of

5
 by
tsmithp
I Love These!
I've had one of these hanging jewelry organizers for over a year and recently purchased two more. With forty compartments on each side, I have been able to organize my earrings by type, and have areas for bracelets, watches, chain necklaces and pendants. I'm able to see all of my jewelry at one time, which makes choosing easy and fun. I'm wearing things now that used to be mixed up in the bottom of my jewelry box.
April 27, 2012
Rated

4

out of

5
 by
ElfR
good organizer
It's not super handy for me...it's all tucked in between clothes and i wish 1 side were pockets (as is) and one were bracelet loops. Good quality.
April 27, 2012
Rated

5

out of

5
 by
CherylMN
Easy to see all jewelry!
This is great for displaying all my earrings and bracelets. I have 2 and have them loaded down! The only thing that would be nice is for some way to hang dangly earrings - when I hang them over the pocket, they can easily be knocked off. STILL the BEST jewelry organizer I've had.
April 27, 2012
Rated

5

out of

5
 by
HittingtheRoad
Great for RV's
My husband and I spend 6months of the year traveling in our RV. This is a great space saving way to store my Jewelry and many other small items. Sturdy and well constructed. I Love It!!
April 27, 2012
Rated

4

out of

5
 by
Theminionherder
Love my new organizer
Now I can see everything I own! The pockets are great. They hold just the right amount. I even have room to buy some more jewelry!!!
April 26, 2012
Rated

5

out of

5
 by
kaytee04
Jewelry Organizer
I love this. It's very sturdy and is thin enough, even with all my jewelry in it, to hang in my closet.
April 24, 2012
Rated

3

out of

5
 by
Deebunch
Meets current need
Large hanging jewelry holder, using for travel. Holds all of my jewelry!
April 24, 2012
Rated

5

out of

5
 by
Jogi
A lifesaver for jewelry lovers
This product helped me find earrings I forgot I had. Super convenient and you can definitely fit in more than 80 pairs!
April 22, 2012
Rated

5

out of

5
 by
Mousey
Great jewelry stroage!
The pockets are large enough for earrings, pendants on a chain, and rings. The hanger is sturdy and the canvas is thick. I love it so much I bought one for my sister's birthday!
April 20, 2012
Rated

5

out of

5
 by
twomonkeys
Great organizer!
This is a great way to know exactly where you earrings are that match that necklace your wearing!
April 20, 2012
Rated

4

out of

5
 by
Need2Organize
Sturdy space saver!
I was pleasantly surprised at the high quality of this item compared to similar items I have seen. The canvas is substantial, the vinyl windows are very sturdy and it is a great value compared to others I have seen like it. It allowed me to condense 2 full jewelry boxes into a much smaller space and I find myself wearing pieces I had forgotten about now that they are out and visible!
April 17, 2012
Rated

4

out of

5
 by
Aditi
Very Satisfied
I wore two different earrings to work one day, which is what prompted me to buy this product. Buying this organizer has gotten so much ease in choosing what to wear every morning.....Thanks!!!
April 16, 2012
Rated

4

out of

5
 by
gemgirl
Organized jewelry
Finally found a way to organize my jewelry so I can see and find it.
April 12, 2012
Rated

4

out of

5
 by
amerriefaerie
jewlery organizer
I like the way it displays jewelry in an 'easy to see' manner. I think it would be easier to fit items in the pockets if they had a small pleat on the side. When there is an item in the same pocket on both sides, it's kinda tight.
April 12, 2012
Rated

5

out of

5
 by
jessyjess
LOVE
great buy! keeps all my big earrings organized and visible
April 9, 2012
Rated

5

out of

5
 by
Mogg
Just Right Jewelry Organizer
We bought this item for our daughter and liked it so much that we had to buy another for my wife. It gets the jewelry out of the jumbled spaces into neatly separated, easily visible.compartments and hides nicely behind the closet door. Jewelry long lost is now back in use due to the ease of viewing each item in this organizer.
April 9, 2012
Rated

5

out of

5
 by
Janie1
Earings I can see!
I have several earings and I can see them all! I just go right to them!
April 4, 2012
Rated

5

out of

5
 by
mushu19
Absolutely love!
I have had this organizer for several years. (I am not 100% sure it is from the container store since mine has a gold hanger instead of silver, but it is exactly the same in every other way, maybe they just changed colors) It has lasted very well over all of the years. I am extremely happy with the concept. You can see everything in the clear pockets and it holds all of my jewelry. When I fill up all of the pockets, I personally use that as a sign to do some spring cleaning, or...pile multiple things into one pocket which is easy to do! It takes up very little room in my closet and is easy to access just by pulling it out to see the pockets. The only bad thing I can say about the design in general is that when you move to a new place, you just have to be cafeful to hang it up since things will obviously fall out if you try to lay it down to be transported. But the open pockets also make it extremely easy to access everything so it's definitely worth it.
March 27, 2012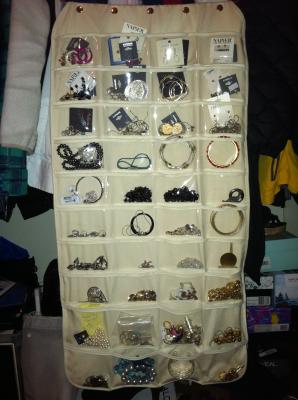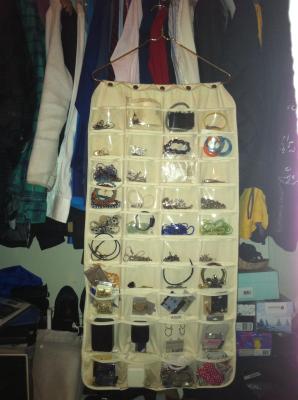 Rated

5

out of

5
 by
jb598
Love this product
I wanted this product for quite awhile before purchasing, and I wasn't disappointed. It maximizes out-of-the-way, visible, and sturdy storage. No more losing pieces of jewelry!
March 20, 2012
Rated

5

out of

5
 by
LaurSRO
Would never go back to a traditional jewelry box
I struggled with finding my jewelry everyday: my jewelry box was a mess: cluttered and disorganized. . The jewelry organizer solved my problems, keeps me organized and I can find what I want to wear each day in a 'jiff'. Plenty of storage room. PLUS, nice to conceal among clothes in your closet. A definite BUY!
March 19, 2012