< Return to Product Page
Customer Reviews
80-Pocket Canvas Hanging Jewelry Organizer
Overall Rating:
Customer Reviews
Rated

4.7

out of

5

 by

149

reviewers.
Rated

5

out of

5
 by
storagesolutionsdone
Savvy storage
Living in a motor home presents challenges in the storage department! Thank goodness I found the 80 pocket hanging jewelry organizer. It provides an amazing way to store all of my jewelry without compromising space. I also love that I can organize my jewelry by color which allows quick coordination with outfits. I can't wait to shop for more efficient and effective storage solutions from The Container Store when my new home is completed this summer.
April 28, 2013
Rated

5

out of

5
 by
PoeticImage
Fashionable Jewelry Organizer the BEST!!!!
Where would I be without my Jewelry Organizer. I have the Canvas 80 Pocket & Canvas Necklace and Bracelet along with the Little Black Dresses Jewelry Organizer. All rated 5 STARS *****. This has made my life so much easier. Before I used to dump all my jewelry on the bed, tried to sort through the clutter, and still wasn't truly satisfy with my selection. Having an organizer has made life easier. Less time getting dress and coordinating accessories. With the function to hang up the organizer, I can select the right jewelry for my outfit of the day. able to see all my jewelry and return items in the perspective place. I recommend this to all my friends and even purchased some for gifts to blessed others.
April 26, 2013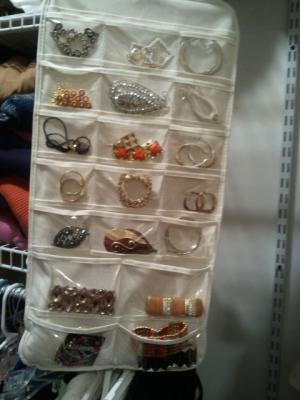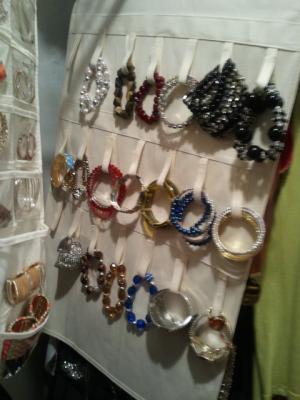 Rated

5

out of

5
 by
Tbdream
Perfect!
Great way to see all your jewelry at one time. Doesn't take up a lot of space and can be hidden away in the closet and not on display. Not sure why I waited so long to get this!
April 26, 2013
Rated

5

out of

5
 by
JacyJaxx1
Great for Earrings and Smaller Bracelets
This is a great way to organize earrings in a very small space with the ability to see what you are looking for. You can color code or arrange earrings by studs, lever backs, or hooks - whatever works for you. Small bracelets also fit in the spaces, including bangles. I am totally happy with my purchase.
April 26, 2013
Rated

4

out of

5
 by
Snickerdudette
A good investment!
I transferred all my jewelry from small plastic divided craft boxes, which worked well, to the 80 pocket jewelry organizer. And I've been wearing a greater variety of my jewelry because now I can see it all. I use one side for my everyday items and the other for special occasions. My clunkiest pieces are hanging separately, but I think I could fit them in the larger pockets if I wished. Thank you for a great way to change up my look each day and appreciate all the nice jewelry I've collected or been given over the years. I love it!
April 26, 2013
Rated

5

out of

5
 by
MommyKae
Perfect
This item has been a great item to have hanging in my closet. I can pick my jewelry out as I am pick out my outfit.
April 26, 2013
Rated

5

out of

5
 by
caschlu
earring bliss
i absolutely love the canvas hanging jewelry organizer! it is very well-made, with a strong metal hangar and quality heavy duty canvas. it is such a pleasure to be able to SEE all my earrings, it makes grabbing a pair to complete my outfits, such a breeze! the separate compartments are snug enough that when i put my earrings back, they are securely in place. i have organized all my earrings by color so when i look at the entire hanger it is so quick to spot which pair i'm looking for. this item is both practical and wonderfully easy to use! love it!
April 17, 2013
Rated

5

out of

5
 by
wishgypsy
very convenient
its so nice to be able to see all my jewelry at once.
April 16, 2013
Rated

5

out of

5
 by
Anklebiters
Great!
I have so much jewelry, I forget what I have, now I can see it all!
April 14, 2013
Rated

5

out of

5
 by
Organizer04062
Excellent Product - You Won't Be Disappointed
I purchased this product because I was tired of losing earrings in my bedroom and bathroom. Sometimes I get lazy and just set them down wherever and then one earring goes missing. With this organizer, I take my earrings off in my closet and put them where they need to be, safely put away. I love that I can see through each pocket, so no more rummaging through my jewelry box looking for the right earring to wear with an outfit. I am going to order the necklace organizer as well because this product works so well at keeping me organized, I want that too!
April 10, 2013
Rated

5

out of

5
 by
Barney1
Great Product
This item has 80 individual pockets for your earrings and bracelets. It is strongly made and hangs in your closet. The clear front makes it easy to find the jewelry you are looking for. I think this item would make a great gift.
April 6, 2013
Rated

5

out of

5
 by
JenEBear
I would recommend this to anyone
I originally purchased this item to organize my jewelry, but I found another perfect way to use it. I always had my bathroom stuff in plastic drawers, but when it came to finding small items it was impossible. This was perfect to store things such as over the counter medication, first aid items, small hair clips, sewing stuff, contact lens cases and much more. I am very happy how sturdy this product is and how each pocket in transparent. Now all of my small items are tucked away in my closet and I can find everything when I need it. This is a great product!!!!
April 4, 2013
Rated

5

out of

5
 by
AlwaysHonest
It changed my life!
This is the best space saving, clever, organizer I have ever owned. I am going back for more. I love the way you can see everything at a glance and it is so well made. Also you can tuck away in the back of your closet for safe keeping. Great for gift.
April 3, 2013
Rated

5

out of

5
 by
CollegeGirls
Attention All College Students
Dearest Container Store, I have to thank you for creating a safe and organized place to store all of my jewels in my small and compact door room. As most of you know door rooms are incredibly small and it's difficult to store items properly anywhere. And thanks to you, my roommate and I are able to be beautifully styled and have a secure space in our closet for your hanging organizer. Thank you again!
March 30, 2013
Rated

5

out of

5
 by
Mimiann33
Love this jewelry organizer
When you have a lot of jewelry, you need it stored where you can SEE IT and store it by color. This hanging jewelry bag does the trick. I actually have FOUR of these hanging in my closet and I find it so easy to pick up what I need from all my jewely andput it on and then replace it in the jewelry holder when I'm finished wearing it.
March 25, 2013
Rated

5

out of

5
 by
Kelly2012
So useful!
Stores so much in so little space! Great way to keep necklaces from tangling. You can really put anything in it. Don't limit yourself to jewelry!
March 25, 2013
Rated

4

out of

5
 by
OrganizedMommy22
Great product!
I love having all of my jewelry in one spot, able to view easily and hangs nicely in my closet with minimal space used. The only thing I would have changed would be to twist the hanger from one side to the other. Other than that, great product!
March 18, 2013
Rated

5

out of

5
 by
Liv4
Great product, Great price
Hold a lot of jewelry, takes up such little space!
March 18, 2013
Rated

5

out of

5
 by
KKMP
Wonderful !
Just bought 2 of these to store my jewelry. I make pendants and it makes it super easy to locate the items I sold and ship them out! The pockets are nice and snug so they do not move and bounce around inside. They hang right on a hook on my wall & I absolutely love them! I will be rolling them up to take to craft fairs also! Light and so incredibly perfect! Buy these!!
March 18, 2013
Rated

4

out of

5
 by
Verified Reviewer
Great product!
I love this hanger! Very sturdy and I can see all of my earrings! The only thing that would make it better might be a swivel hanger for easier turning from front to back!
March 12, 2013
Rated

5

out of

5
 by
luv2sew
multiple uses
I can not take the credit for this idea but it is a good one and worth sharing. I purchased this jewelry caddy for sewing supplies and it works very well. The sturdy canvas will surely stand up to the supplies I put in the pockets and the clear vinyl allows me to see at a glance what is inside.
February 25, 2013
Rated

5

out of

5
 by
HappyTrails
I can see all my stuff!
This is such a great way to organize all my earrings. I've uncluttered my dressing table & I can see what I want to wear without digging through a tangled mess. I've even found things I forgot I had.
February 22, 2013
Rated

5

out of

5
 by
organizedladycee
The best solution
For dangling earrings and easy to wrap necklaces and bracelets, even pendants and pins, this is the best solution. For my big bracelets I still store them in a draw, and I am careful about putting my rings in there, but I still do. Big necklaces also have to go in the drawer. My entire collection is stored in two of these and I have them organized in a color-coded fashion. I had my mother by two of these to get her collection under control.
December 26, 2012
Rated

4

out of

5
 by
louisianalady
pockets of jewelry
I love this organizer, because I can find the necklaces that match my outfits very quickly.
November 25, 2012
Rated

5

out of

5
 by
Teadrinker
Love It
I used to travel quite a bit, which meant gathering all my jewelry, putting it in a couple of small portable safes, and figuring out where to hide the safes. It was a hassle. I bought this hanging jewelry organizer, and now when I'm planning to leave the house for awhile, I hang the organizer in a storage closet amongst out-of-season clothes. I hang a heavy coat over it, and it becomes invisible. Sometimes the most simple ideas are the best! Also, it will last for years. It's made of heavy-duty materials and can take lots of use and abuse. Being able to see all my jewelry at once makes it easier to make selections, and keeping my jewelry organized and untangled is worth its weight in gold.
November 11, 2012
Rated

5

out of

5
 by
agny
Excellent jewelry organizer!
I purchased this product to organize my pin collection and small earring/necklace sets. I filled it up very quickly and really like the way it looks. I can see everything clearly and the chains on the necklaces do not get tangled. It is a very sturdy product and I may buy another one.
August 11, 2012
Rated

4

out of

5
 by
Verified Reviewer
Great for earrings
I love the number of spaces offered in this piece. I am currently using it to store earrings and it's working really great for that. Earrings fit well into the spaces and there is lots of room. I particularly love that I can hang this in the front of my closet and easily slide earrings in and out. The reason I gave this item a four rating is because I was hoping to use it for other jewelry (rings, bracelets, watches) and it does not fit many of them that I have (the spaces are not as large). That said, some thinner watches and bracelets do fit into the larger slots provided.
August 6, 2012
Rated

5

out of

5
 by
Rosy
Much Better Design
I bought this jewelry organizer to replace a similar item I had used for several years. The old one died when the body of the organizer disconnected from the hook. That can't happen with this design. Rather than being connected to a hook at a single point, this design snaps on at five points along a very study aluminum coat hanger. This one won't end up in a heap on my closet floor, spewing jewelry!
June 21, 2012
Rated

5

out of

5
 by
Marlo
Love this!
The pockets are so versatile. You can tuck earrings, bracelets, little charms into the pockets, or hang earrings from the edges of the pocket so you can see all your precious gems.
May 20, 2012
Rated

5

out of

5
 by
MBelle
I can see everything!
Great way of organizing jewelry while being able to see everything. I was given my grandmother's brooch collection, and this is the best way of protecting while organizing the collection at the same time.
May 15, 2012