< Return to Product Page
Customer Reviews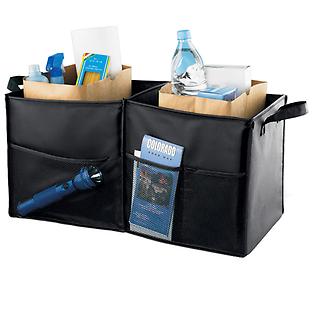 Folding Trunk Organizer
Overall Rating:
Customer Reviews
Rated

4.8

out of

5

 by

100

reviewers.
Rated

5

out of

5
 by
NeatFreak123
This is awesome
It doesn't move around in my trunk and it is very roomy. I use it for super heavy containers of liquid and they still don't move around. exactly as advertised.
March 19, 2012
Rated

5

out of

5
 by
worthit1
my favorite
this is one of my most favorite products i have found at the container store. i have so many things i feel the need to carry with me in my car, this trunk organizer is the perfect size to fit everything i need and still have ample room in my trunk for more. the different sized pockets on both sides add for the perfect amount of storage and organization for easy grabbing, whether it be for water bottles, car wipes, ice scrappers or umbrellas. i think every car should come with one of these! its perfect, and so affordable, you're going to love this, trust me.
March 13, 2012
Rated

5

out of

5
 by
GMOMMIE
Perfect!!
This is exactly what I was looking for! I have a small SUV that's completely open in the cargo area - no nets, no straps, etc.. Anything I put back there - especially groceries - slides and spills and rolls around. I've been looking for a cargo area container that is reasonably priced and THIS IS IT!!! I bought 2 and I was so happy the first time I went grocery shopping!!
March 8, 2012
Rated

5

out of

5
 by
GETITTOGETHER
Best Trunk Organizer Ever
This trunk organizer was not only economical to purchase, but it also works amazingly well. It quickly folds flat when you need to store it, and holds items from rolling around freely in your trunk.
March 6, 2012
Rated

5

out of

5
 by
pabc
Very Good Purchase
I bought this as a gift for my daughter. She does a lot of shopping on her lunch hour. This should be great for grocery sacks to keep them in place. The size is perfect for her SUV.
March 3, 2012
Rated

5

out of

5
 by
Eepie
Great deal
The Folding Trunk Organizer is a great deal. The cost was much lower than similar items elsewhere without losing stability or functionality. The size is exactly what I wanted - it doesn't take up all of my hatch space, but it's big enough to hold my shopping bags, ice scrapers, etc. I especially like the velcro on the bottom which keeps the organizer in place.
March 2, 2012
Rated

5

out of

5
 by
MeliNM
Great for SUVs too!
I had a net in a previous small SUV that hung across the back to hold a tow rope and other emergency supplies, but it doesn't work at all in the mid-size model that I have now, so everything has kind of been tumbling around in the back. My mom has wanted one of these for her sedan, and I decided to go ahead and order one for myself too. I put all my emergency supplies in one side, with space still left over. I can put groceries or other purchases in the other side. And it stays in place, even on tight turns.
February 23, 2012
Rated

5

out of

5
 by
jazzi
Quiet Ride
I recieved one of these as a gift and now I have a much quieter ride, no more "stuff" rolling around in my car!
February 22, 2012
Rated

5

out of

5
 by
quiltingbee
love it
The trunk of my car is very deep. My grocery bags used to slide all over the place. Thanks to the trunk organizer, the bags now stay in one place.
February 18, 2012
Rated

5

out of

5
 by
JSW2011
Great Organizer for the Trunk
The folding trunk organizer is a great addition to both my and my husband's cars. It is definitely a very big organizer - I haven't yet put it in my hatchback trunk, but it fits very well in my husband's small SUV trunk. The velcro on the bottom of the organizer is a very nice touch.
December 26, 2011
Rated

5

out of

5
 by
junglebird2
Great Trunk Organizer
I just got a cross-over and needed something to put in the back area to help contain items and this trunk organizer did the trick. it's perfect. it has handles on the side, Velcro on the bottom and good size openings for a variety of things. Worth every penny.
December 23, 2011
Rated

5

out of

5
 by
Place4everything
Neat and Prepared
It is good to have supplies tucked away in trunk and still available when needed - from emergency supplies to spare walking shoes.
December 2, 2011
Rated

5

out of

5
 by
woodsfield
great organizer
just what i needed. easy to use and holds all my emergency tools and equipment.
July 16, 2011
Rated

5

out of

5
 by
joie
Fnally,an organized trunk!
I love this product! I bought 2 for my new car and it's much easier to keep my trunk neat.
July 16, 2011
Rated

5

out of

5
 by
jolejaliz
Good quality
The item is a little bigger than I thought, but at least one side folds in if you don't want to use both storage compartments. Very well made and sturdy. Overall, pretty good.
May 17, 2011
Rated

5

out of

5
 by
lcp1
Great Product at a Great Price
I plan to order a second one. This is a great price for this item.
May 9, 2011
Rated

5

out of

5
 by
vs608
Great item
This was a great purchase. I bought one for my car a few months ago. When I started using it and my family saw what a great item it was, they wanted one. I bought 2 more for my family members and one for my mother in law for Mother's day..
May 9, 2011
Rated

5

out of

5
 by
Jacko
Great price!
Works great and is a lot less than similar products!
February 15, 2011
Rated

5

out of

5
 by
JennyO
Love This!
This trunk organizer is amazing. I love it. I use it to store my jumper cables, bottled water, empty reusable shopping bags, and first aid kit. It is strong and sturdy and never rolls around in my SUV. The pockets are awesome and it stores so much! One of my favorite all-time purchases.
February 15, 2011
Rated

4

out of

5
 by
chinoisfemme
Simple Concept, but Very Useful
If you want to stop all that stuff in your trunk from rolling around while you drive, this product is for you. The interior of my trunk is a dark gray color, so this item blends in nicely. The velcro on the bottom of the organizer is also surprisingly strong, so it doesn't move around very easily. Perfect for storing bottles of water or anything else that you might want to keep in the car, but don't want to have bouncing around every time you make a hard turn.
February 1, 2011
Rated

5

out of

5
 by
NJTomatoh
Just What I Was Looking For!
Tired of hearing my groceries and other items rattling around in the back of my vehicle, I decided it was time to buy a cargo organizer. I tried 2 other brands, but returned them when I realized they were not what I was looking for. This organizer stands upright, even when empty, has plenty of pockets for things like reusable shopping bags or anything else you might want to keep from flying around the car.
January 28, 2011
Rated

5

out of

5
 by
Mins
Best Product Ever
The folding truck organizer helps me load grocery's back and forth to the house. Also I bought another one to keep all my dogs products in the car when needed and the other side for all the car needs...such as oil and jumper cables.
January 13, 2011
Rated

5

out of

5
 by
1S2BORGANIZED
Great for gift exchange
I have a gift exchange to buy for and I have to buy for a man. This is always difficult, especially for a co-worker that I don't spend much time with. I have a $15 limit so I'll pick this up and maybe a giftcard for coffee.
December 7, 2010
Rated

4

out of

5
 by
skby123
Retains its structure, well. Good size! I would recommend this item!
November 6, 2010
Rated

5

out of

5
 by
FLAGirl
Great product nfor a great price
I really like this prooduct. Great for keeping things organized in my trunk, and I like that it can fold up when not in use. Great price too!
September 24, 2010
Rated

4

out of

5
 by
vidiva
just what i needed.
i had a cardboard box in my trunk, but this is so much better. when i'm not using it i can just fold it up and slide it in a corner. it's very spacious and it has velcro on the bottom so it sticks to the inside of the trunk... no sliding around. my car is very small, so this is just what i needed.
September 7, 2010
Rated

4

out of

5
 by
LAMW
What I was looking for
I bought two of these to use in my trunk. The sides stay up as previously stated, which helps because both hands can be used to add bags to the organizer, which you need if they are paper bags, or heavy ones. I gave it 4 starts instead of 5, because the velcro strips on the bottom of the organizer could be larger, and one on each corner instead of just opposite corners, to help keep it in place better.
August 29, 2010
Rated

5

out of

5
 by
Watchman
They could charge more..
...don't be fooled by the price. These are well-made. I bought one of these on a business trip. I used it once in my SUV and my wife stole it for her trunk. I ordered three more online. These things are great. They fold nearly completely flat, so I can actually stow them under my folded-down seats. When I need them, they pop right open. They are sturdy enough to carry groceries into the house in, but maybe a little on the large size to do that every time. For size comparison, two small reusable grocery bags fit on each side of this organizer. I like that I can throw all kinds of stuff in these when I go shopping, and I don't have to worry about stuff rolling around or sliding under the seats. I couldn't justify the more expensive organizers. Just buy two of these instead.
August 7, 2010
Rated

5

out of

5
 by
RubyWednesdayCA
Just what I was looking for...
This product is perfect! Has space for a lot of bags - I can throw my laptop bag in there and not have it bounce around as I drive. The velcro bottom holds the organizer securely; the additional pockets are handy for keeping maps or other papers, umbrellas etc together...I love it!
August 1, 2010
Rated

5

out of

5
 by
daylilly
Really great to corral stuff in your trunk
Stands upright by itself, seems sturdy even when putting in bulky items that are a little too large..no more stuff rolling out of reach during transit.
May 28, 2010