< Return to Product Page
Customer Reviews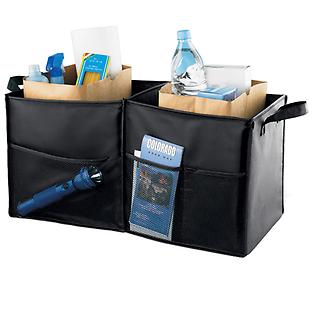 Folding Trunk Organizer
Overall Rating:
Customer Reviews
Folding Trunk Organizer
97
97
Holds more than I expected
I really love this organizer! I have a Honda Pilot and it helps keep my stuff from rolling around like crazy. It really holds more than I thought it would. The outside mesh pockets are really handy too! The only thing I noticed is the velcro bottom doesn't seem to work that well - though it could just be the carpeting in my vehicle.
April 26, 2013
Love these!
I have two for each of our vehicles and love them. They work wonderfully for grocery bags and remain in place. Bought two for a gift and they can't believe how easy they fold for storage. One of my "smarter" purchases.
April 26, 2013
Great Purchase
I am very pleased with my trunk organizer. No more groceries scattered over the trunk area.
April 26, 2013
Everyone needs one in their car
I will be going back to the container to purchase more of these... It's a "must have" for every car !! Its Perfect for trips to the food store, and keeps all those cheap plastic bags from rolling all around in my trunk..
April 17, 2013
Terrific space saver
This organizer is a great idea for groceries and those flimsy plastic bags. It keeps items from breaking, like the time a bottle of dish detergent popped open and leaked all over the trunk.
April 8, 2013
great organizer
It is of good quality. My trunk instantly becomes so neat and clean!
April 7, 2013
A messy trunk no more!
This trunk organizer is the best! Keeps all my car cleaning supplies and groceries in place. I was unsure about the velcro on the bottom being enough not to make it flip over, but so far it hasn't. It keeps all my stuff in place and without wondering around. Now that everything is organized, I even think my trunk is more spacious.
March 28, 2013
As advertised
Works as describe, love the mesh pockets on the outside. I keeps all my doggie things in one compartment and the other available for a bag of groceries. The material is of good quality but is not as thick as it appears in the photo.
March 26, 2013
Trunk Storage
I love this handy tool! The price is great, it's simple to pop open & stores flat when not in use. I have filled the pockets with emergency road gear, and the big bins hold my chargers, jump cables, bags, blankets. I have a huge trunk & thought about grabbing another one for every day use. Love having a clean trunk, pull it out to take to the car wash, and don't have to worry about weirdos seeing all my stuff!
March 19, 2013
Great trunk organizer
Great, sturdy organizer. Perfect for a crossover, or SUV. Folds up when not in use. Good value for the money...Definitely recommend
March 18, 2013
Very Practical
This organizer keeps my truck nice and tidy. The pockets are especially useful for maps and other small objects.
March 18, 2013
Loved this purchase
I purchased this item to put in the rear of my SUV to keep things from rolling around in the back and it works great. Holds 4 bags of groceries or other items. Went back and bought a second one for our other car.
March 18, 2013
Love!
Great organizer! Love the pockets for little stuff and the big bins for larger stuff. Enjoy not hearing things rolling around as I drive now!
March 18, 2013
trunk organizer
This has velcro strips on the bottom to stay put in the trunk and holds alot of stuff. The side pockets are an added feature for items you need regularly like maps and emergency equipment. Very nice design and very rugged. It even has easy lift handles if you need to remove it to get to spare tire.
March 14, 2013
Love This Item
I purchased 3 of these Folding Trunk Organizers to use for holding grocery bags in the back of my SUV. They are wonderful because they fold up flat when not in use & can be opened quickly when needed. This is exactly what I needed & recommend it for anyone!
February 25, 2013
Have 4 now...
13x13x24" Keep 1 in the car to organize shopping bags, car-care things, extra jacket, work gloves, dust pan/brush... When open, the bottom has velcro strips to keep it from sliding around. Easy to carry with a web-strap handle on each end. Use the three others to help me organize the house by putting things in there that need to be carried somewhere else. The two large sections help me categorize larger or multiple items and the 6 mesh pockets on the sides are very handy; two are 12"Wx7"H, four are 6"Wx7"H. (One of the full-width pockets holds my dust brush and pan.)
February 23, 2013
This is great for bringing home groceries.
My husband and I have two of these in our Explorer. It is great for wrangling our groceries. No more watermelons rolling out, and when you have something bigger to bring home in you car, they fold up and store flat. We just bought one for my husbands parents car, it will replace the box the use in their trunk.
October 12, 2012
Great Gift
I have one of my own and decided to give a couple to my daughter-in-law for her SUV ! She loves them! Keeps her groceries and any other purchases safely in place on the way home and makes it easier to carry it all in to the house in less steps!! Very well made and sturdy.
September 24, 2012
Organizer is so helpful!
When I saw this trunk organizer, I KNEW that I wanted TWO of them! One is now in my car's trunk, holding all of my miscellaneous "needs." The other is in the back of my husband's truck, holding emergency flares and such. He loves his organizer as much as I do mine.
July 15, 2012
Perfect Solution
We wanted to buy something to hold the groceries in the car without items falling out of the bag. While in Columbus we purchased this folding trunk organizer. It is great (and the bonus part of it....it folds when not in use) Later....I went online to purchase a second one because it was a perfect solution to our problem.
July 5, 2012
Great organizer
Recently got a new car with a deep trunk and figured I'd have to climb in the trunk if purchases slid forward which is why I ordered the trunk organizer. It folds flat to take up little room until you need it. Helps with shopping bags emptying their loads onto the trunk floor!
June 19, 2012
great idea
Since I use reusable cloth bags, this product keeps the contents from rolling around in the trunk of the car
April 23, 2012
My trunk is now neat!
I like this organizer because it can fold down when you're not using it and it's large enough to hold some of the bigger items that were floating in my trunk.
April 16, 2012
Great Little Organizer
My wife had seen these trunk organizers in the store. She was thinking about getting some for the back of our mid-sized SUV so we could put our shopping bags in them to keep them from flopping around and spilling their contents. When she showed them to me at the store, I was impressed with how simply they unfolded, with the stiff bottoms of the two compartments folding down from the center section stiffening the whole assembly. She had picked up two, but I thought three might fit perfectly in the back of the SUV, and I was right. The are perfect for our car, giving us 6 12x12 inch compartments to put things in and folding down to 1x12x12 inches each for storage. They're one of the best purchases I've ever made.
April 13, 2012
great organizer!
love keeping this in my rogue! it holds alot. and the velcro bottom really does keep it in place. i'm telling everyone in the family to get one! =)
April 5, 2012
Works well
This item works well. It folds easily and doesn't slide around. I have no complaints, but if I could change anything about it, I would offer it in more colors than black. My trunk is dreary enough as it is.
March 31, 2012
Would Love a Larger Version
This organizer is a great solution to the grocery bags rolling around the back of my SUV. It stays in place with the velcro on the bottom and is easy to move or collapse when not in use. I wish they would make a version with four compartments as this one only holds two large grocery bags at a time.
March 27, 2012
This is awesome
It doesn't move around in my trunk and it is very roomy. I use it for super heavy containers of liquid and they still don't move around. exactly as advertised.
March 19, 2012
my favorite
this is one of my most favorite products i have found at the container store. i have so many things i feel the need to carry with me in my car, this trunk organizer is the perfect size to fit everything i need and still have ample room in my trunk for more. the different sized pockets on both sides add for the perfect amount of storage and organization for easy grabbing, whether it be for water bottles, car wipes, ice scrappers or umbrellas. i think every car should come with one of these! its perfect, and so affordable, you're going to love this, trust me.
March 13, 2012
Perfect!!
This is exactly what I was looking for! I have a small SUV that's completely open in the cargo area - no nets, no straps, etc.. Anything I put back there - especially groceries - slides and spills and rolls around. I've been looking for a cargo area container that is reasonably priced and THIS IS IT!!! I bought 2 and I was so happy the first time I went grocery shopping!!
March 8, 2012