< Return to Product Page
Customer Reviews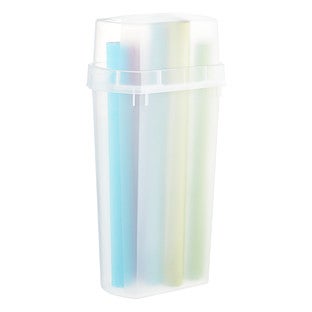 Vertical Gift Wrap Organizer
Overall Rating:
Customer Reviews
Rated

4.5

out of

5

 by

99

reviewers.
Rated

5

out of

5
 by
PittPenguinFan
Best Storage for Wrapping Paper
I love these storage bins for rolls of wrapping paper. They keep them neat and organized and don't take up a lot of space. Also, the clear plastic allows you to easily see what you have!
May 18, 2010
Rated

4

out of

5
 by
Tytania
Not Tall Enough
Not tall enough to hold the longer rolls of wrapping paper.
April 25, 2016
Rated

5

out of

5
 by
GoldenKing
Great Gift Wrapping Organizer
The Container Store was the only place that was carrying this item past Christmas. I really appreciate that your store was carrying this item, I was wanting to organize my wrapping paper. Leaving the paper on the floor was not very convenient. Thanks
March 21, 2016
Rated

5

out of

5
 by
memekv
wrapping paper storage
Excellent way to keep those rolls of wrapping paper organized and in good shape.
February 16, 2016
Rated

4

out of

5
 by
CamoMom
Great, simple gift wrap holder
It is solid and the perfect size to hold a bunch of gift wrap rolls of average height. It is clear, so you can easily see what is in it. The lid is just a little loose, but not bad, works great for basic storage.
February 10, 2016
Rated

5

out of

5
 by
Leis98
Nice Vertical Organizer
Wonderful sturdy vertical wrapping paper organizer for my closet! Thank you!
January 22, 2016
Rated

5

out of

5
 by
LoeyD
That's a wrap!
I needed a better solution for all my wrapping paper. I found one! Now I can take this to where I need it. Got 2, one for Christmas and one for birthdays!
January 15, 2016
Rated

3

out of

5
 by
Nelljustahug
Disappointed in purchase.
Does not hold the larger rolls of wrapping paper. Not completely satisfied with the purchase of the item. Will have to use the product without the top.
January 9, 2016
Rated

4

out of

5
 by
Ainsleigh
Nice but wish there was top handle
This organizer is good, it gets the job done, I just wish there was a top handle like I've seen on similar models. Other than that I'm pleased!
January 8, 2016
Rated

4

out of

5
 by
kmd588
Great storage!
I love this gift wrap organizer, however, I wish it was a bit taller. Some of my wrapping paper did not fit but overall it was a great buy!
January 7, 2016
Rated

5

out of

5
 by
KARENCL
Gift Wrap Organizer
I purchased three of the gift wrap organizers for my holiday wrapping paper...then I went back to the store and bought two more! I love that they have a top on them which really protects the paper. Except for the few very wide rolls, everything fit well. I would like to add that I ordered on line for store pick up and everything was ready to go ahead of my pick up time. Customer Service at The Container Store is beyond fabulous!
January 4, 2016
Rated

4

out of

5
 by
Craftycorner
Nice quality
I actually purchased this container to store my long stem artificial flowers that I use for arraignments and crafts. This keeps them upright and they do not get bent or squished. The container is sturdy and good quality, however the lid just sits on top and does not snap shut so have to becareful when moving it.
December 4, 2015
Rated

4

out of

5
 by
Iffer
Happy with Purchase...but
I was so excited to get this in the mail! Unfortunately, it doesn't fit the larger rolls of wrapping paper and many of my rolls are the large ones from Xmas! I was disappointed, but I could have measured prior to purchase. I ended up putting two normal sized rolls in and then some bags and tissue paper so at least its getting used!
April 17, 2015
Rated

5

out of

5
 by
Wolveshowln
Neat, organized gift wrap storage
I bought two of these - one for holiday wrap and one for birthday/special occasion wrap. I have been wanting these for a few years, and finally decided to order since the shipping was free.
December 20, 2014
Rated

5

out of

5
 by
beanie32
Gift wrap organizer absolutly great! !!!
I use it to store my long quilting rulers. I wish the bottom was larger to keep it from tipping over.
December 13, 2014
Rated

4

out of

5
 by
Flipperjo
I wanted one so bad!
I have so much wrapping paper, and it always get ruined. I have wanted one of these containers for a while. It was more expensive than I thought it should be, but it is exactly what I wanted. I love that it is clear so I can see what is inside and I love that it is vertical so it takes up less space.
May 30, 2014
Rated

5

out of

5
 by
mickeyml
A Great Purchase.
This gift wrap organizer is outstanding. It has great capacity to store large gift wrap paper rolls. My gift wrap rolls had far outgrown storage space available. This organizer stored all the wraps I have with lots of space left over. Organizer stands sturdily on the floor and can be stored in plain site. The pretty colored wraps show through the organizer making a nice decoration.
May 9, 2014
Rated

4

out of

5
 by
KatieKat
Works very well!
This is definitely a great product and the main use is what its made for!
April 25, 2014
Rated

4

out of

5
 by
Penguinlady
Does the job!
Finally getting organized and this container has my gift wrap in one easy to use container. Not sure why it's got a tapered design. Isn't a big issue, but would prefer straight sides. The lid goes on and off easily, but stays secure. I'm going to order another one so I have one for Christmas and one for other occasions, just like the Container Store recommends!
April 13, 2014
Rated

5

out of

5
 by
Curious1
Awesome Bird Seed Storage
Great for 40 lb bag of bird seed. I shopped around for bird seed storage containers at nurseries and the large hardware stores. None were narrow or tall enough; and the prices were a bit higher than what I could afford. I also need to keep it in the garage, against the wall along side my parked car. Space is very limited. This container works perfectly! It's wonderfully made and allows me to easily see how much seed is left.
April 11, 2014
Rated

5

out of

5
 by
BNYC
Great Item
Tidied up all our wrapping paper supplies in the office perfectly!
April 10, 2014
Rated

5

out of

5
 by
ashleyw
Awesome Purchase!!
I absolutely love my new gift wrap organizer!! It was just what I needed to get all those crazy rolls of gift wrap and paper stored away as we are getting ready to move into our first new home. Thanks so much!!!
April 3, 2014
Rated

4

out of

5
 by
Nickname99
Good product
It holds just the right amount of wrapping paper and is the perfect height. It fits nicely in a closet.
March 22, 2014
Rated

3

out of

5
 by
angelmom
Good container, but doesn't fit longer rolls
I wish I would have measured the wrapping paper rolls I had before ordering this. Nowadays, you rarely see smaller or the shorter length wrapping paper. I would recommend this to a friend, but would warn them what size rolls fit in here!
January 8, 2014
Rated

4

out of

5
 by
karig
Great organizer
I have no complaints about the product itself, only that when my package arrived the lids for the units were cracked. I tried finding a number to call, however I could not find one with my packing slip. Also, make sure that your wrapping paper is not the industrial sized rolls, I didn't realize that there were two types of wrapping paper roll sizes haha. Overall, it has helped de-clutter my gift wrapping area,
November 27, 2013
Rated

5

out of

5
 by
Buttercup1
Great for storage
This solved my problem of leaving rolls stacked under bed or crammed in card board boxes. Keeps rolls upright and easy to reach and out of the way
November 25, 2013
Rated

4

out of

5
 by
NurseNan
good for rolled paper products
I was seeking a container to use instead of the under the bed storage and this product does the trick. long boxes under our bed seem to collect way too many dust creatures (we skip the bunnies, we have the herd! :-)) So a solution to the wrapping paper problem was to find a container that would be suitable for rolls of wrapping paper that would not take much space in the closet - this works for all the rolls except for one exceptionally wide roll. I would have probably given it 5 stars if it was narrower- I needed to put it in a tight space- but solved the problem by putting it in a different closet
July 19, 2013
Rated

5

out of

5
 by
CaptCat
Great product
Sturdy, well constructed, durable. As all Container Store products are. Dependably good products all the time.
June 15, 2013
Rated

5

out of

5
 by
nightwriter6
A product that made my closet!
This gift wrap organizer is the best purchase I made. Bought two and now you can actually see the floor and back wall of the closet. I do not mind showing prospective house buyers this very neat and organized closet. A place for everything and everything in it's place .My Mother would be proud.
April 28, 2013
Rated

5

out of

5
 by
djdw
Simply great!
My husband got tired of all the rolls of paper stacked on top of a bookshelf in our office and this has solved the problem. I have two of these and no more clutter!
April 26, 2013