< Return to Product Page
Customer Reviews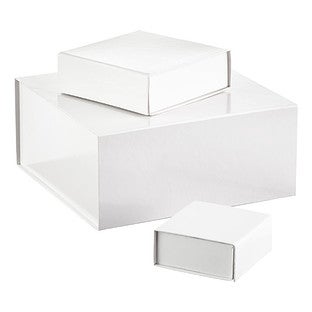 Glossy White Collapsible Gift Boxes
Overall Rating:
Customer Reviews
Rated

5

out of

5

 by

18

reviewers.
Rated

5

out of

5
 by
LydiaF
Love them
I LOVE these boxes. Use them for Christmas. No tape required, just add a ribbon and you are set. Will definitely order these again!!! No regrets here whatsoever.
December 18, 2014
Rated

5

out of

5
 by
Torrez
Perfect for customer gifts
We used this to ship a bottle of wine and an electric wine bottle opener and it looked very nice.
May 12, 2014
Rated

5

out of

5
 by
SHMN
Not just for gifts
I bought a couple of these boxes to store some collectable items and they work perfectly. They are constructed really well and the glossy finish looks nice!
April 25, 2014
Rated

5

out of

5
 by
Heybox
High quality box
Ordered these before. Highest quality I can find on line and instores
April 22, 2014
Rated

5

out of

5
 by
PropertyMgr
Great sturdy as a gift box
Well constructed, great presentation, pristine finish, made the best gift box for a wedding present. You can keep heirlooms here, materials will not allow yellowing.
April 11, 2014
Rated

5

out of

5
 by
EventPro
HANDS DOWN...THE BEST BOXES!
I am an event manager and with each event I plan, I use THESE AMAZING boxes to wrap the gifts we give to our customers and employees as a "thank you" for their business and contributions (and for attending the event). They are durable, pretty and the quality is top-notch! I have used them year after year. You won't regret getting this box.
March 27, 2014
Rated

5

out of

5
 by
ilmom
The Perfect Box!
The construction of this box is great -- very sturdy, and excellent finish on the outside. My daughter used one (along with other boxes from the Container Store) to build a White House for a school project. Everyone was impressed!
March 20, 2014
Rated

5

out of

5
 by
Mozoey
Great gift box
Very attractive and sturdy box. Didn't have to wrap.
March 14, 2014
Rated

5

out of

5
 by
DirectPay
Great presentation box!
This box is very spacious and sturdy, and is perfectly glossed with a magnetic closure. It's perfect for our presentation gifts and would be great for gift-giving. Great idea to give a child as well to decorate themselves!!
August 19, 2013
Rated

5

out of

5
 by
Pammy346
Perfect box!
I wanted to get a few matching boxes and fill them with goodies for my bridesmaids! These are absolutely perfect in size, and are super easy to decorate. I will be back for more! LOVE the container store!
April 8, 2013
Rated

5

out of

5
 by
Sterski
My "go-to" gift box!
These are great for any gift-giving occasion. Just add a ribbon or a bow and you've got a beautiful, professional looking gift.
March 13, 2013
Rated

5

out of

5
 by
SusanSC
Perfect Boxes!
I needed boxes for the handmade scarves I gave as Christmas gifts. It was impossible to find the right size in any store I went to. Thank goodness for The Container Store! The boxes were the perfect size, were easy to assemble, and were sturdier than other collapsible boxes I've purchased. I'll be sure to shop The Container Store the next time I need boxes!
February 19, 2013
Rated

5

out of

5
 by
sunnyoki
love it..gift it -save it..
bought this item last week, to gift wrap a pretty ladies wallet. i ended up buying 2 because they are so attractive. use for storage or gifting.
April 1, 2012
Rated

5

out of

5
 by
MW76
Great for Kid's Keepsake Storage
I bought three large boxes and gave my kids some glitter and gems and let them decorate and personalize their own box for keeping their works of art, school projects and other momentos. They love it and it stores nicely under their beds or on the closet shelf.
March 19, 2012
Rated

5

out of

5
 by
law330
Great product.
This is a great product, i'm very happy with the quality and the glossy finish of the box. it adds a touch of elegance.
February 24, 2012
Rated

5

out of

5
 by
SHPortraits
Great Gift Box
This box makes things look very professional for me. It closes the deal.
September 20, 2011
Rated

5

out of

5
 by
JLevitch
Just what I needed
I needed these gift boxes for a variety of gifts for my boyfriend's birthday in July. I thought that because it wasn't close to Christmas time that I would have difficulty finding this item. The Container Store was my first thought and thankfully had just what I needed. I am going to re-use them Christmas time this year!
July 26, 2011
Rated

5

out of

5
 by
SherBear
LOVE
Love these boxes!! Everyone always buys gift bags.... I buy these gift boxes and wrap them and get creative with the bows... always a big hit and more personal than a gift bag!! makes your gifts look great and shows that time was put into the presentation.
January 21, 2011