< Return to Product Page
Customer Reviews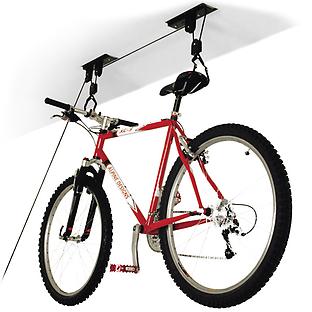 Ceiling-Mount Bike Lift
Overall Rating:
Customer Reviews
Rated

4.3

out of

5

 by

12

reviewers.
Rated

5

out of

5
 by
CourtneyAnn
Great Product
I have a small, one-car garage and this works great for storing my bike. I had a friend install it for me, so I can't speak to how easy it is to setup. But getting the bike up and down is simple and quick. I highly recommend this to anyone with space issues.
December 31, 2015
Rated

5

out of

5
 by
BECG
Cealing Mounted Bike Rack
Great Rack and keeps all the bikes out of the way, I purchased 3
January 12, 2015
Rated

5

out of

5
 by
Richardcurmudgeonatlarge
Great space saver
We have a very small garage and two bikes that there is no place for. This product allowed me to easily raise our bikes over the hood of our cars and voila! More room. Plus the hoist aspect allows for my wife or I to lower the bike easily when we need them, instead of lifting them
April 13, 2013
Rated

5

out of

5
 by
KristenB
Garage Space Saver
This product has been a life saver to free up space along our garage walls. Just make sure you have a high enough ceiling!
March 29, 2013
Rated

5

out of

5
 by
StorageGeek
I have 6 of these in use
I have a standard 2-car garage with a 10' ceiling. Started using these hangers for two kayaks 10 years ago. Recently hung three bikes. Am now hanging my wheelbarrow. They work perfectly and install easily if you are reasonably handy with tools and thoughtful about positioning them relative to car positions,overhead garage door tracks, foot traffic patterns, and attic floor joists above. Tips: know the direction of the floor joists if they are hidden by drywall or other ceiling material. Best to hang things parallel to and directly in line with the joist you will drill and screw into for the hanging hardware. If you need to hang a bike 90 degrees to the joists, it still works (for bikes but do not try this with anything heavier!). Just use the two screw holes in the center of the hardware, instead of the ones at either end, and fudge the distance between to something close to the distance between seat and handle bars because you won't have a choice but it still works perfectly well. For the heavier kayaks, hung 90 degrees to the joists, I first installed a long board across the joists with screws into each one; then hung the kayaks from the board, not the joists. With the normal bike you will need about 46 inches (bike plus hardware) of clearance above your vehicle or walking patterns in the room. Mine are all hung around the sides of the garage, over other stored items, so as not to bump our heads on them. It is no problem to lower them with one hand using the rope and the other hand guiding the bike out a few inches from the stored items below them. This product is great and has held my heavy fiberglass kayaks up for about 10 years with regular seasonal use. If I can find another place to hang something and get it out of my way, I will buy another one!
January 12, 2013
Rated

3

out of

5
 by
Verified Reviewer
Had to Return
I've heard these are amazing. But if you are installing over a car... they only work if your garage is 10 feet tall or taller. Otherwise there isn't room for a regular sized car. I had to return the two I bought.
April 24, 2012
Rated

4

out of

5
 by
MelissaMosk
Works Great!
I would give this 5 stars, as I LOVE this product, but my poor husband said the product was a BEAR to install :) I absolutely love this product, it keeps our bikes out of the way, but is also easy for me to access, particularly since I am only 5'4" and don't have much arm strength
March 23, 2012
Rated

5

out of

5
 by
igor
free space!!!
this helped free up some space in my over populated garage
March 19, 2012
Rated

1

out of

5
 by
Lolita
Hard to work with
I bought 2 of these and didn't work for my client, it took too long to bring it down and pull it up and I ended up changing it
March 10, 2012
Rated

4

out of

5
 by
messymom1
great to get back floor space
We have 6 bikes and the only way we could survive is to get them off the floor. We can put them up and take them down very easily. Great value for the price.
February 28, 2012
Rated

5

out of

5
 by
Thrista
Bike Rack
Very neat, easy to install and does exactly what it is intended to do.
February 14, 2011
Rated

5

out of

5
 by
asha9190
Love the bike lift!
My husband and I purchased 2 of these to get our bikes off the garage floor to create more space. They work very well! They are easy to install, easy to use and very sturdy.
March 3, 2010