< Return to Product Page
Customer Reviews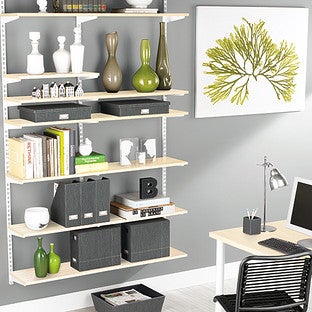 Sand & White elfa Workspace
Overall Rating:
Customer Reviews
Sand & White elfa Workspace
4
4
Great find!
I was looking for built in bookshelves for a home library. Elfa provided an excellent solution. It is easy, practical and more than functional. The shelves can be adjusted in any manner that suits and provide a beautiful framework for a library leaving attention on the books not the bookshelf. I used the driftwood and platium options and am very pleased with the elfa solution!
May 5, 2013
Totally recomend product!
Thank you for keeping my office organized and lookig sheek. Love it! Very easy to handle. Totally recomend this product.
March 18, 2013
No experience required
I love my Elfa shelving. It was so easy to install and can be reconfigured easily as needed. I have white shelves and they are easy to clean and very durable.
April 28, 2012
love it!
We installed this in our entry closet along with the white ventilated shelving. It is attractive as well sturdy. We are so impressed with the quality of this system. We are anxious to tackle the other spaces in our home. We hesitated on the purchase because the shipping is so high but, it is well worth the high cost of shipping!! Would do it again in a heart beat.
February 12, 2010