< Return to Product Page
Customer Reviews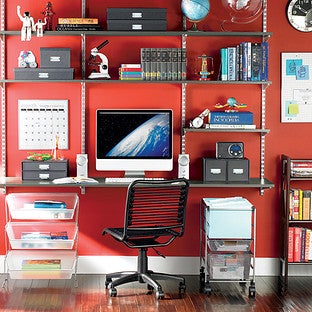 Driftwood & Platinum elfa Study Space
Customer Reviews
Driftwood & Platinum elfa Study Space
13
13
Incredible
This elfa Study Space is the one of the best investments I have made. It looks great and gives me a lot of vertical space to organize my office. It was easy to install and I would recommend this to anyone looking to better organize their office space and wanting a clean and modern look.
May 11, 2014
I love how this gave life to the dead wall space in my office and turned it into a truly functional workspace.
April 28, 2013
Kitchen office
Great office space!, neat, simple and organized! we used this for our kitchen office at the conference center where I work. Because it looks so neat, it leads to keeping it neat!!! it is practical and efficient!
April 9, 2013
Quick Easy set up
My son love his new study area. Looks great and set up quickly. I didn't give it 5 stars because my husband and I really feel it needed some screws in the hanging standards to tie it to the wall better but it is working out so far. Maybe it really isnt necessary??
March 25, 2013
Love it!!
We have had our shelving unit for about 6 months now and it works great for us. Love that the shelves are adjustablle, sturdy, heavy, (but not too heavy), and well made. Instructions are easy to follow and it goes together easily. Would buy again. Looked at our local home improvement stores and could not find anything even close to it, so we ordered on line. Everything came it packaged well, there was no damage, nicks or scratches on anything.
March 20, 2013
Great, sturdy workspace!
Who says a desk has to look cluttered in a living room?! Installed an Elfa desk in our living room and looks aMaZiNg !!! With the simplicity of putting in shelves, it looks more part of a design of our home furnishings, rather than a clumy looking desk. We've gotten so many compliments that I think the Container Store amy sell out. So easy to install ourselves who are not very handy. Love, love, love it!
March 7, 2013
excellent!
Installed ourselves for our daughter. Excellent wall unit. Customer service was fantastic, everything arrived very well packed and protected. Very pleased. Looking to redo our master closest wth Elfa products.
January 18, 2013
Great For Organization and Small Spaces...
Before Christmas we needed multi-purpose furniture in order to prepare for visiting family. In search of wall mounted shelving, I found the study space units available on Containerstore.com. We created a very similar study/entertainment space for the room of our 16 year old. It was so simple to install we kept thinking we were missing pieces. In addition to books the shelving holds a 32" flat panel TV. Both parents and student are very pleased!! Elfa is great for organization in a small space. The ability to see the floor makes a room appear larger. I would love to install elfa closet systems and cabinet shelving.
January 22, 2012
Great Unit
Easy installation, suggest to of course, measure your space first - this was a bit larger than i expected. If you are installing your self, be sure to have a drill bit set on hand for dry wall screws and a level. But the price, quality, color, sturdiness - all top notch!
September 13, 2011
I love Elfa in our music room
We love Elfa for providing a stylish, compact storage system to our growing record collection. I hated to see my husband on the floor searching for a record on a low, dark shelf inside our old armoire. Elfa has lifted our collection to eye level and audio components are conveniently stacked. An incredible openness was gained by the very clever wall hanging hardware. You cannot believe the weight this system can hold until you see it for yourself. I just love spending time in our music room. It is my husband's recording studio and a fun place to be. I love the look of the drawers which hold small miscellaneous stuff (headphones, notebooks, microphones); the action is smooth and quiet. We have more things, more practically housed, in much less perceived space - absolutely essential in our bungalow home. I just love it!
February 7, 2011
Study space
Great product. The longest part of installation was determining where to put it. It looks great and easily keeps all our stuff organized in our once cluttered great room.
January 16, 2011
Elfa makes the perfect work space
First off, I had been wanting an Elfa office system for a few years before I purchased! Finally when the money came in and the time was right I went to the Container Store location in San Diego and I picked out the right solution for me. I brought the system home and I was suprised how easy it was to install! Then once I configured the shelves and placed my storage boxes, I couldn't wait to get working at my new desk. I have always been very paticular about work spaces and how I need one that is both confortable and an effcient use of space. As a designer I need to have surface room to spread out, storage space for all my samples, and plenty of underneath leg space. and this Elfa system exceeds all my requirements!! I love being in my office now! Thanks Elfa.
May 18, 2010
Great oraganizer with desk
I love this shelf! It has made my life so much easier. We put this up for my 2 oldest boys (6 and 8) to share in their room. It was extremely easy to install ourselves and took very little time. My boys now have room to put all of their toys and projects up off the floor and a desk space. We bought the platinum book ends and some extra shelves to go with the study space to make it even more versatile. I love that the bottom shelf is wider and is long enough for both boys to work on their homework with minimal fighting. I bought this just after Christmas and still show it off to my friends.
May 17, 2010