< Return to Product Page
Customer Reviews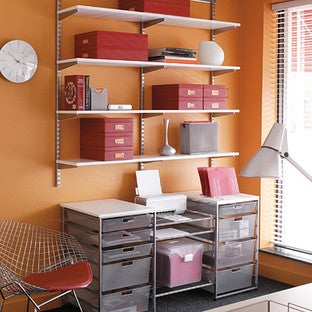 White & Platinum elfa Home Office Storage
Overall Rating:
Customer Reviews
Rated

4.8

out of

5

 by

6

reviewers.
Rated

5

out of

5
 by
diykid
Very Pleased
I bought this bought this during the labor day sale but didn't get a chance to assemble it until 2 months later. I was very concerned that things might have got damaged during shipment, particularly the shelves but when I opened all the boxes, everything was there and nothing was damaged. The shelving went together as per the instructions and I now have very functional shelving above my printers.
November 18, 2015
Rated

4

out of

5
 by
TimL
Great service, glide drawers not so great
First of all, the service we received from Leslie at the Houston Galleria Container Store was first-rate. She walked us through the components, designed the shelves, trained us on how to install it, and told us how to pick it up at the front of the store. When we got home, the first project we tried was a bedroom closet that we were turning into a home office desk/shelves. I happened to hit two studs when I mounted the rail, and the rail was very sturdy. When we installed the vertical pieces, it was a little shaky, and when you tried to type on a laptop on the desk, the whole thing shook. You really have to get the optional clips that stabilize the vertical pieces. This made a huge difference. Next, we tried an entertainment center upstairs. This was a mess. I hit no studs when I installed the rail, and the rail would not stay in place. I had to drill new holes through the rail where the studs were. It just would not work with only wall anchors. Then when we installed the glide shelves, they would not stay locked to the shelf supports. Again, you absolutely must use the clips that stabilize the vertical pieces, or the glide shelves will not be stable. Both projects look great and are very functional, but you really need to hit a stud or two when mounting the rail and you must use the stabilizing clips, or this product will not be stable.
September 12, 2013
Rated

5

out of

5
 by
Verified Reviewer
Best Investment
We invested in the Elfa System for our home office. We did shelves on two walls giving both my husband and I both work spaces. I also use the container store plastic grid baskets for my frequently used files storage. Works great, I get paper put away insted of piled up. My office is now a place a love the hang out in because I can find things, I don't have piles of papers stacked and I love the modern look. We still have somethings like a new chair and more baskets that we are going to add from The Container Store.
March 24, 2013
Rated

5

out of

5
 by
Gracielou7
Elfa is Alpha at our House
We have white elfa shelves in multiple rooms of our home. We love the shelves ... they are strong, attractive, versitile, easy to install, easy to clean, long lasting, and worth every penny we spent (which was not much). Due to our success with the white shelves, we have now added other types of elfa shelves and systems: closets, desks, drawers. We have at least one more room on our list in which we'll add new elfa shelves. Thank You!
March 4, 2012
Rated

5

out of

5
 by
shelvingpro
Great freestanding application for home office
I sell commercial and industrial shelving for a living, but for my home office I wanted a nice residential look rather than some left over warehouse shelving I could get for free. This product really fit the bill: it's affordable and I like the way it looks. The freestanding option worked best for our set up. The design team was terrific in making the final tweeks to the bill of materials and final design. The material list was easy to understand and double check. When the material shipped, I received an email with all the tracking numbers on it so I could easily see when deliveries were coming. One of the boxes contained two cute red bags, one with small parts and the other with an envelope with installation instructions tailored to my individual set up. Very cool. The one frustrating part was that when the material arrived and we took out the material list for each box, the SKU numbers on each item seemed to have no correlation to the original part number. That made it somewhat difficult to make sure we had all the correct pieces before starting to put everything together, but install was really easy for 2 people. I was careful not to overload the shelves (mostly binders and paper which can get really heavy). In my design I gave myself plenty of room to spread out and keep some lighter samples along with the binders. We're so pleased that we're thinking of using this system in another room of our house.
October 5, 2010
Rated

5

out of

5
 by
lemlan
White home office shelves
I looked for some shelves for above my daughter's desk for nearly a year. I wanted something practical that would be able to hold a decent amount of weight but something that was also attractive which would not require putting huge holes in the wall. The associate at the container store was extremely helpful and informative and highly recommended the Elfa system. I am absolutely thrilled with it. It was so simple to install, looks great and is extremely sturdy. I will use Elfa from now on whenever I need shelves. I am absolutely thrilled with it!
April 26, 2010