< Return to Product Page
Customer Reviews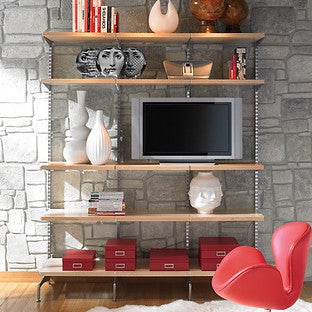 Birch & Platinum elfa décor freestanding Entertainment Wall
Overall Rating:
Customer Reviews
Birch & Platinum elfa décor freestanding Entertainment Wall
5
5
Love, Love, Love these shelves!
I am in the process of re-arranging my condo and decided on Elfa because the set-ups are so nice and well made. I had my pantry and walk in closet done and then my kitchen and living room. They came out great. The price is reasonable, they look great, and they can assemble it for you which was worth it for me. Highly recommended.
April 28, 2014
Elfa Bravo!
I am totally in love with my customized Elfa entertainment wall system. I love the drawers to store my cd's and other media and it doesn't take up a lot of floor space in my condo. I am a walking billboard for this product and will recommend this to anyone!
April 25, 2014
Best solution for this book lover
i live in a small apartment with a lot of books so I wanted a storage solution that would help me maximize vertical wall space. Also, because I rent, I wanted something I could install without bolting it to the wall. This Elfa Freestanding unit is perfect. My configuration is 60 inches wide by 84 inches high and gives me a total of 42 sq feet of storage. A friend helped me assemble but it was super easy and if I move in the future it can be taken apart for easy moving. I love the way it looks--streamlined and clean.
April 26, 2013
Excellent Solution
Using the expert assistance of the in-store designer, we put together a shelving unit that handles all our entertainment center needs, and it looks great!
May 6, 2012
If you expect your entertainment system to grow
We started out with a freestanding Elfa system just about like this one. Actually, when we came back for more shelves, our salesman made note to us that it looked like the designers used our design to put this system together. Since then, we've changed cable companies and added a Blu-Ray player. It's easy to do this with this system. Just add a shelf and you're set. When we eventually get a bigger screen LED television, we're going to add another column to make the system wider.
May 17, 2010